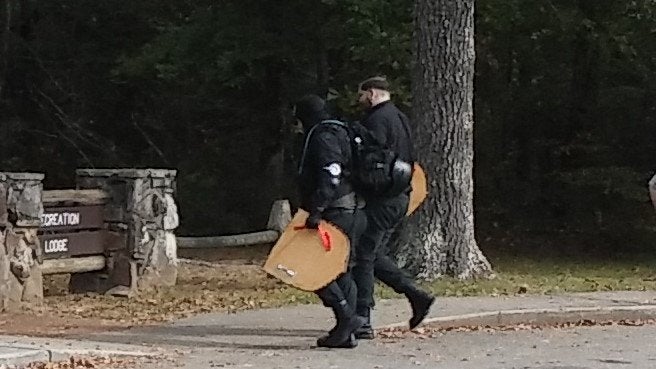 Something old, something new, some neo-Nazis and some anti-fascists, too.
On Saturday at Cumberland Mountain State Park in Crossville, Tennessee, a wedding party unwittingly shared space with about 30 white supremacists attending a conference for prominent neo-Nazi internet forum Stormfront, along with dozens of peaceful protesters who were chanting and drumming in the parking lot.
Less than two months after the deadly white supremacist rally in Charlottesville, Virginia, the prospect of white supremacists descending on a small town in East Tennessee stirred concerns of more violence. A conference organizer boasted the event would attract a "couple hundred" attendees, although white supremacists often inflate such figures, and they expressed worries about being confronted by anti-fascists. But ultimately, the conference unfolded in the manner of many furtive neo-Nazi meet-ups ― the racists were found out, and assembled in underwhelming numbers in front of a clutch of protesters. In the end, pathos and bathos vied for supremacy instead.
The white supremacists had been long planning a conference in East Tennessee, according to posts on Stormfront, but they were careful to keep the specific location secret. On Friday, HuffPost reported that conference attendees would meet that night at the Beef and Barrel Restaurant & Lounge and convene Saturday in the Cumberland Mountain State Park for a strategy meeting.
Cumberland County is 97 percent white, which is one reason conference organizers chose it as a destination. Matthew Heimbach, the most prominent white supremacist in attendance, has directed his neo-Nazi organization, the Traditionalist Worker Party, to do charity outreach in areas with similar demographics, hoping to win sympathy among low-income white communities and, eventually, run local candidates of his own. On his way to the conference, Heimbach or members of his organization reportedly posted TWP fliers on the the University of Tennessee-Knoxville campus.
The Stormfront group faced complications from the beginning. Beef and Barrel canceled the group's reservation, hours after the owner, Bruce Cannon, told HuffPost it was not his place to determine who eats at his restaurant. (Activists flocked to social media to shame the business before it canceled the reservation.) Crossville Police Department officers were called to the restaurant to deal with people who were "making a bunch of noise" in the parking lot, Lt. Brian Eckelson said. Barred from Beef and Barrel, the Stormfront group reassembled at a nearby restaurant called Shoney's, Knoxville News Sentinel reported. (Shoney's denied hosting Stormfront or any large group of men on Friday.)
On Saturday morning, a couple preparing for their wedding in the state park learned the white supremacists would be gathering nearby, along with protesters. "We were not aware of what either group represented at the time," the couple, who requested anonymity, told HuffPost in a Facebook message.
Across the river, about two dozen anti-Nazi protesters, including one clad in cookie-sheet armor, assembled in a parking lot outside the recreation lodge, drumming, picnicking and hurling taunts through a megaphone as swastika-adorned white supremacists wearing helmets and carrying shields walked past them. Park rangers offered to escort protesters to and from the bathroom.
The protest, a last-minute effort organized by Knoxville criminal defense lawyer Chris Irwin, attracted "punk" kids from nearby schools, Native Americans and members of a nearby Tibetan Buddhist monastery, Irwin said. One of the punks recognized a local man heading into the recreation lodge and called the man's girlfriend to tell her where he was, according to Irwin.
"Good morning, master race!" Irwin shouted at conference-goers as they arrived.
By late afternoon, the bride and groom could still hear protesters shouting at white supremacists. They were concerned the commotion would continue into the ceremony and reception, and that guests would have a difficult time getting to the wedding. They said they did not ask anyone to lower their voices, though a park ranger asked the protesters to lay off the megaphone, Irwin said, and they obliged.
"After six and a half hours straight of heckling, we had used up our best material," said Irwin, who reported that none of the white supremacists took him up on his offer to pay for their genetic testing.
Tennessee state parks are required by law to provide public facilities to individuals and groups regardless of their beliefs, according to Eric Ward, the communications director for Tennessee's Department of Environment and Conservation. "When someone reserves our facilities, they are not required to state whether they are affiliated with a specific organization," Ward explained.
The Stormfront conference was scheduled to conclude Sunday with a nature walk through a forest to honor former Ku Klux Klan Grand Wizard David Duke. The protesters spread out into the woods, looking for white supremacists on the trails, but they were able to identify only two, Irwin said.
Both the neo-Nazis and the protesters claimed victory at the event's conclusion, which is to say both partially failed in their aims. Despite "every conceivable obstacle being thrown at us, our event was a success," one Stormfront user wrote, echoing a sentiment widely shared on the forum. But at least two people left the conference to avoid getting their picture taken by protesters, said Francis John Gilroy, a white supremacist who attended, on Stormfront radio Monday. And another Stormfront user wrote that he was disappointed to hear there were only 30 people at the conference. "Please tell me there was a bigger meeting at the farm or some hidden location," he wrote. "This group obviously needs new leadership!"
Meanwhile, Irwin exulted, "We may have blown apart the next Charlottesville." Still, the white supremacists were able to meet behind closed doors and plan strategy going forward. Conference attendees forged new alliances, Gilroy said. They discussed tactics like flash mobs and other "street theater" to engage the media, and brainstormed ways to get white supremacists elected into public office. 
By Monday, the hosts of Stormfront's radio show were already agog over the next conference, date and location to be determined. It was sure to be bigger and better than Crossville, they agreed.
Calling all HuffPost superfans!
Sign up for membership to become a founding member and help shape HuffPost's next chapter