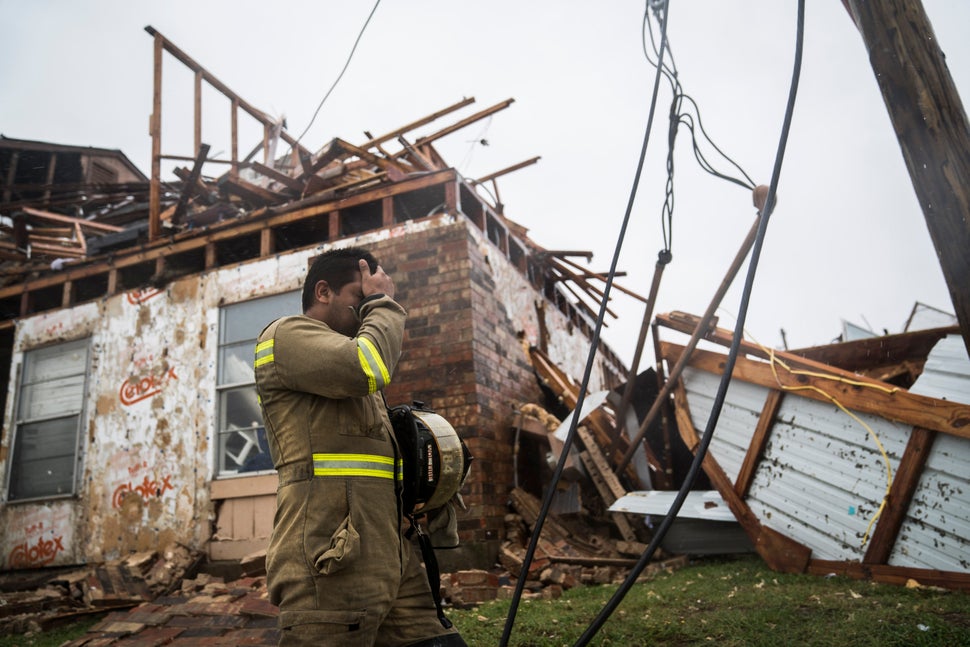 The Arkema chemical plant outside Houston wasn't remotely prepared for the rainfall Hurricane Harvey unleashed last August. As the water rose to historic levels after days of unrelenting rain, the plant's backup refrigeration systems failed, causing pallets of highly unstable chemicals to warm and then combust. Toxic clouds of organic peroxide drifted from the facility over nearby Highway 90.
The first workers to encounter the cloud were two police officers responding to a call on the night of Aug. 30, 2017. As they drove their squad car down 90, their eyes and throats began to burn. They called it into dispatch, which sent three more officers to check on them and review their dash cam video ― but those officers also drove into a toxic cloud emanating from the Arkema plant, and soon their heads ached and their stomachs turned.
First responders later described the scene on the highway as "nothing less than chaos." Cops were doubled over and vomiting as they gasped for air. Medics rushed to the scene to treat them, only to inhale toxic fumes and get sick themselves. All told, 21 first responders had to be hospitalized for chemical exposure, prompting a complete shutdown of the highway.
The spectacle of police and medics vomiting in the road as they tried to help one another, which was described in a lawsuit first responders later filed against Arkema, offers an unsettling glimpse of what happens in emergencies no one is prepared to handle. The increased frequency and severity of major storms will make catastrophic flooding more routine and create treacherous conditions for the first responders and cleanup workers that are supposed to help average citizens make it through a disaster.
Occupational health experts are just beginning to grapple with this issue as climate change transforms working conditions in many fields, making major storms not just more common but also more devastating. Harvey dropped 40 inches of rain on some areas of Texas and was responsible for more than 80 deaths. A paper published by the American Geophysical Union estimates that the earth's warming atmosphere made the rainfall up to 38 percent greater than it would have been otherwise.
Another paper in Environmental Research Letters projected that the intensity of Harvey's rains was between eight and 19 percent higher due to global warming. By simulating several centuries worth of rainfall, they also found that the likelihood of a storm occurring on Harvey's scale was increased by a factor of three.
"The more storms we have, the more incidents like this there are likely to be," Nicholas Ashford, a professor at the Massachusetts Institute of Technology and former chair of the National Advisory Committee on Occupational Safety & Health, said of the Arkema fires. "And we've done very little to prevent them from happening."
Canaries In The Coal Mine
While climate change is a health risk to everyone, public health experts say laborers will be the canaries in the coal mine. They have little choice but to work through extreme heat and severe weather. The first responders at the Arkema fires are a perfect example.
The organic peroxides stored at the Arkema plant are used to manufacture plastics. If they aren't kept cool, they can burn and explode. As Harvey's waters rose and threatened to knock out power, Arkema workers moved the chemicals from their normal storage warehouses to backup refrigerated trailers on higher ground. But those, too, began to flood, leaving the crew helpless to stop the peroxides from warming. Emergency responders escorted the workers off the site and created a 1.5-mile evacuation perimeter for residents surrounding the facility.
But Highway 90, one of the last unflooded emergency routes in the area, bisected the evacuation zone and ran adjacent to the Arkema facility. Officials had to decide whether to shut down a crucial artery used to move personnel and equipment or to keep it open and potentially expose those who traveled it to toxic chemicals. This was "admittedly a difficult decision for the Unified Command," investigators with the U.S. Chemical Safety Board wrote in their official report. (Several of the 21 workers who got sick on the route declined interviews through their lawyers.)
When the safety board released its report last May, its chair acknowledged that chemical dangers like those posed by Harvey are likely to increase in the future as massive storms become more typical. Portions of the Arkema plant sat within the 100-year and 500-year flood zones, and every contingency plan in the company's hurricane response ended up breaking down.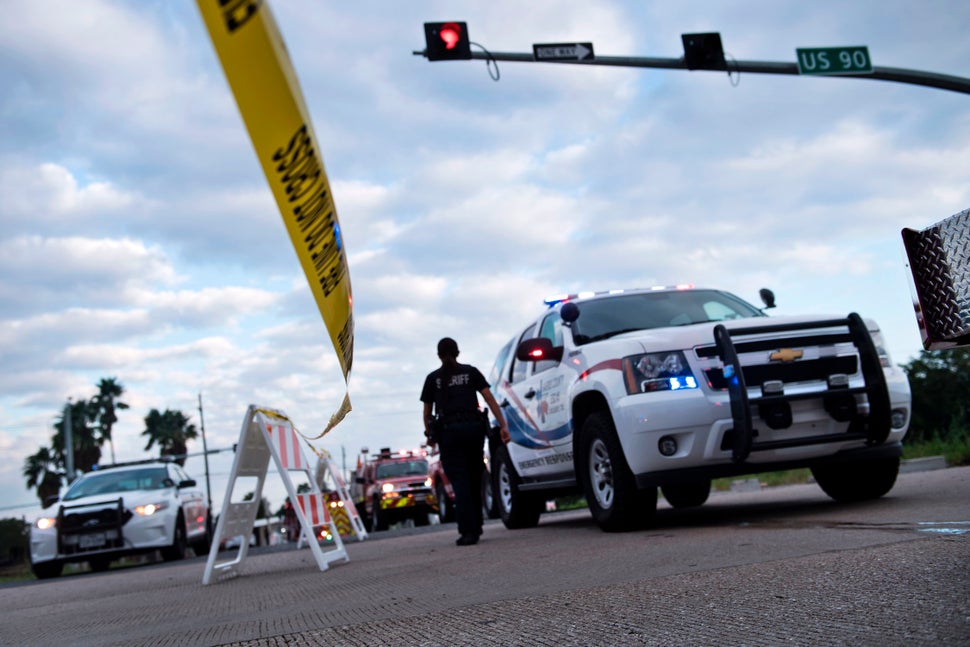 "Clearly the company did not plan ahead," said John Morawetz, a health and safety expert at the International Chemical Workers Union Council. "Granted, Harvey stalled, and it was record rain. But how many times have we heard about the once-in-a-hundred-year flood every few years now?"
The waterlogged Gulf Coast is riddled with chemical plants, many of which, like Arkema's, probably haven't done the due diligence to prepare for severe flooding.
The Arkema fires were hardly the only chemical incidents in the wake of Harvey. The National Response Center logged at least 102 releases at industrial plants, a little under half of which were carried out intentionally to get rid of chemicals as the storm bore down. The Houston Chronicle reported that more than a dozen plants sustained damage to their storage tanks or pressure release valves, concluding that it would be years before all of Harvey's ramifications were understood.
Jordan Barab, a former OSHA official during the Obama administration, wrote on his blog that the Arkema fires were a "relatively inexpensive lesson," given that no one was killed. But they are an indicator of "a potential national crisis" for workers and public safety, he said.
'Second Responders'
Beyond the immediate threats of drowning, electrocution and chemical explosions, there are also less obvious health risks that emerge after a major storm ― like exposure to mold and bacteria.
"Workers come in to do this cleaning and rebuilding sometimes long after this storm has passed, and all the water has receded. It looks like everything's fine, but it's not," said Craig Slatin, an occupational and environmental health expert at the University of Massachusetts-Lowell. "Nobody is teaching these workers what you have to look out for."
The unglamorous work of post-storm cleanup is known as "mucking and gutting," and those who do it are sometimes called "second responders." The job involves removing all the water and debris from a home, then stripping down all the flood-ruined wood and drywall to the studs. Rebuilding a home without doing this properly could lead to chronic mold behind the walls, which can cause respiratory problems.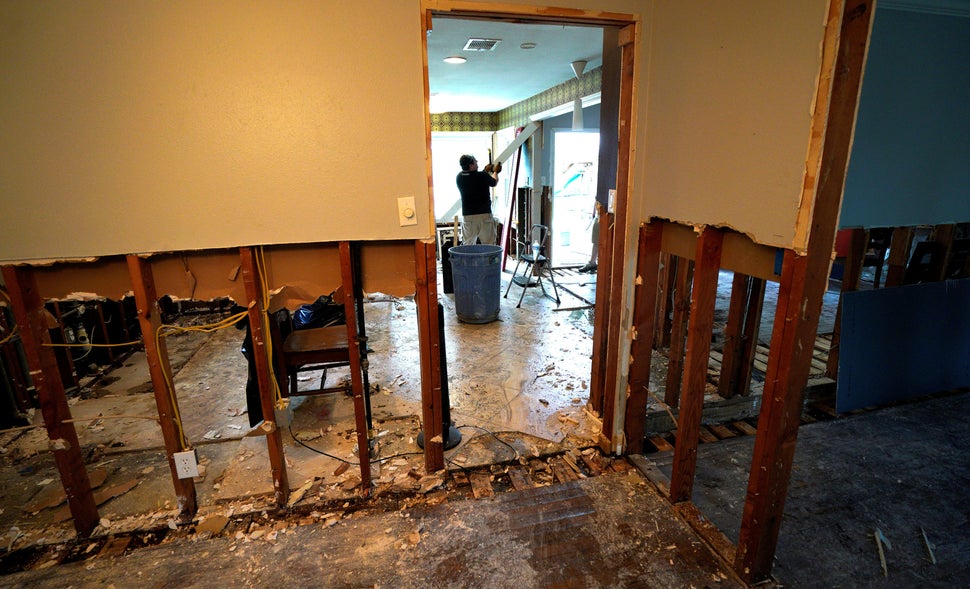 Much of that mucking and gutting is done by day laborers working for fly-by-night contractors, especially for commercial properties and apartment buildings. As soon as the flood waters receded, Houston's sidewalks filled up with workers looking to earn a day's pay by clearing up the mess, said Marianela Acuña Arreaza, director of the Houston worker center Fe y Justicia.
Acuña Arreaza's group worked with the Chemical Workers Union and the National Council for Occupational Safety and Health to educate day laborers in the weeks following the storm. With a map showing three dozen of the city's most common day-labor pickup corners, organizers and volunteers fanned out to hold bilingual streetside clinics. Many of the workers being hired weren't being provided with basic safety equipment like gloves and safety goggles.
"The majority of people were like, 'We have never received any training,'" Acuña Arreaza said.
Her group helped commission researchers at the University of Illinois at Chicago to carry out a survey of 361 post-Harvey day laborers. It found that more than eight in 10 second responders hired off the street weren't told about the risks of encountering mold or contaminated water. Roughly a third of workers said they didn't have work gloves, and nearly two-thirds of those who had been injured said it was the result of not having the proper safety equipment.
For many workers, the biggest occupational danger is not getting paid for their work at all. Twenty-six percent of day laborers said they had been stiffed on their pay at some point in the first four weeks of disaster recovery, shorted an average of $212.
In the weeks following Harvey, workers who'd been mucking and gutting reached out to the Texas nonprofit Workers Defense Project to say they were such victims. They had been employed by a subcontractor working on a project run by Interstate Restoration, one of the country's leading disaster cleanup firms, and hadn't been paid for their labor. Interstate swoops in and picks up lucrative contracts following storms like Harvey, as The Intercept reported in a profile of the company in March.
Rather than request a government wage theft investigation into Interstate and its subcontractors, the Workers Defense Project ended up filing a lien on workers' behalf against the commercial properties they had cleaned up. That, in turn, pressured Interstate's subcontractor to pay back wages. One of the group's organizers said workers were able to recover hundreds of dollars apiece.
Although the Interstate case was ultimately a success story, worker advocates say there are far more recovery workers still owed money following Harvey. Some of them may end up dealing with unscrupulous subcontractors and workplace hazards once again after the next big storm. Climate change, Acuña Arreaza said, will only make it rougher.
"It's a dangerous state to work in in the first place," she said. "And when hurricanes happen, it just gets worse."
Calling all HuffPost superfans!
Sign up for membership to become a founding member and help shape HuffPost's next chapter