In a report The Daily Beast published on Wednesday, Daniels says she asked Avenatti for information about the crowdsourced funds raised for her legal defense and that instead of providing more information, he started a new fundraising site to raise money for her without telling her, and she found out about it on Twitter.
"For months I've asked Michael Avenatti to give me accounting information about the fund my supporters so generously donated to for my safety and legal defense. He has repeatedly ignored those requests," Daniels said in a statement to The Daily Beast.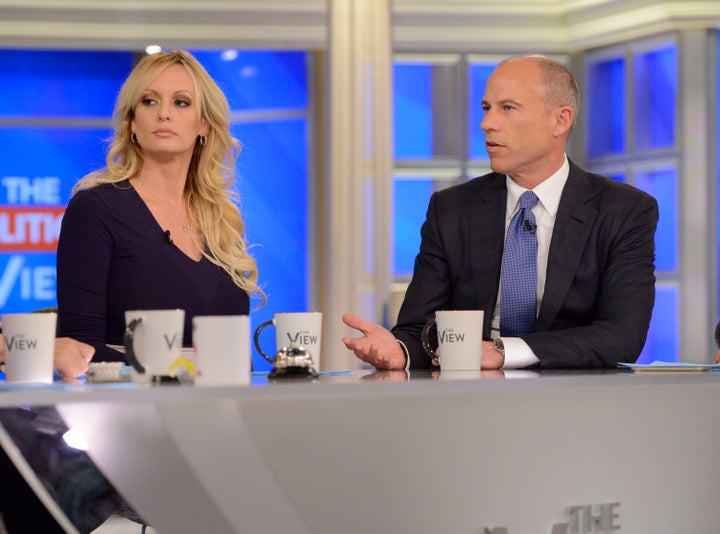 Daniels said she hasn't "decided yet what to do about legal representation moving forward," as Avenatti has "been a great advocate in many ways." 
"But in other ways, Michael has not treated me with the respect and deference an attorney should show to a client. He has spoken on my behalf without my approval," she added.
"I'm deeply grateful to my supporters and they deserve to know their money is being spent responsibly. I don't want to hurt Michael, but it's time to set the record straight. The truth has always been my greatest ally."
In a statement to The Daily Beast, Avenatti responded that he's always been Daniels' "biggest champion" and has "personally sacrificed an enormous amount of money, time and energy toward assisting her because I believe in her."
"I have always been an open book with Stormy as to all aspects of her cases and she knows that," Avenatti said. "The retention agreement Stormy signed back in February provided that she would pay me $100.00 and that any and all other monies raised via a legal fund would go toward my legal fees and costs." 
"Instead, the vast majority of the money raised has gone toward her security expenses and similar other expenses. The most recent campaign was simply a refresh of the prior campaign, designed to help defray some of Stormy's expenses."
Avenatti did not offer a breakdown of how he's spent the money raised on Daniels' behalf, but said that her security detail "cost hundreds of thousands of dollars, especially due to the high level of death threats" and that "other out-of-pocket costs of the litigation" are "extraordinary."
"These are serious and obviously very troubling allegations, but right now that is all they are: allegations," Daniels told New York Magazine reporter Olivia Nuzzi. "We should all reserve judgment until the investigation — an investigation Michael has said he welcomes — is complete, and that's what I'm going to do. But of course I do not condone violence against women and if these allegations prove true I will be seeking new representation."
REAL LIFE. REAL NEWS. REAL VOICES.
Help us tell more of the stories that matter from voices that too often remain unheard.