People must underestimate you, adult film star and director Stormy Daniels says Donald Trump told her in the moments after they had sex in 2006. Twelve years later, Daniels presents one of the most formidable threats to the pussy-grabbing president.
Daniels, whose real name is Stephanie Clifford, came across in a "60 Minutes" interview Sunday night as self-assured, quick-witted and forthright, a woman accustomed to dealing with crappy men and putting them in their place. And she's effectively getting her message across on the two platforms Trump cherishes most: TV news and Twitter. The irony is delicious.
Trump deploys shamelessness as a force field ― comments and scandals that would sink any other presidency bounce right off him. Daniels weaponizes her lack of shame in much the same way ― except where Trump is shamelessly dishonest, Daniels is shamelessly forthright. Yes, she spanked Trump. No, she didn't want to have sex with him. Yes, she consented to doing so. No, she didn't have sex with him a second time. Yes, she released a statement in January claiming the affair had never happened. No, that statement wasn't true. Yes, she has felt intimidated and bullied. No, she isn't going away.
Daniels is surely used to being underestimated. But sometimes being an underestimated woman can be a 'secret weapon.'
Daniels says she and Trump had sex during the summer of 2006, just after Melania Trump gave birth to Barron. Daniels and Trump fittingly met at a celebrity golf tournament, during which Trump supposedly kicked off their flirtation by showing off a magazine cover of his own face and comparing Daniels to his daughter Ivanka. She told Anderson Cooper on "60 Minutes" that she met Trump at his hotel suite for dinner, and after she used the restroom, she came out to find him "perched" on the edge of the bed.
"I was like, 'Ugh, here we go,'" Daniels told Cooper. "And I just felt like maybe ― it was sort of ― I had it coming for making a bad decision for going to someone's room alone, and I just heard the voice in my head, 'Well, you put yourself in a bad situation and bad things happen, so you deserve this.'"
Daniels said she did have sex with Trump, despite not wanting to and not being physically attracted to him ― though she insisted to Cooper that the encounter was consensual and she is not a victim.
In October 2016, after The Washington Post published the Access Hollywood tape in which Trump brags about grabbing women "by the pussy" without their consent, Daniels wanted to join other women who were speaking up about their sexual interactions ― consensual and non-consensual alike ― with the GOP nominee for president.
In the lawsuit Daniels filed this month, she claims that "after discovering Ms. Clifford's plans, Mr. Trump, with the assistance of his attorney Mr. [Michael] Cohen, aggressively sought to silence Ms. Clifford as part of an effort to avoid her telling the truth, thus helping to ensure he won the Presidential Election." On Oct. 28, 2016, just 11 days before the presidential election, Daniels signed a non-disclosure agreement, which included a $130,000 payment. Trump never signed the agreement, a fact that Daniels' lawyer now argues rendered the agreement null and void.
Beyond the salacious details of their sexual encounter ― Daniels told Cooper that she spanked Trump with his own magazine cover ― the case brings up a series of murky questions around campaign finance, the president's vulnerability to blackmail and the intimidation tactics Trump's team may have used in an effort to silence an inconvenient woman. And yet it's Daniels herself who has most captured the nation's rapt interest.
Part of it is her charisma. Daniels is charming and funny, both online and off, tweeting withering comebacks at her Twitter harassers. "Everything that I was afraid of coming out has come out anyway, and guess what?" she said to Cooper. "I don't have a million dollars. You didn't even buy me breakfast."
Just as the Parkland teens have managed to shut down criticism and capture the online conversation by expertly mocking their foes, Daniels does too. Trump might have his telltale CAPITALIZATION and bombast, but Daniels brings the zingers.
"Prostitutes will do anything for money," a Twitter user who goes by Al tweeted at Daniels on March 20.
"Bullshit! NO amount of money can convince me to do dishes or toilets," she quickly responded, quoting the original tweet. Her response got more than 28,000 likes.
For some in the American public, Daniels' occupation and looks are likely enough to warrant writing her off altogether. Women like Daniels ― those who monetize our society's simultaneous appetite for and fear of sex ― are treated largely as objects, meant to be viewed and consumed from an incognito window on a laptop.
As an adult film star with bleach blond hair and augmented breasts, Daniels is surely used to being underestimated. But sometimes being an underestimated woman can be a "secret weapon," as Jessica Roy posited in The Cut in 2015 ― a "trump card," if you will.
"Remember: Just because you look nonthreatening doesn't mean you aren't a threat," Roy wrote.
While Daniels' "60 Minutes" interview was airing, Trump's Twitter feed was uncharacteristically quiet. It felt like a triumph. Daniels was talking on national television, and the man who had tried to silence her was silent himself.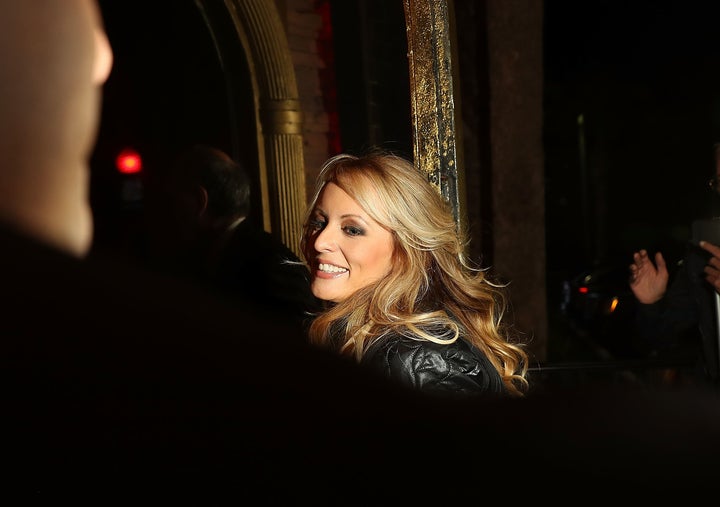 Calling all HuffPost superfans!
Sign up for membership to become a founding member and help shape HuffPost's next chapter