Stephanie Clifford, who goes by the name Stormy Daniels, detailed her alleged affair with President Donald Trump and how she was threatened to stay silent in a highly anticipated "60 Minutes" interview with Anderson Cooper that aired Sunday night.
"It started off all about him just talking about himself," Daniels said of the first time she met Trump at a celebrity golf tournament in Lake Tahoe in July 2006. She says she poked fun of the way Trump was hitting on her, trying to impress her with his own photo on a magazine cover.
"And I was like, 'Someone should take that magazine and spank you with it,'" Daniels said. "And I'll never forget the look on his face."
Trump allegedly compared Daniels to his daughter. When they had sex later that evening, he did not use a condom, and she did not ask him to, she says. Ex-Playboy playmate Karen McDougal made similar comments about her alleged affair with Trump.
Trump and Daniels reportedly kept in touch and saw each other for nearly a year after the first night they had sex but were not intimate again after their encounter in Lake Tahoe.
Daniels said that details of the affair began to leak to the press in 2011, and she gave an interview for $15,000 to a sister publication of the tabloid, In Touch. But the interview never ran and she was never paid. Daniels says an unidentified man approached and threatened her in a parking lot.
"I was in a parking lot, going to a fitness class with my infant daughter," she said. "And a guy walked up on me and said to me, 'Leave Trump alone. Forget the story.' And then he leaned around and looked at my daughter and said, 'That's a beautiful little girl. It'd be a shame if something happened to her mom.' And then he was gone."
Daniels says she did not go to the police because she was scared, and the threat influenced her decision to sign a nondisclosure agreement before the 2016 presidential election and accept $130,000 of what she calls "hush money" from Trump's lawyer, Michael Cohen.
"I was concerned for my family and their safety," she said.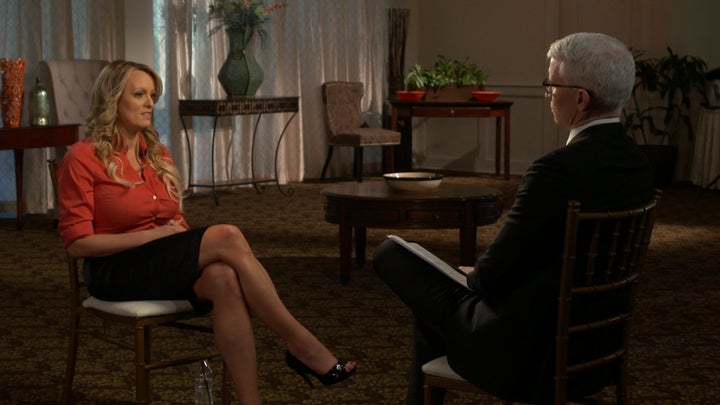 Though the adult film star previously denied the affair, she's now arguing that she should be released from the agreement and be free to speak publicly of her former relationship with Trump as the president did not sign the document.
Cohen has admitted to paying Daniels $130,000. Trump's lawyers are threatening to make her pay $1 million every time she violates the nondisclosure agreement. The White House has denied any affair occurred.
"He knows I'm telling the truth," Daniels said of the president.
The adult film star and her lawyer Michael Avenatti have claimed before she has evidence of her affair with Trump.
However, during the "60 Minutes" interview, both Daniels and Avenatti would not definitively say if they had text messages, video or photographic evidence of the affair.
"My attorney has recommended that I don't discuss those things," she said.
Support HuffPost
The Stakes Have Never Been Higher
Popular in the Community