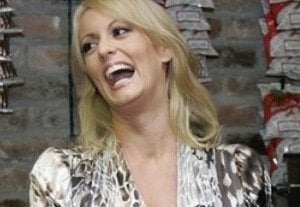 AP - The Louisiana-born porn star who was flirting with a run for the U.S. Senate from her home state will announce "very soon" whether she's really going to make the 2010 race against incumbent David Vitter, her political spokesman says.
Stormy Daniels has had little to say about the race since summer. She continues to promote her adult entertainment ventures and personal appearances online. But, as of Monday, the political Web site set up to promote and fund a possible candidacy, www.teamstormy.com, had not been updated in over six months and there hadn't been a TeamStormy "tweet" on Twitter since last August. Louisiana's Secretary of State still lists the Stormy Daniels Senate Exploratory Committee, a limited liability corporation formed in May, as being in good standing with the state but it's unclear whether it has been doing fund raising or other political activity.
She acknowledged last year that she has not lived in the state for years. There is no sign she has re-established residency, which would be required for a Senate run.
Daniels didn't respond to a request for an interview. Brian Welsh, the Democratic operative listed as an officer in the exploratory committee, said in response to an e-mail query that there will be an official statement about her plans "very soon" but he gave no specific date.
In July, Daniels (whose real name is Stephanie Clifford) was arrested in Tampa, Fla., after her husband told police that she hit him several times during a dispute about laundry and unpaid bills. Charges were later dropped.
Daniels committed to neither a candidacy, nor a political party during appearances in Baton Rouge, New Orleans, Lafayette, Shreveport and Delhi last year. She touched lightly on issues, discussing support for a national sales tax and support for troops in the Middle East, while pushing to remove child pornography from the Internet and keep minors from viewing adult material.
She said at the time that she had decided to explore a possible run after a movement was started by fans. The Draft Stormy movement arose after the phone number of incumbent Sen. David Vitter was linked to a Washington prostitution ring in 2007. Daniels was not involved in that scandal. And though the draft movement was seen as an attempt to embarrass Vitter, she said that was not her purpose in exploring a candidacy.
Vitter has refused to discuss the scandal, other than to confess to a "serious sin." His career does not appear to be suffering: with a healthy campaign war chest he is widely seen as the frontrunner in the Senate race. U.S. Rep. Charlie Melancon of Napoleonville, a Democrat, is also running for the seat.
Calling all HuffPost superfans!
Sign up for membership to become a founding member and help shape HuffPost's next chapter