The largest gayborhood in Los Angeles has declared May 23 "Stormy Daniels Day."
In a ceremony at the adult entertainment store Chi Chi LaRue's, West Hollywood Mayor John J. Duran handed Daniels the keys to the city of 34,000 residents, in addition to a city proclamation. WeHo officials recognized what Duran referred to as her "leadership in the #RESIST movement" in a press release sent to members of the media.
"In these politically tumultuous times, Stormy Daniels has proven herself to be a profile in courage by speaking truth to power even under threats to her safety and extreme intimidation," the statement reads.
Daniels and Duran were both present at the Wednesday ceremony — as was Daniels' lawyer, Michael Avenatti.
In her speech, she noted the city's relevance to the LGBTQ community, who make up an estimated 46 percent of WeHo's population. Daniels also paid tribute to her close friend, Keith Munyan, and his partner of five years, J.D. Barrale.
"As a woman with two wonderful gay dads, Keith and J.D., I feel especially at home here," Daniels said. "The community of WeHo was founded more than three decades ago on the principle that everyone should be treated with fairness and dignity. This community has a history of standing up to bullies and speaking truth to power.
"I am elated," Daniels continued. "Thank you to everyone."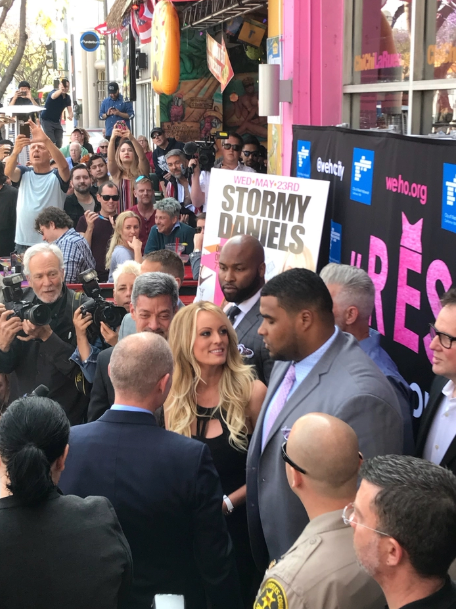 Daniels (née Stephanie Clifford) is suing President Donald Trump for defamation after the Commander-in-Chief denied an affair between the two, which allegedly took place in 2006. The adult film star has subsequently fought to void a confidentiality agreement signed just days before Trump won the 2016 presidential election.
Trump's personal lawyer, Michael Cohen, reportedly paid the 39-year-old entertainer $130,000 as part of that nondisclosure agreement.
Federal authorities are currently investigating whether that payoff constituted an in-kind donation to his campaign, which would breach campaign finance laws. The POTUS denies the payment was illegal (and the alleged affair), even despite an FBI raid on Cohen's house last month.
Daniels' lawyer said she would continue to fight until the truth comes to light.
"She is not packing up," Avenatti told the West Hollywood crowd. "She's not going home. She will be in for the long fight, back each and every day."
The Wednesday ceremony was just the latest symbolic action WeHo officials have taken to counter the Trump administration. Its City Council passed a resolution in June 2017 calling on Congress to impeach the president, citing the "possibility of collusion between the Trump campaign and the Russian government."
West Hollywood has also reaffirmed its commitment to being a sanctuary city, opposing the administration's enforcement of extreme immigration laws.
In 2016, Councilwoman Lindsey Horvath made national headlines after claiming the "violence and intimidation" that Trump represents are not welcome in the LGBTQ enclave. She noted in an open letter that the "people of West Hollywood have seen the devastation and destruction that hatred and hate speech can bring."
"We are home to Jewish immigrants who escaped Nazi occupation in Soviet Russia, to LGBTQ people of all ages including survivors of the AIDS crisis, and to many other diverse constituencies, of which we are most proud," she said.
Popular in the Community