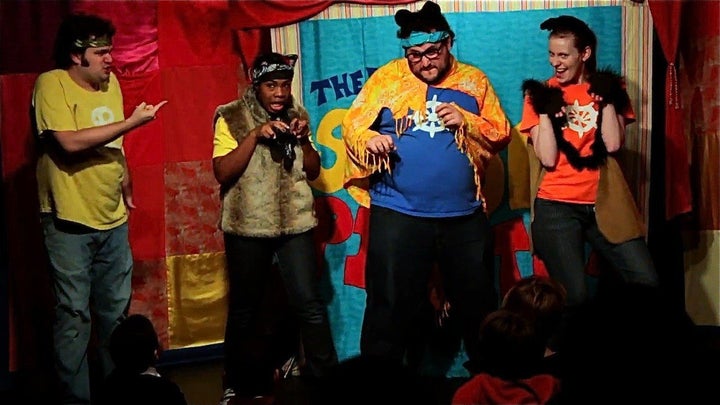 On a recent Saturday afternoon, a group of improvisational comedians performed a collection of brand new stories for children at the Drama Book Shop in Midtown. The tales that the Story Pirates brought to life featured kings, ghosts, and elaborate plots. But the Story Pirates didn't write them; the authors were kids. Greisbert Nunez, a 4th grader from PS 73 in the Bronx who loves writing and football, wrote "Kung Fu Fighting Ninja Squirrels." Joshua Perez, 8, authored "Shadow's Lamp." Second grader Brandon Santana, also from PS 73, penned "The Silly King." And Braden Donoian, a second grader from PS 234 into soccer and baseball put together "Baseball Game Gone Wrong."
"We celebrate words and ideas of kids. We tell them that what they have to say is important,"said Benjamin Salka, the executive director of Story Pirates. "We try to give them the tools and the confidence to make their stories heard."
Since 2003, this arts and creative writing organization, with a rotating roster of more than 100 actors, has gone to New York schools, asking kids to come up with original stories. Then they act them out, and the results are often surprising.
"Adults write what they think kids want to hear, or are supposed to hear," Salka said. "Kids have no filters; they use their own imagination, logic, and language."
The Pirates make a point of honoring kids' own creativity and logic. They act out stories the way they are written rather than tweaking them or correcting their language. "Once a kid wrote a story called Cakeface, and one line read 'I couldn't stop thinking about how much that cake tasted,'" said Lee Overtree, the Story Pirates' artistic director, with a laugh. "It was an awesome way to express that concept."
Story Pirates performs in more than 100 schools during the school year and has a regular Saturday gig at 2pm at the Drama Book Shop on 40th Street in Manhattan, between Seventh and Eighth Avenues. They also organize birthday parties for about $1,000, including food.
"It was funny and entertaining," commented John Perez, the father of Joshua, one of the young authors. "Kids have an amazing imagination. It's great that these Pirates help them to bring it on stage."
But it is the troupe's work in schools that constitutes the core of what Story Pirates does. The performers teach kids to create dramatic stories. The children have fun, and in the process, they gain confidence in their writing abilities. Usually two weeks after the workshops, the actors go back to the classroom and perform a selection of the students' original stories. All the writers receive feedback and positive comments about their work.
"Once the students see the Story Pirates' performance, and they realize that their ideas are being used, and they hear their words on stage--it definitely inspires them and motivates them to write more," said Ann Ledo, an educator at the Bronx Charter School for the Arts, one of the schools involved in the Story Pirates' program.
In late 2008 Jean Carlos, a shy PS 154 elementary school student, wrote a three-sentence story during a Story Pirates workshop. His was one of the tales picked for performance two weeks later to his delight and surprise. When the Story Pirates came back to his class the next year, Jean Carlos stood up and handed one of the Pirates a piece of paper.
"This new story was much more complex and well-structured. It had a beginning, a middle, and an end, and the best part was that the teacher didn't know anything about it. Jean Carlos had worked on it during his own free time," said Overtree. "It was a pretty neat moment to see his new passion for writing, which lead to an improvement in his writing skills."
Related
Popular in the Community