If you're looking for a way to take story time up a notch with the kids in your life, why not turn to astronauts?
That's the premise of Story Time from Space, a project from the nonprofit Global Space Education Foundation that features astronauts reading beloved children's books from the International Space Station.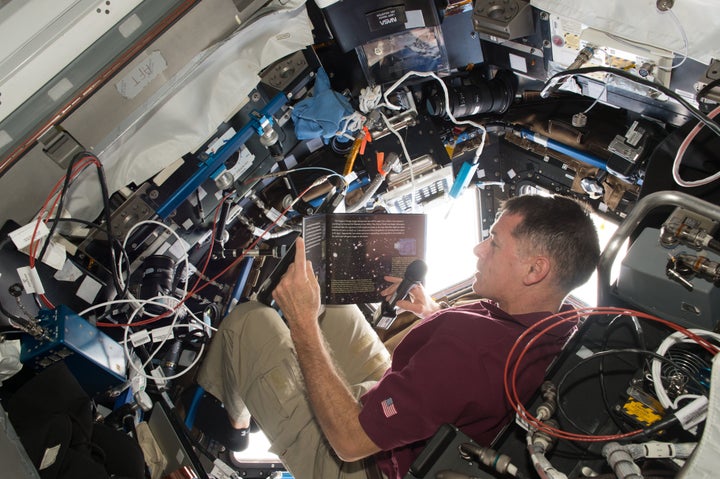 Patricia Tribe, the former director of education at Space Center Houston who came up with the basis for the project, told HuffPost that the thought of merging space and reading came up after she did some research on literacy and science skills in the United States. She decided to merge STEM and literacy in a way that's easily accessible for kids.
"What better role models to engage kids in science and to engage them in reading?" she said. "You're not only looking and listening to the books, you're looking around the International Space Station."
Story Time from Space began with a pilot test from astronaut Benjamin Alvin Drew Jr., also known as Alvin Drew, who helped co-found the initiative with Tribe. He read Max Goes to the Moon, a book by astrophysicist and author Jeffrey Bennett, on the final flight of the space shuttle Discovery. Since the project's official launch, other stories that have been told from space include Next Time You See a Sunset by Emily Morgan and Rosie Revere, Engineer by Andrea Beaty. The footage of the reading sessions are available on the Story Time from Space site and YouTube.
Watch astronaut Kate Rubins read Rosie Revere, Engineer below.
The Story Time from Space team, which includes astronauts, scientists, educators and others, has important guidelines when it comes to choosing the books. They have to be "neat" books that can be read in about 15 minutes, involve some sort of concept regarding STEM and, most important, be accurate.
"We don't want to perpetuate any misinformation," Tribe said.
The team members sometimes receive books from authors who want to be considered for the reading sessions. They also keep up with various lists and recommendations involving STEM-focused children's books. When they have a group of books to consider, the team discusses why a title should or shouldn't be part of a launch. One thing the team keeps in mind is having books that cover a wide range of age groups.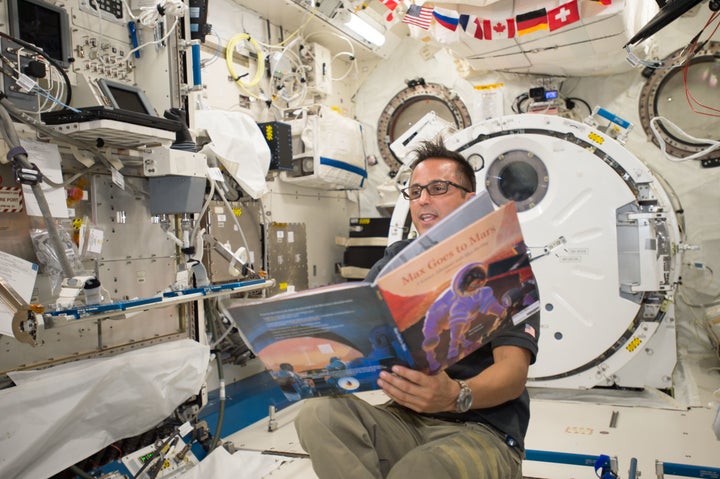 Once the team selects the reading material and gets the approval for a launch, the books must go through the payload process at NASA and then have to be labeled, cleaned and sent to Florida for launch. An organization called CASIS (Center for the Advancement of Science in Space) helps with arranging the payloads and actually getting the books into orbit, and then once story time is over, there's the video editing.
It can also take time to find available astronauts to read the books. Some volunteer, while others are requested because of their background in education or a similar specialty. Tribe also said her team strives to be diverse when it comes to who is telling the stories. For instance, she said she felt it was important for Rosie Revere, Engineer, a story about a girl with dreams to be an engineer, to be read by a woman working on the International Space Station. (Kate Rubins read it.) The site also includes two readings of Max Goes to the Space Station: one in English from astronaut Mike Hopkins, and one in Japanese from astronaut Koichi Wakata.
Tribe said the authors of the books selected have all been "fantastic," just like the astronauts. According to the site, upcoming books include Mousetronaut by astronaut Mark Kelly and The Rhino Who Swallowed a Storm by "Reading Rainbow" host LeVar Burton and author Susan Schaefer Bernardo.
In addition to the reading sessions, the Story Time from Space team is preparing to add to its site footage of kid-friendly science experiments completed on the International Space Station. Its members are also working on a curriculum that coincides with the project and their research to share with educators and librarians.
With each new idea, Story Time from Space is showing kids that learning and literacy can also be entertainment.
"Everybody thinks space is pretty cool, so it's a nice way to capture the audience and capture the kids so they are enjoying space," Tribe said.