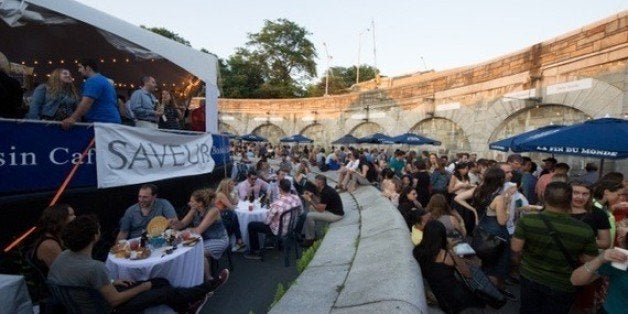 Summer barbecue conjures up images of grilled cuts of meat, cold cans of beer, and loud blasts of music. All these were present at Saveur's Fifth Annual Summer BBQ at the Boat Basin Café, but with a touch of fabulousness.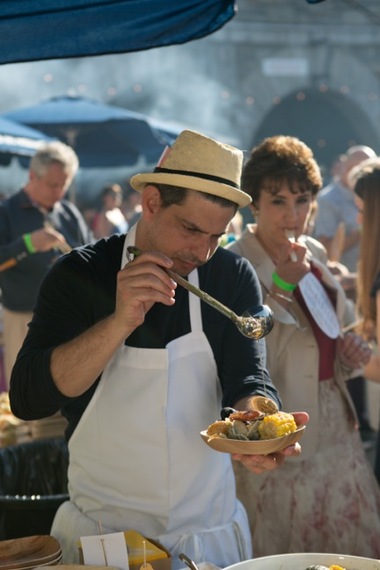 Instead of plain hamburger and cheap beer, guests enjoyed a mix of surf and turf with entrees that ranged from grilled lamb sliders and beef kabobs to vanilla-glazed salmon and barbecued octopus, while sipping on fancy cocktails, wine, and beer from an open bar.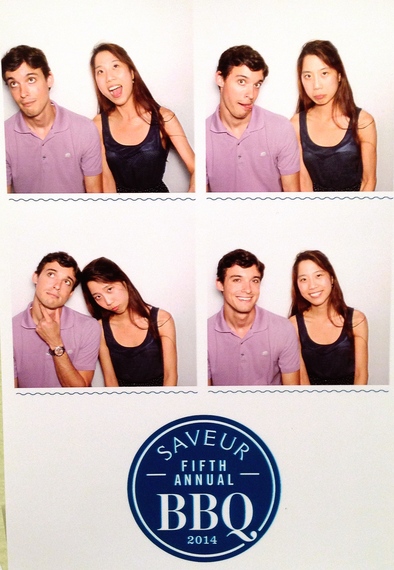 The night also included a DJ playing the hottest hits of the season, a photo booth and a #selfie wall, and a beautiful view of the sunset along the Hudson River.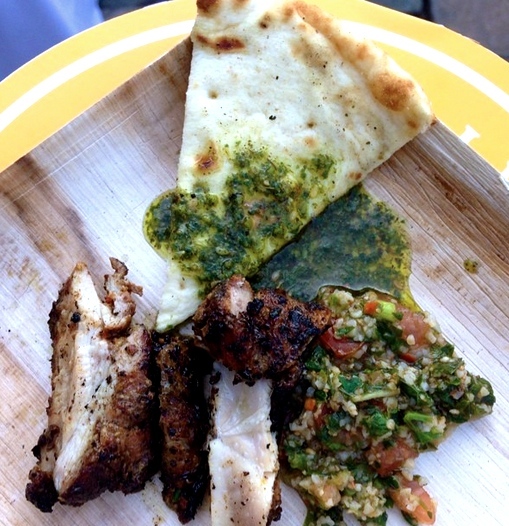 The crowds packed the outdoor stage area of the Boat Basin Café's at this sold-out event. Upon entering the venue, I was greeted by the wafting smell of Iraqi Yellow Spice-Rubbed Chicken from Saveur Test Kitchen. The chicken was grilled to perfection, with the crispiness of the charcoaled skin balancing well with the juicy and tender meat inside. The dish was served with tabbouleh, herbed red onion pickles, and a slice of pita bread with a drizzle of basil pesto.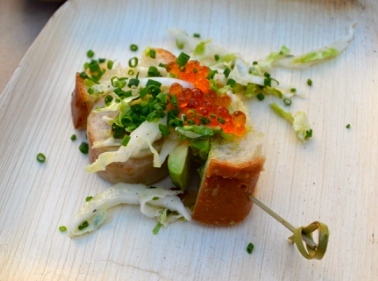 A couple tables down, Sean Rembold of Reynard at the Wythe Hotel served what looked like a hotdog, but with a twist. His bite-size Seafood Boudin Blanc topped with bacon bits, pickled cabbage, and a bed of salmon roe on a house-made brioche bun that has been rubbed with avocado aioli had a burst of flavors.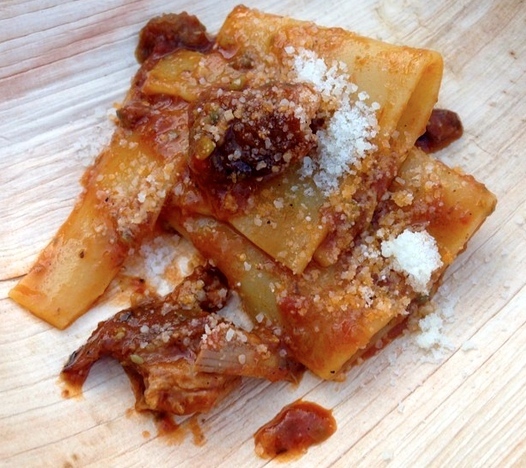 I then took a trip to Italy to try Jonathan Benno and Richard Capizzi of Lincoln Ristorante's Paccheri Pasta with Grilled Pork Spareribs. The highlight of this perfectly al dente pasta in the shape of big, flattened round tubes was the pork spareribs, which came off the bone so easily and just melted in my mouth.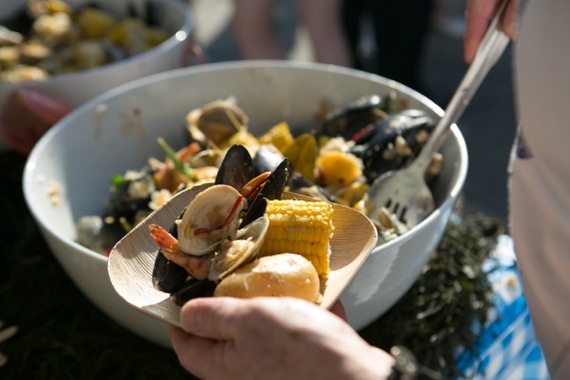 My favorite dish at the BBQ also happened to be the simplest -- a traditional New England Clam Bake by Joey Campanaro of The Little Owl and Mike Price of The Clam. An ensemble of steamed littleneck clams, mussels, shrimps, corn on the cob, and potatoes steamed in a savory jus was served pile high with a generous scoop of butter. Every bite of the seafood exuded lemon zest jus all over my mouth like an explosion.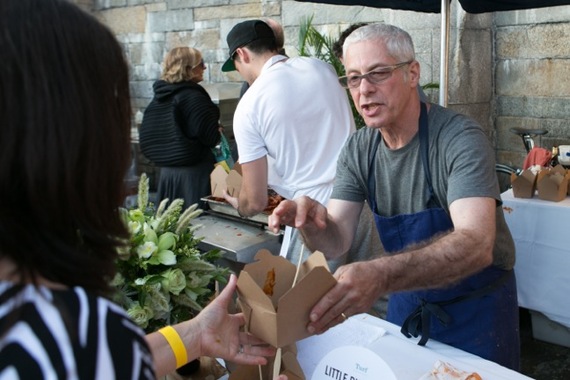 Other savory dishes prepared by the star-studded lineup of chefs included Amanda Freitag of Empire Diner's Grilled Lamb Slider with green goddess dressing and grilled tomato chutney on brioche sider bun (the lamb was slightly overcooked and dry), Marc Meyer of Cookshop's Little Picnic Box containing BBQ chicken wings with jalapeno coleslaw and BBQ potato chips (the chips got soggy too quickly), and Roberto Caporuscio of Don Antonio's Sorrentina Pizza topped with smoked buffalo mozzarella, sliced lemons, and basil (the thin crust was chewy in the middle and crispy on the edges with some burnt bits).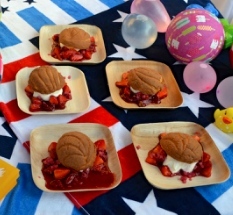 A meal would be incomplete if it didn't end on a sweet note. I loved Dana Cree of Blackbird's Cinnamon Concha. By itself, concha, or shell-shaped Mexican sweet bread, can be a bit bland and dry. But Cree paired this playful dessert with luscious roasted strawberries and airy whipped goat cheese for the perfect dosage of sweetness and moistness.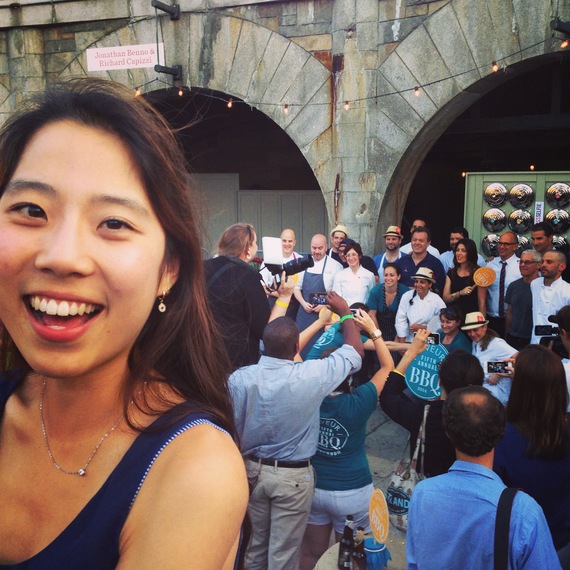 Towards the end of the dinner service, the all-star chefs who dished up delicious food to the guests at the event gathered for a group photo in front of Le Creuset's Selfie Wall. I, of course, seized this opportunity to snag a selfie shot with the chefs in the background!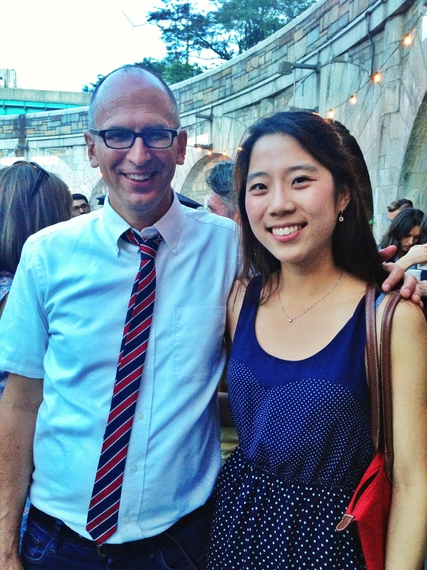 With savory and sweet bites from the country's hottest chefs, refreshing drinks, and upbeat music, Saveur Summer BBQ was a great way to kick off the season. As James Oseland, the editor-in-chief of Saveur, aptly described how this year's event stood out from those of previous years, "[The BBQ] is more fabulous every year." If that is the case, then I am already looking forward to the event in 2015!
Photo courtesy of Ang Snaps Photography