An easy recipe for "tsoureki": sweet bread with olive oil, so much taste and full of flavor, so light and above all... healthy! Soft, fluffy, with a beautiful brown semi-soft crust and an amazing stringy texture... Greek Easter bread (tsoureki) is traditionally served in Easter but it is also the perfect accompaniment to a morning coffee or to an afternoon tea break. If you haven't tried tsoureki before, then you are certainly missing out!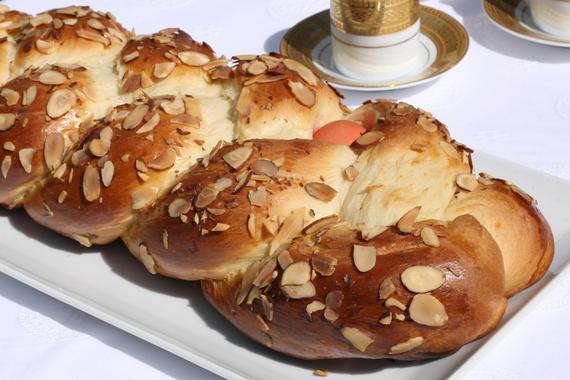 170gr / 6oz tepid water
3 sachet (8g/0.3oz each) dried yeast
1 tablespoon sugar
4 tablespoons all-purpose flour
140gr / 5 oz olive oil, preferably extra virgin
½ liter / 2 cups orange juice
zest of 2 oranges
180gr / 6.5oz sugar
1-2 teaspoons vanilla extract
½ tsp salt
1 kilo / 2.2 lbs flour bread or all-purpose flour
milk or 1 egg yolk for the glaze
almond slivers for sprinkling
Directions
Prepare the leaven: In a large bowl, combine the yeast, warm water, 1 tablespoon sugar and 4 tablespoons flour. Mix the ingredients together, cover the bowl and let stand for 20 minutes, until bubbly.
In another big bowl pour the olive oil, orange juice, add the sugar, aromatics (orange zest and vanilla extract) and the salt and mix. Finally add the leaven and the flour little by little, kneading it in at the same time until you get a dough that's smooth and shiny. Oil the dough slightly and place in a big bowl covered with a cloth set aside in a warm place and let the dough rise for 1 hour and 30 minutes, until doubled in bulk. Deflate the dough, divide into 4 balls and form in shapes (braid, snail etc.). Place tsoureki loaves on a non-stick baking sheet, covered with a towel, and let them rise again for 20 minutes, until almost doubled in bulk. In the meantime, preheat the oven to 160ºC/320F 180ºC / 360F (depending on the oven). If you want your loaves to have a nice sheen, brush them with milk or an egg yolk mixed with some milk. Sprinkle with the almond slivers and bake for about 30 minutes or until nice and golden.
Tips:
All the ingredients must be room temperature!
In case that the dough is too sticky, you may add some more flour (not more than 100gr / 3.5 oz), until the dough is smooth and doesn't stick to your hands.
You may add some special spices that are used by Greeks :1 teaspoon of Chios masticha powder (mastic) and 2 teaspoons of mahlepi (mahleb), finely ground, which can be found at all good ethnic grocery stores.
With the quantities given you can make 4 medium-size tsoureki loaves.
For more recipes by Katerina, visit
Popular in the Community