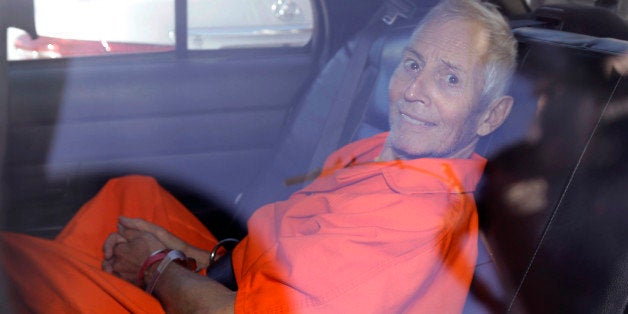 Much has been said about HBO's documentary series The Jinx and its use of altered chronology to enhance the dramatic impact of its final episode. On the Media ran an interview with filmmaker Joe Berlinger about the conflicts that can be found at the intersection of journalism and storytelling. Here is the concluding exchange of the interview, which is particularly insightful:
Berlinger: I am not in favor of giving false information to an audience (...) but I am ok with holding off giving information until the right dramatic moment because that is the nature of storytelling.

Bob Garfield: If I haven't misheard you, there is a structural conflict between the role of a documentarian to seek truth and his responsibilities as a filmmaker to spin out the most compelling narrative (...)

Berlinger: A documentarian must be committed to a truthful presentation of the facts. But, in my book, emotional truthfulness is a valid form of truthfulness. A documentary needs to have balance, but it doesn't mean you need to put every fact, and to counterpoint every fact, because then the film would be endless. It's a series of decisions. And what I think what separates good documentaries from bad documentaries is finding that balance between truthfulness and storytelling.
Whether you buy Berlinger's argument about so-called emotional truth, there is the fact that the documentary genre lives in the land between journalism and storytelling. And let's assume, for the purpose of this blog post, that we are referring to the most ethical kind of journalism. So what takes priority then? I am sure that many documentary makers don't consider themselves journalists, and therefore don't feel they should follow any journalistic code of ethics. That doesn't mean that their work is not ethical, but maybe they just don't think they should be held to Frontline's journalism standards. So who says that you can't manipulate the chronology of events a bit to make things feel more dramatic? That's what The Jinx did. A few people noticed but I have the feeling that the rest don't care that much. It's a great story, it had an amazing climatic ending, and that's about it.
Another recent true crime documentary that has been a huge success is Serial, created by the team of This American Life. Serial is singlehandedly responsible for the declaration of the golden age of podcasting. OK, maybe there are many other fantastic podcasts, but Serial is what was needed for everyone to notice what some public radio nerds (and I say that in a caring way) had noticed a while ago: podcasting is the place where the most exciting experiments in that intersection of journalism and storytelling are happening. When Serial came out there was also plenty of debate about it. There was a backlash to Serial and there was a backlash to the backlash. If you listened to Serial, by the way, you cannot miss this interview with Jay on The Intercept. So some say Serial is fantastic journalism, some say it is deeply flawed journalism, some say it is simply entertainment, and the producers probably think they achieved the perfect balance between journalism and storytelling.
But what is that perfect balance? Storytelling has a number of objectives, and ethical considerations are not necessarily compatible with these priorities. When we hear a story we want it to be engaging, we want to relate to interesting characters. We want the anecdotes to be funny, or amusing, or surprising. We want the twists and the turns. We want to get every moment, no matter what that entails. If that means that the camera has to continue to roll when it might be very uncomfortable for the producer to continue recording, then so be it. Even that alleged confession that Robert Durst mumbled while going to the bathroom is troubling. Did he agree to be recorded while going to the bathroom? He probably didn't. He probably signed a release form for the video and audio from the interview, but not necessarily for the audio of his trip to the bathroom.
I do think there is a fundamental incompatibility between storytelling and journalism. And because of this, every single piece of media that operates in the common land that these two fields share will be flawed in some way or another. In the case of The Jinx, it appears that they favored storytelling's priorities. The case of Serial is a bit more ambiguous. There was nothing blatant about what Sarah Koenig did. But I did (and this is a personal feeling) had the feeling that Serial was just great storytelling, more than great journalism.
There is one show that has been doing a good job at walking the line that divides storytelling and journalism. This American Life has been doing the same thing over and over and over again for almost 20 years. I generally don't like what they do. Except for when they produce special investigative episodes. Like this episode about a school's maintenance man who became a tyrant. Or this expose of Judge Amanda Williams' questionable record. Or this fascinating account of the actions of a school board in East Ramapo, New York. Or this investigative special about the Federal Reserve of New York. The list goes on and on. The latest, an episode titled Three Miles that touches on a vital issue in our society: diversity, social mobility, and how our society refuses to pay attention to certain structures, having to do with race and economic class, that are chronically attached to the fabric of our country. This episode strikes its own particular balance between journalism and storytelling. It introduces us to fascinating characters, at the same time it points at some issues that are perhaps uncomfortable, but so important. Is it true that anyone who works hard can make it in America? What about the millions of people who work hard and just don't make it? And what about the people who don't have to work that hard to make it because everything is in their favor? Underneath the great storytelling and the journalistic process, there is an extra layer of meaning that no one refers to. The episode is produced in the context of public radio, an environment that as of today cannot brag about its great diversity. Maybe that was too much to tackle in one episode. But as of right now, at their best, This American Life is doing the best mix of storytelling and journalism that I know.
REAL LIFE. REAL NEWS. REAL VOICES.
Help us tell more of the stories that matter from voices that too often remain unheard.