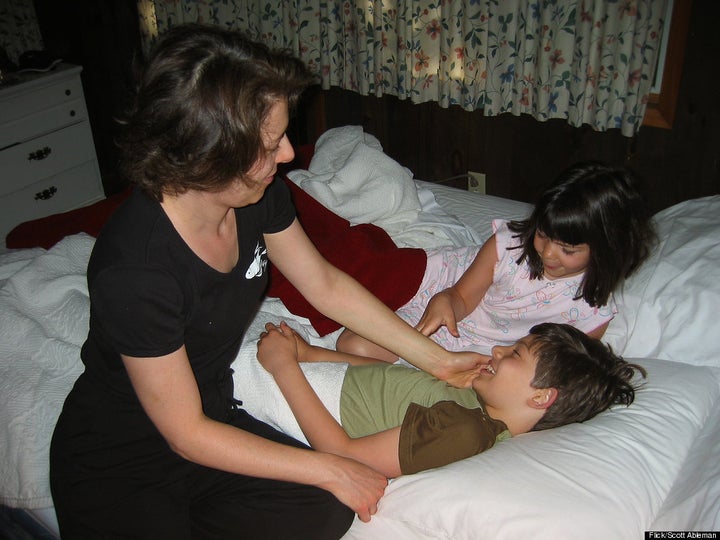 As an overworked Dad, I'm always looking for ways to find more time with the kids. If you're like me, you also know that's easier said than done.
As much as we want to find more time for family, life sometimes gets in the way. Clients, bosses and just earning a paycheck often grab our attention before family. If only there was an easier way?
Try storytelling at home with your kids. When my oldest son Will was three years old, he asked me one night at bedtime to tell him a story "with my mouth." That meant he wanted me to tell him a made-up story, not someone else's story from a book. And so I did. I just made up a story about the first thing that came to my mind. He loved it. So much so that he asked me the next night, "Dad, please tell me another story with your mouth."
Thus our storytelling tradition was born. Will is now thirteen, and his younger brother, Connor, eleven. Just about every night since that first night when Will asked me to tell him a story, I've made up an original tale with my boys at bedtime. Of all the things we do together, storytelling is what the boys love most. It's created a special bond between us that only Will, Connor and I share.
I credit the hours spent with my boys creating stories together as one of the great treasures of my life. It's given me lasting memories and insights about them I'd never have otherwise.
I'm not the only fan of storytelling with kids. Many schools of education, such as the Waldorf School, use storytelling as a key component of their curricula. Storytelling is also documented as an effective pre-literacy activity, teaching kids to play with words and extend those words into sentences.
Best of all, storytelling instills great communication skills and a love of reading. Storytelling allows kids to be active, encouraging them to conjure up their own mental images and, in the process, stimulates creativity and imagination. And it creates a sense of empathy with others.
At this point, you're probably thinking, "Sounds great, but there's no way could I do this with my kids night after night. I'm just . . . [choose one] a.) too tired, b.) too busy, c.) not clever enough, d.) all of the above."
My friends said the same thing at first, until I convinced them that if I could do it, they could do it too. Here's the secret. Don't make up stories for your kids; rather, make up stories with your kids. It's the interactive quality that keeps the stories creative and spontaneous. I've made up stories with my sons just about every night for over ten years now, and I couldn't have done this without their ideas and help.

Creating stories together is actually pretty easy. And we're not talking about retelling The Three Little Pigs night after night. Start by asking your children what they want tonight's story to be about. At first, most kids say "I don't know." But don't let them off the hook. Instead, encourage them to go with the first idea that pops into their mind.
With their help, build the story from there. Share ideas for setting the scene, developing characters, creating tension or adding a challenge for the story's hero or heroine. Then resolve the challenge in a way that's humorous, enlightening or teaches a lesson.
If you get stuck halfway through, stall for time by asking your children, "Guess what happened next?" They'll give you a good idea, or at the very least give you time to think of a new direction.
By involving your kids in the storytelling process, you can never predict the whacky stories or crazy endings that result. Don't worry if every story isn't an award winner. Kids don't care. What matters is you've come up with a story just for them. One no one else has heard. That's what makes interactive storytelling so special. Before long, you and your kids will have created your own family tradition of made-up, just for fun storytelling.
John McCormick and his sons William and Connor are the authors of "Dad, Tell Me A Story," How to Revive the Tradition of Storytelling with Your Children (Nicasio Press 2010). For more information about family storytelling, visit the authors' website and blog at http://DadTellMeAStory.com.
Related