By David Jensen, Craft Beer Expert for Menuism.com | Photo credit: David Jensen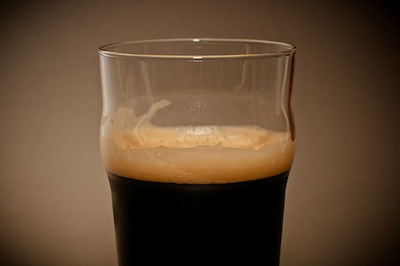 As winter draws near and the weather gets cold, many beer drinkers are drawn to the appeal of something richer, darker, stronger and more complex. For many, stout fits the bill perfectly. For others, stout is a year-long staple. Regardless of the time of year, there is no doubt that this centuries-old style has a broad appeal for its rich texture, roasty aroma, and malty -- sometimes sweet -- flavor. In fact, in April 2011, the Brewers Association reported that stout was the fastest-growing style of beer, outpacing both pilsner and IPA.
One of the most common stouts on the market today is Guinness. If you've had this beer, then you're familiar with the creamy mouthfeel and full-bodied texture. Although it seems heavy, Guinness is a relatively light beer weighing in at roughly 4 percent alcohol by volume. The creamy, heavy feeling comes from being gassed with nitrogen instead of carbon dioxide. Furthermore, Guinness is merely a single example of one style of stout. The world of stout is far broader and more delicious than any single example. Today there's a wide variety of stouts, including oatmeal stout, milk stout, dry stout, imperial stout, bourbon barrel-aged stout, cherry stout, chocolate stout, coffee stout and oyster stout.
Related Links from Menuism:
15 Craft Beers to Try Before You Die
For Beer Lovers Only: A Craft Beer Glossary
All About: American Pale Ale
All About IPA: A Primer on India Pale Ales
PHOTO GALLERY
All About Stout: A Guide To 5 Stout Beer Styles
David Jensen is based out of San Francisco and is the primary writer and photographer for Beer 47, a blog focused on craft beer, beer events, cooking with beer and homebrewing. In addition to the blog, you can frequently find David on Twitter as @beer47, tweeting interesting news and sparking up conversations about craft beer while sipping his favorite Double IPA. By day David is a software engineer for a small Internet company.
All About Stout: A Guide to 5 Stout Beer Styles was originally published on The Menuism Blog.
Calling all HuffPost superfans!
Sign up for membership to become a founding member and help shape HuffPost's next chapter