When it comes to food I have strong opinions on what I like and what I don't. Actually this pertains to all aspects of my life; there is just no time for wishy washy in-betweens.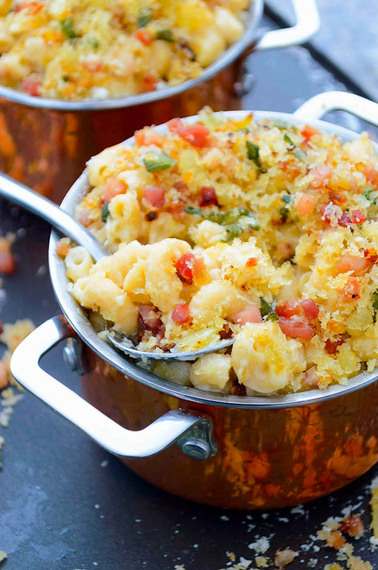 There is wild crazy weird love and there is... ehh not so much.
We could get super philosophical right now or I can tie that little intro into this dreamy bowl of childhood nostalgia.

So macaroni and cheese. It's a simple concept, a staple in most people's pantry and will put a smile on any kid's face. (Minus the non-dairy-vegan-raw food diet kids that trendy LA parents are latching onto, but you get the point).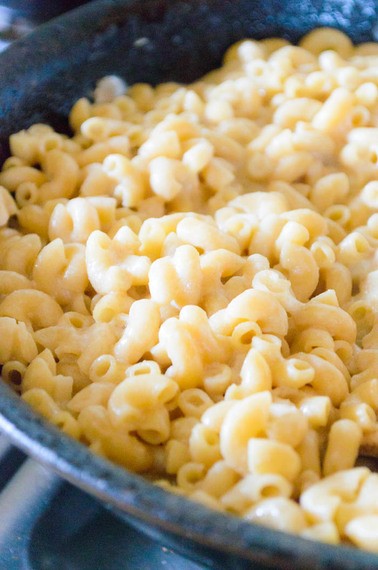 In terms of macaroni, I like creamy. No, I really LOVE-ADORE creamy. There's no other way to do it because when it comes to food, I like what I like and will be obnoxiously stubborn about it. Go creamy or get out you know?

Another thing I love... simplicity. I know the title of this recipe is dramatically long and makes you ponder settling for that box of Kraft but have some faith in your girl here. I may like creative and authentic flavors but when it comes down to it, the food just needs to taste damn delicious.

This mac is all made on the stovetop and whipped up in a matter of 30 minutes (this includes prep, pasta, cleaning, etc) -- > hello easy weeknight dinner for the kids or rainy date night with your lova.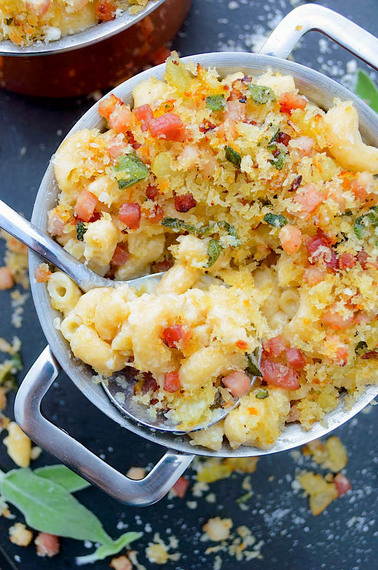 The truth is I love all food and will try pretty much anything. It's a romantic part of our lives but for me it's how I like the food. And in my book, macaroni and cheese needs creamy-dreamy-cheesiness of love in every bite.
This is not diet food. It's treat ya self food with a side of red wine and good company. My life in nutshell, please join in on the party people.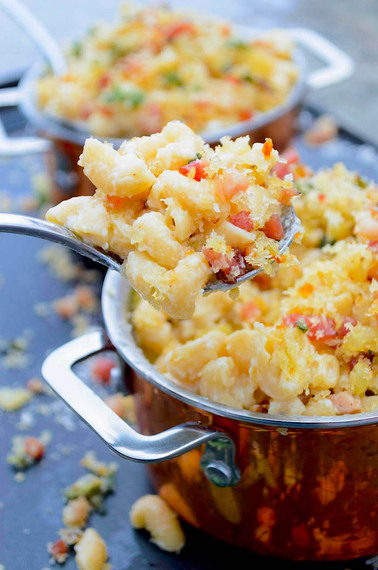 Ingredients
1 lb. uncooked whole wheat macaroni
2 Tbsp butter
2 Tbsp all purpose flour
1.5 cups milk
1/4 cup mascarpone cheese
2 garlic cloves, chopped
Sea salt to taste
2 cups Cabot Aged Cheddar Cheese (I used this liberally; realistically 3 cups!)
Topping
2 Tbsp olive oil
1/2 onion, chopped
1/3 cup chopped pancetta
Handful of fresh sage, chopped
1/4 cup parmesan cheese
Directions
Cook pasta according to directions on package.
Melt butter in a large pan over medium high heat, add garlic then whisk in the flour until the roux becomes golden brown in color; should take a few minutes. Reduce the heat then add in the mascarpone cheese and stir until it is incorporated into the sauce. Then add in the cheese and continue stirring until melted. Take off heat, mix in the macaroni, cover and set aside.
To make the topping, sauté the onion and olive oil in a sauce pan over medium high heat with the pancetta until crispy and brown. Stir in the breadcrumbs and parmesan for a few minutes then sprinkle over mac n cheese and serve!
For more on this recipe click HERE