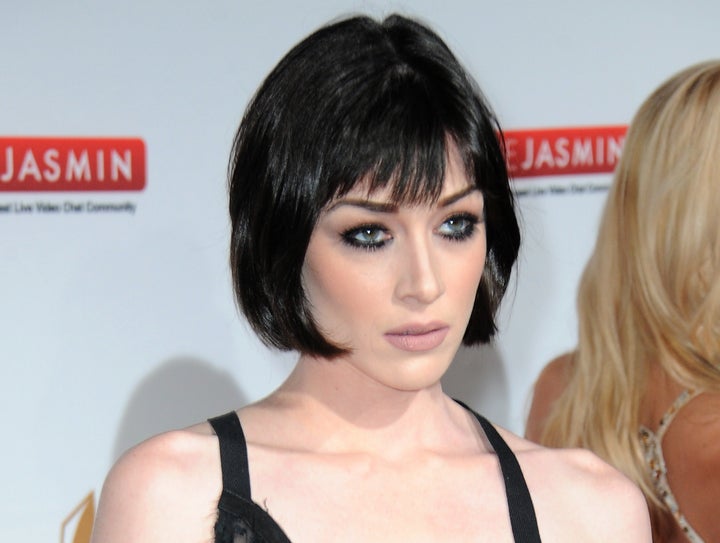 In November 2015, adult film star Stoya sent out two tweets that launched a nationwide discussion about sexual assault, intimate partner violence and consent in the porn industry. The actress and writer said that her ex-boyfriend (and porn industry darling) James Deen had raped her while they were dating, and in the wake of those tweets, 12 other women came forward with allegations against Deen.
In a new interview with The Cut, the first high-profile on she has given in months, Stoya publicly discussed the alleged assault, and her refusal to be defined by it. 
"What I don't want is for my entire career and therefore entire life to be all about James and what he did to me," she told writer Lizzy Goodman. "Has my life not been all about James and what he did to me for long enough?"
So, Stoya is moving on in the best way she knows how: by working to change the flawed industry she's a part of from the inside.
She began to perform again in April -- though she won't do any BDSM scenes because she finds them triggering. And she told Goodman that she went back to work for one important reason: "Because right now the only things standing out about porn are the garbage. And I know you don't fix something by walking away from it."
Rather than walking away from the industry, she is using her role as the co-creator of TRENCHCOATx to produce and act in more progressive pornography. TRENCHCOATx is an inclusive "curated smut" site that adheres to her brand of "alt-porn." By producing and acting in the kind of pornography that includes diverse body types, gender identities and sexualities, she told Goodman that she is able to create the kind of adult entertainment that "isn't total shit." 
The NYMag profile also drives home Stoya's adamant belief in affirmative consent -- even in the industry of sex work, kink and BDSM. Being a porn star -- or a sex worker of any kind -- does not mean that a woman has no ownership of her own body.
Characterized by her refusal to adhere to stereotypical pornographic standards that supposedly appeal first and foremost to the male viewer (blond hair, fake breasts, fake orgasms), the profile highlights Stoya's position as a body-positive porn star who values showing "real pleasure" on camera.
Stoya has been a vocal critic of a culture in which it is unbelievably easy to access sexualized images of women's bodies, while things that come naturally to women's bodies -- like periods or armpit hair -- are still seen as gross. After posting on social media about periods and receiving a resounding "Ewww" from her followers, she responded to them with: "You can find on a Tube site, HD video showing the interior of my rectum. But periods? How disgusting." 
Stoya -- who recently turned 30 -- told Goodman that as she continues to recover from the assault and regain her footing in the porn industry, she knows exactly what she wants to do in her 30s: "I want to show a sexualized aging body," she said. "And I'm really the best person positioned to do this."
Calling all HuffPost superfans!
Sign up for membership to become a founding member and help shape HuffPost's next chapter
BEFORE YOU GO
PHOTO GALLERY
40 Powerful Images Of Surviving Sexual Assault