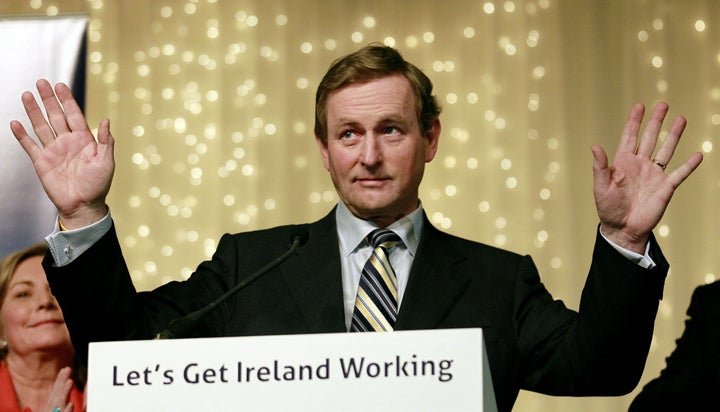 The two leaders of the new Irish government have landed in America for St.Patrick' Day with a spring in their step and a desire to write a new chapter in the history of Ireland and America.
Prime Minister Enda Kenny and Foreign Minister Eamon Gilmore, leaders of the two coalition parties, Fine Gael and Labour, have inherited a decrepit economy, 1,000 young people a week leaving and enough problems to give an aspirin a headache.
But the mood music could not be more different since they took power. In the end the old regime was seen as hopelessly corrupt and incompetent and the Irish electorate punished the Fianna Fail led government savagely on February 25th.
The new government with a record majority in parliament are at great pains to show they will be fair, open and honest.
They have slashed their own salaries, ended the limousines and drivers for government ministers , promised quick action on a raft of good government measures and generally set the mood music right in a country where Mozart's Requiem has been the prevailing leitmotif.
Now they are in America for St.Patrick's Day and Kenny will have most of the day with Vice President Biden and President Obama tomorrow, joined later by Gilmore who meets Secretary of State Clinton on Friday.
In a meeting I was at with Gilmore in New York the change was immediately obvious from the ancient regime.
"I am here to listen" he told a group of Irish immigration advocates, anxious to discuss the plight of Irish undocumented.
It was a welcome refrain. Previously foreign ministers in the old government, grown arrogant by 22 of 24 years in power, talked and did not listen.
By listening intently Gilmore earned many positive points from those present. "This is a dialogue, not a diatribe" said one of them, former Congressman Bruce Morrison referring to testy relations between activist Irish Americans and the previous Irish government.
The news has been all bad all the time from Ireland recently but this St.Patrick's Day a glimmer of light has appeared.
A new government that has swept out all the old and tired faces has taken office and got quickly to work.
Most importantly, they appear to be there to represent ordinary people savaged by the recession, and not the special interests that the outgoing one did.
That in itself makes it a brighter day this St.Patrick's Day for the Irish.
REAL LIFE. REAL NEWS. REAL VOICES.
Help us tell more of the stories that matter from voices that too often remain unheard.