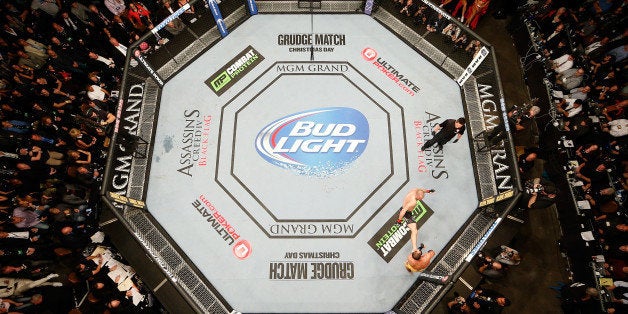 It had all the makings of a fairytale ending to one of the most storied careers in UFC history; welterweight champion Georges St-Pierre would defend his belt for the ninth time at UFC 167 to become the promotion's all-time winningest fighter, and walk away from the octagon after nearly a decade.
But even before St-Pierre took the microphone from commentator Joe Rogan during a post-fight interview, the perfect scenario to retire at the height of his success had already passed, as the validity of his split-decision win over Johny Hendricks was immediately questioned. Still, the champion addressed the MGM Grand Garden Arena crowd amid a deafening mixture of boos and cheers.
"I have a bunch of stuff in my life happening, I need to hang up my gloves for a little bit," stated St-Pierre. "I have to go away for a little bit at least ... I have to step away for a bit, and that's all I can say right now."
Refusing to call it a retirement, St-Pierre created an instant shockwave of speculation that his 2,000-plus day reign as the king of the UFC's 170-pound division was over, his non-committal remarks about his ultimate departure from MMA igniting the flames of controversy.
The contentious win over Hendricks, scored 47-48, 48-47, 48-47, was deemed an unsatisfactory farewell in the court of public opinion, and no one was more vocal than UFC President Dana White.
"I'm blown away that Georges St-Pierre won that fight," offered White, who was among many who believed that Hendricks outpointed the champ. "You owe it to the fans, you owe it to that belt, you owe it to this company, and you owe it to Johny Hendricks to give him that opportunity to fight again."
White himself was in disbelief over the "incompetence" of the Nevada State Athletic Commission (NSAC) and its judges, and his comments were met with disdain, some believing that the UFC boss was more interested in retaining his greatest asset in order to promote an instant rematch, than expressing concern over the distraught fighter's physical and mental state.
But rather than hypothesizing over St-Pierre's cryptic message or pondering White's intentions, the conversation should shift to addressing how the heroes of MMA can walk away from competition at their peaks, rather than suffering through the twilight of their careers as lesser incarnations of their once-glorious forms.
Many of the UFC's greatest champions: Chuck Liddell, Randy Couture, and Matt Hughes; finished their careers on the wrong side of brutal knockouts, and based on St-Pierre's performance against Hendricks, where he was bruised, battered, and bludgeoned with punches, elbows, and knees for 25 minutes, it's apparent that age has begun to slow the once-dominant 32-year-old. And more taxing than the physical strain endured during St-Pierre's 27-fight career, which includes 19 UFC wins, is the mental and emotional anguish and pressure of carrying a promotion, and perhaps he just had enough.
"I just came out of a freaking war, with the guy that hit like a truck. My brain got bashed left and right inside my skull. I get very emotional," commented St-Pierre. "I can't sleep at night now. I'm going crazy. I have issues. I need to relax. I need to get out for a while."
The face of the UFC, and a national hero in Canada, St-Pierre was maybe never quite comfortable with the spotlight. He recently mocked his own stiff tendencies in a commercial for NOS active energy drinks, and he was also seen on UFC's Primetime program, stating his desire to have children, lots of children.
At 32 years old, it's valid to consider life outside of the cage; still young enough to enjoy adulthood after dedicating the majority of his life to MMA, St-Pierre has earned the right to make every decision about his future. But perhaps his glaring faux pas was not offering his employers any advance notice, especially on the eve of the UFC's 20th anniversary, especially in the wake of Saturday's split verdict.
"Obviously [St-Pierre's camp] had a plan before the fight happened," explained White, who also cited St-Pierre's history as a model employee, pointing out their healthy professional relationship. "Tonight was one of those things that he should've just bit his tongue."
Of course, if St-Pierre had been dominant in his victory over Hendricks, or even lost, it would have been the perfect time to step aside, as the welterweight division is home to a crop of rising talent like Robby Lawler and Tyron Woodley, both of whom were victorious at UFC 167, as well as Hector Lombard, Matt Brown, and Rory MacDonald, St-Pierre's protégé. But with Hendricks unable to decisively take the belt from St-Pierre inside the cage, the retirement, as well as the future of the 170-pound division, is marred and mired in uncertainty and doubt.
In fact, the only certainty in the whole aftermath of Saturday's events is that Georges St-Pierre, the man who has logged five hours and 28 minutes inside the octagon, the most in UFC history, is at the end of his leash both physically and mentally, or at least far enough along to make this very public and calculated announcement.
And White perhaps said it best, offering that "it's about damage," in reference to Hendricks' crushing performance that left St-Pierre's face a cut and bloody mess, but also a fitting metaphor for the ensuing melee.
Physical damage, emotional damage, professional damage, they were all in effect after the UFC 167 main event. And while White deals with the damage caused by the inadequacies of the NSAC, and Hendricks must face an ego damaged by his inability to finish the fight, it is St-Pierre who has incurred the most significant damages, the ones that left him feeling helpless and with no other options than to hold the UFC captive while he sorts out his personal life.
The controversy surrounding St-Pierre's remarks will forever be linked to UFC 167, and regardless if there is ever any resolve, no one is denying that GSP has been a great champion and ambassador for the UFC, a loyal and dedicated martial artist who lived and breathed MMA to reach the pinnacle of his sport.
"I would never turn my back on the UFC, never, ever," stated St-Pierre. "I don't regret anything tonight. I gave everything. I left my soul in the octagon tonight."
Related
Popular in the Community