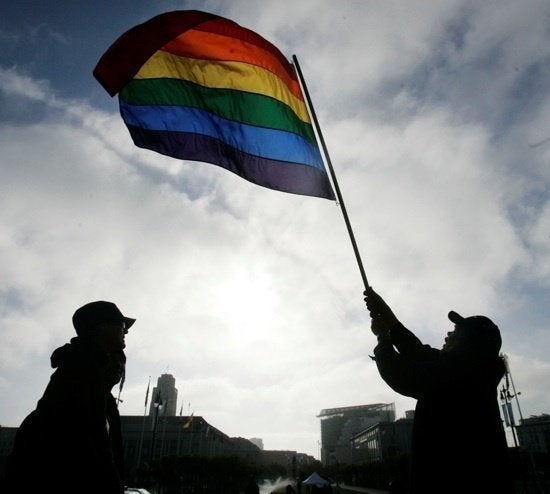 In what will surely be remembered as a pivotal moment in our country's quest to live up to its promise of "liberty and justice for all," the House Armed Services Committee's Subcommittee on Personnel held a hearing on Wednesday to debate the federal "Don't Ask, Don't Tell" ban on lesbian, gay and bisexual service members. The hearing, which was the first in the 15 years that the military's ban has been on the books, marked an important turning point in the fight for equality in our armed services.
Three military veterans -- one of the Army's first African-American Generals, the first service member wounded in Iraq and a Navy Captain who was at the Pentagon on September 11, 2001 -- told members of the committee that the time has come to repeal this law, and told their own stories of why they so fervently believe in ending "Don't Ask, Don't Tell."
Chaired by Congresswoman Susan Davis (D-CA), the hearing stood in stark contrast to the 1993 debate over gays in the military. Gone were the short-sighted defenses of the law by Pentagon leaders (who chose not to show up and argue for maintaining the ban) . . . the doom and gloom predictions that previously accompanied discussions of open service . . . and the line-up of military leaders calling for exclusion of gay troops. Indeed, Wednesday's debate was set against the backdrop of a changing landscape for LGBT troops, with more than five dozen retired officers having endorsed repeal, and a new poll showing that an overwhelming majority of Americans -- 8 out of 10 -- care more about performance than sexual orientation.
Try as they might, opponents of open service, led by Elaine Donnelly of the Center for Military Readiness, were unable to crack the Members' belief that the time for change has long since passed. Lodging every possible offensive scenario -- from lesbian gangs to HIV-positive predators -- Donnelly seemed unable to convince lawmakers that the status quo shouldn't go. Members of the committee challenged Donnelly repeatedly -- and forcefully -- with Congressman Vic Snyder calling her stereotypes "offensive" and Congressman Patrick Murphy -- himself a veteran of the war in Iraq -- forcefully daring her to call out American service members as being too unprofessional to carry out orders welcoming gay troops.
In a particularly powerful address, Republican Congressman Christopher Shays (R-CT), who is a co-sponsor of repeal legislation in the House, took on Donnelly's assertion that the hearing itself was a "waste of time." Shays, clearly moved and clearly passionate in his respect for lesbian and gay troops, told Donnelly that, "When I look at the graves at Arlington Cemetery, I know that some of those soldiers must have been gay. That is why we are here today . . . that is why we are having this hearing."
And in a 5-minute address worthy of a PFLAG mom, Congresswoman Carol Shae-Porter (D-NH) told Donnelly that she, too, was from a military family, and has a relative serving on a submarine. "I asked him about this issue, and he wasn't concerned at all," the Congresswoman said, later adding that it was not just the troops serving under the law, but their partners, spouses and families who lived under it, too. "I am straight," she told Ms. Donnelly, "but I'm not narrow."
In the end, even Donnelly -- clad in her trademark bulging pearls, ankle-length skirt and unflappable hair - seemed flapped by the experience. The long-time opponent of both women and gays in the military was forced to acknowledge that, in fact, prejudice isn't good for the military. And her co-witness, a retired Army Ranger from Florida, said that he, too, may come around to a different view given a little more time.
Indeed, it may have been Donnelly who changed more minds than anyone at the hearing . . . just not in the direction she would have preferred. But even she, at the end of the debate, seemed to have silently recognized something she would also have not preferred. Donnelly's long, dark skirt seemed appropriate for her mourning; the law she had fought to defend was one giant leap closer to withering away.
More than 140 Members of Congress now support repeal of "Don't Ask, Don't Tell," and Wednesday's hearing is likely to cause that number to grow. And when the history books are written, Americans will remember, as Shae-Porter noted, that many of those votes were from straight allies who refused to be narrow.
Popular in the Community