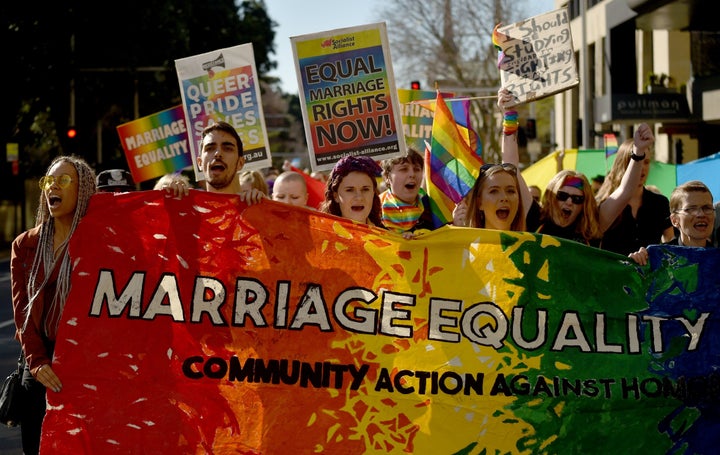 Members of Australia's Party for Freedom, which supports "traditional Australian values, family values, and the protection and preservation of Australian sovereignty and independence," announced plans for the rally in a Tuesday Facebook post. The Sept. 23 rally, the post read, will take place in Sydney's Darlinghurst neighborhood, which boasts a vibrant LGBTQ community. 
If Party for Freedom chairman Nick Folkes has his way, however, LGBTQ couples won't be tying the knot in Australia anytime soon. "We believe tradition is important," he wrote in the post, which can be viewed below. "The biological institution of marriage should not be redefined to suit a minority sexual orientation." 
Party for Freedom members expanded on their opposition to marriage equality in an Aug. 13 blog on the group's official website. 
"Legalizing homosexual marriage will open a 'Pandora's box' to polygamy and the possible lowering of the age of consent for sex," they wrote. "Gay marriage is the latest fad pushed by the left-wing politicians, left wing media, cashed up gay rights groups and social justice warriors under the modern perversion of 'rights' as a social justice movement."
The blog also tried to present much of Professor Mark Regnerus's controversial and discredited 2012 study on same-sex parenting as fact, adding, "The gay rights movement is based on compassion ignoring the dangers the lifestyle experiment may pose to children."  
Given these arguments, the group's justification for a "Straight Lives Matter" is laughably weak, as same-sex marriage has been proven to have zero effect on opposite-sex unions whatsoever. (Repeat: zero.) 
Whether or not the planned rally will sway Australian voters, however, remains to be seen. Last week, the nation's government called for "an extraordinary mail-in vote" to determine whether or not same-sex couples will be allowed to legally marry, The New York Times reported. The ballots will be mailed to residents Sept. 12, with the results expected on Nov. 25. 
UPDATE Aug. 21: Folkes released a statement to HuffPost, which read: 
We are holding the 'Straight Lives Matter' rally to encourage Australians to vote 'no' in the upcoming same sex marriage postal vote. I do not support the push to redefine marriage by amending the Marriage Act. Traditional marriage is a cultural, religious and historical institution that needs to be preserved to protect children and families. Legalizing same sex marriage will open a 'Pandora's box' to those seeking to normalize polygamy and multi parent marriage arrangements.

I do not believe homosexuality is equal to heterosexual lifestyle. I believe legalizing homosexual marriage will send the wrong signal to young people confused about their sexuality. "We need boundaries in society, not a free for all environment where tradition is challenged in the name of phony concept of love. Freedom of speech and choice is at stake if gay marriage is legalized as more anti-discrimination laws will be passed to enshrine homosexuality as equal to heterosexuality, and business owners i.e. florists, bakers and photographers could face litigation for rejecting trade with gay weddings.

Senator Dean Smith's draft amendment to the Marriage Act gives exemptions to religious institutions however official Greens policy on same sex marriage calls for no religious exemptions. There are Labor politicians who also support the idea of no religious exemptions. Ministers, citizens and business owners should be able to discriminate and say no to being involved in gay weddings. It is a fundamental right to discriminate based on your beliefs or convictions.
Calling all HuffPost superfans!
Sign up for membership to become a founding member and help shape HuffPost's next chapter
BEFORE YOU GO