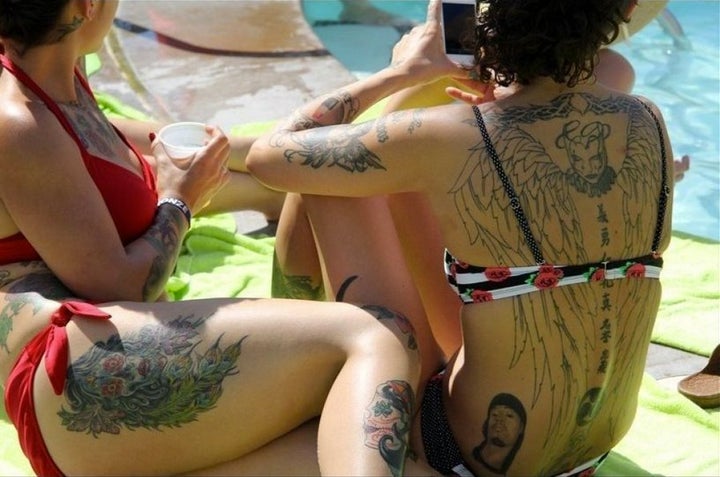 The 2012 election, which saw triumphs for same-sex marriage in Maryland, Maine and Washington, proved that the country's demographics are drastically changing and that the voices of many minority groups are now being heard. But homophobia still exists all over the world, and when you're a gay woman feeling trapped in the confines of a predominantly straight society, there is only one place you can go where everybody knows your name: the Dinah Shore Weekend in Palm Strings. But what would I know about that? I'm married. And straight.
In March 2010 I, a semi-jaded relationship coach and LGBT enthusiast (yes, I really am straight), was in the middle of finishing my book in a last-ditch effort to save the world when a group of my favorite lesbian confidants told me that I should grab my smallest bikini and head over to the Dinah. I wasn't sure how I felt about the bikini part, and I was slightly hesitant about the rest, but what could be better for my upcoming New York Times bestseller? (I mean, the fact that not a publisher in sight knew my name didn't mean that the Times wasn't going to call, right?)
So, on a sunny Wednesday morning, I made the nearly two-hour drive from Los Angeles to Palm Springs, laptop on board and notepad handy, ready to partake in a little cocktail splurge if my clockwork neurosis and obsessive vitamin intake would allow. I had read all about Katy Perry and Lady Gaga performing at the Dinah the previous year, but this time it was Salt-N-Pepa, and I was growing more excited about hearing my '80s idols "push it" during their Friday-night performance. However, this was a five-day event, and I still had absolutely no idea what to expect. But how scary could it be? Dinah Shore herself had a torrid love affair with Burt Reynolds, and I could certainly dig that.
Thanks to my play-it-safe nature and neurotic disposition, I spent the drive anticipating a record-breaking coup d'état at the Dinah. After all, I was technically straight, and these women knew nothing about my LGBT clientele. I was to become one in the crowd, masking my desire for male flesh and inexplicably attempting to swagger like Mick Jagger. Don't get me wrong: I was aware that women are beautiful, and I wasn't immune to the occasional sexually charged romp session here and there; after all, my 20s were one big, long Hollywood party.
I arrived at my hotel, looked straight into the mirror and thought, "You can do this. Get your shit together. You're a professional." I was shaking, and I felt like a fraud. I thought I was well-known for my work. My face was splattered all over lesbian relationship columns in which I answered questions about coming out, breaking up, sexual identity and the abominable lesbian bed death. I hadn't encountered too much opposition in recent years. After all, most lesbians who read my columns knew I was as straight as they were gay. What I didn't realize was that my curriculum vitae would carry little weight in the upcoming days. Who did I think I was? Dear Abby?
After getting assimilated via activities that were scattered about the stretch of beautifully landscaped hotels, I met Mariah Hanson, the creator and producer of the official Club Skirts Dinah Shore Weekend and all-around goddess of Palm Springs. She was warm and accommodating, as were the staff members, some of whom knew I was there to finish my book. Suddenly the Dinah felt like an old friend, welcoming me with open arms and a few too many margaritas.
The concert, which included Ke$ha, was like Disneyland for adults. I watched couples old and new holding hands, making out and talking about being free from their closeted lives back at home. I felt my nerves diminishing as I snorted in laughter with my new friends backstage. After all, I was more excited to meet Pepa than worry about how cool I looked (not very cool, by the way). It felt as if the entire room had a connection that could put Woodstock and Nixon to shame. The Dinah felt good. Not sex-with-a-man good, but accepting and freeing good.
I spent the weekend talking with extraordinary women at packed pool parties, comedy shows and philanthropic events. One young woman, a fellow Dinah virgin, admitted that no one back home in Kentucky knew she was gay and that she had come to the Dinah to feel what it was like to be herself. She had a huge smile on her face, and I was mesmerized by her glow. There I was, someone who enjoyed the luxury of being able to hold hands with her husband, attend holidays at home and have a legal marriage in the eyes of the law, all in the face of non-judgment. My gratitude weighed heavily on me, and I had suddenly forgotten that I was there to write a book.
After sharing many memorable moments with gay and straight women, I left Palm Springs late Sunday afternoon feeling inspired, humbled and hungover, and with a few new best friends. I arrived back in Los Angeles feeling lighter from the ethereal experience, and months later my little red book boasted rave reviews from even the toughest of LGBT critics, skyrocketing my much-needed sales for the Christmas season.
As Spalding Gray would say, it's a slippery slope, but riding the label train was enough to make my head spin, and as it turned out, labels never really were my thing. I no longer think of myself as "straight and married," and I'd like to think that I no longer live in a little pink box with a shiny purple ribbon. I came out as me that warm Easter weekend in 2010, and that meant more than anything.
There is a reason the Dinah Shore has been around for over two decades, and I think Marlo Thomas said it best: 'cause we're free to be you and me.
The Dinah 2013 takes place April 3 to April 7, 2013, in Palm Springs, Calif. For more information visit TheDinah.com.
Calling all HuffPost superfans!
Sign up for membership to become a founding member and help shape HuffPost's next chapter