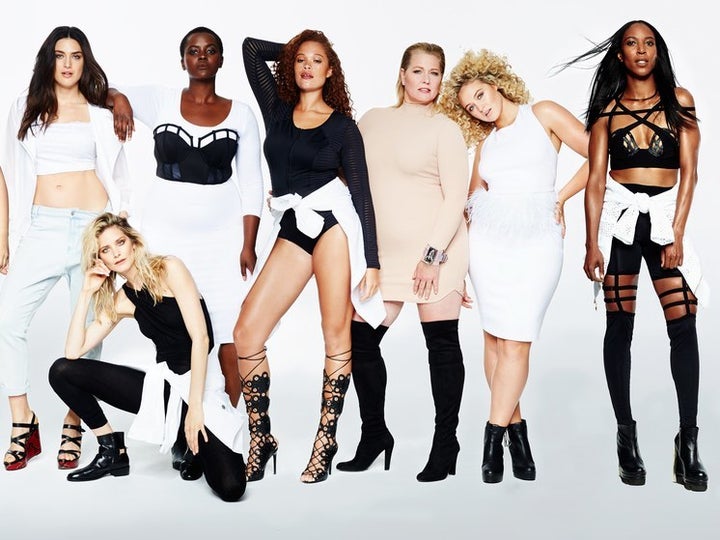 The anticipated Straight/Curve documentary, set to premiere on June 21 at 8/7c on EPIX, redefines body image and self-care through the intimate stories and experiences shared by models in the film.
Director of Straight/Curve, Jenny McQuaile, tells Huff Post about how the models were selected for the film and talks about which industry leaders needed to be included in the magic. "Choosing our characters was both incredibly difficult and incredibly easy. There are a lot of game changers in the fashion industry and the media today who are leading this body positive movement. People and brands who are changing the marketplace and the conversation. The likes of Lane Bryant, Aerie, Christian Siriano, and Becca McCharen from Chromat are featured in the film because I believe true change happens when you lead by example. I want to celebrate the people who ARE affecting change in this film, to show everyone else that it can be done, and how successful you can be while being more inclusive and diverse. A lot of other documentaries on the fashion industry tear down people, they point the finger and place blame, and I want to do something different with Straight/Curve," says McQuaile.
Jenny McQualie speaks about the importance of including women who already represent the change through their daily contributions and platforms. She says, "Choosing our models was more difficult. We filmed with probably around 40 models over the course of the two years and each one of them deserves praise for the work they do. In the end we only had 83 minutes to tell this story and the models we chose are all role models in this movement first and foremost. These women have raised the bar and use their social media and their platform to change the conversation. It was vitally important to me that our characters be not just models, but role models, who are showing other young girls and women that they are not alone. It was also vitally important to us to represent diversity of size, age, and race in the film and for our characters to reflect the world we live in, and the beauty standards we are fighting for."
Straight/Curve declares that the perfect body concept, perpetuated by the media, has caused harm to so many women who do not fit the ideal body type and size range. The film addresses the current public health crisis in the US and the increasing danger. Both an exposé and a call-to-action is regarded in the film's timing as McQuaile explains, "Straight/Curve has been two years in the making. The documentary has evolved so much over the last two years as the fashion industry, and the wider conversation, has shifted. It became obvious to us about a year ago that the conversation simply had to move towards diversity and representation for ALL women – of size, age and race, as well as gender and sexuality. And that is the path our film took. Shockingly, 90% of women say they do not feel represented by the fashion industry or the media, and the images they consume on a daily basis leave them feeling "disgusting" and "less than". This is simply not acceptable anymore. My team and I at Straight/Curve – Jess Lewis and Yael Melamede – decided we had to do something about this and decided to plan a one off diversity photoshoot, which forms the backbone of our film. We wanted to create the imagery we should be seeing more of. Once we found our 'form' and wrapped filming, the editing process took about 10 months to complete the final film."
We asked when McQuaile knew that the Straight/Curve story was complete. "You never 'know' when a documentary is complete and ready, there are so many different versions of this story I could have told," she said, but she talks about the viewership of Straight/Curve and the real-life issues that are addressed. "It is important to me that this film be accessible so people of all ages and walks of life can watch it and share in the messaging. I want to welcome as wide a spectrum of people as possible into this dialogue. We touch on issues of health, race, implicit bias, education, sexuality, body shaming and body image – but we do it in an accessible way. Straight/Curve is a sharing of experiences to show young girls and women that they are not alone, and I hope it serves as a tool to open a wider dialogue about these important issues," she says.
We should prepare ourselves for one of the most engaging conversations that the fashion industry has had to date, both fit with unbelievable facts, and heart wrenching stories. "Straight/Curve is a unique film in so many ways as it is both an 'issue film' and a character based film. We meet our characters, who then introduce us to the issues we tackle. There are few documentaries out there that adopt this essay style form. For that reason Straight/Curve is definitely unique in its approach. Making sure we retained that accessibility was of the utmost importance to me," says McQuaile.
Straight/Curve premieres June 21 at 8/7c on EPIX
Related
Popular in the Community