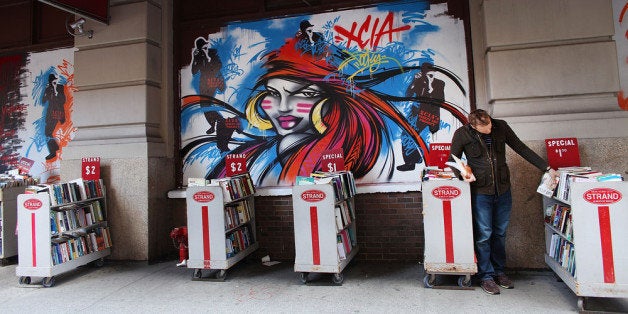 GREENWICH VILLAGE — The Strand Book Store used its sprinkler system to drive away homeless people from beneath its famous red awning and yanked a sign warning people of the tactic after a reporter asked about it, DNAinfo New York has learned.
Signs reading, "Warning: Sprinkler System Will Run Periodically From 10:30 PM-9:00 AM" were placed on the wall of the bookshop at the corner of East 12th Street and Broadway. Some homeless people said they were doused when they tried to sleep on the sidewalk in front of the store, store employees and the homeless said.
"It was to keep people from sleeping out there," said a Strand bookseller who asked that her name not be used. "People used to sleep over there and in the morning we have to put out the book carts, so it was a little bit difficult and uncomfortable for some people."
Strand co-owner Nancy Bass Wyden — who is married to U.S. Sen. Ron Wyden (D-Oregon) and is the granddaughter of Strand founder Ben Bass, who opened the shop in 1927 — said in a brief phone interview Thursday that she was "not sure" about the reason for the sprinklers.
Strand manager Eddie Sutton denied the sprinklers were intended to disperse the homeless, saying they were there to clean the sidewalk.
The warning sign had been removed as of Friday.
Michael Pilgrim, 44, who sleeps under scaffolding across the street from the Strand, said he has seen fellow homeless people get sprayed trying to take shelter in front of the store.
"A couple of people were staying under there and the sprinklers came on. And last time I tried to sleep under there, security came by and said, you gotta move before the sprinklers come on," Pilgrim said.
"It was bad because you get soaking wet. If you're lying there and you don't know about it, everything is going to get soaking wet — all your personal belongings. You're going to freeze, basically."
Charise Paschall, 39, who was trying to sleep close to Pilgrim on the pavement, added, "It's already cold. You're going to basically freeze to death."
Local homeless people said that in years past they regularly took shelter under the Strand's awning without the threat of sprinklers.
"We used to be able to sleep over there. For years and years they let people sleep over there," said Breeze Reavis, 35, who regularly sleeps on the street around the corner from the Strand.
"I was there the very last night that they allowed us to stay there. The cops came by and said, if we catch anybody sleeping here, they're going straight to jail. They put up a sprinkler system."
Late Sunday night, the sidewalks outside the Strand were empty.
Marcus Moore of the community organization Picture the Homeless said that the sprinkler tactic was "an attack on the homeless population."
"This is not what caring people do to each other," Moore said.
Related
Before You Go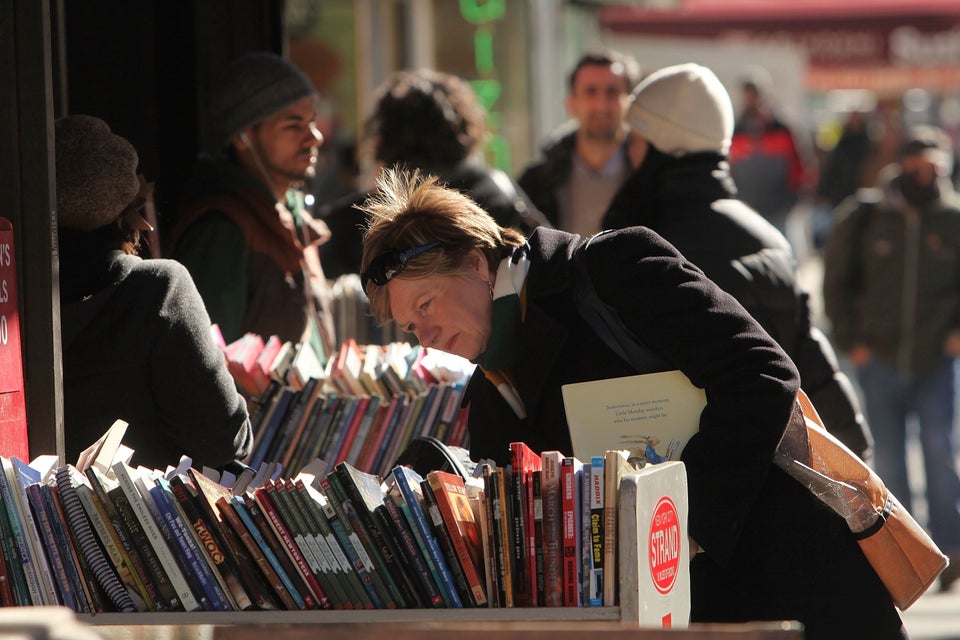 NYC's Strand Book Store
Popular in the Community