A Colorado Springs woman, injured and lost for nearly three days in the Bavarian Alps near the border between Germany and Austria, was found and rescued after thinking fast and using her sports bra to signal for help.
Jessica Bruinsma (Facebook) was hiking with a friend when the weather turned and she fell off a cliff. She landed on a narrow ledge, injured her leg, dislocated her shoulder, and broke four ribs, one of which punctured her lung. Although unable to climb back up the cliff, the experienced outdoorswoman, who is a wilderness EMT, triathlete, and former ski instructor, was able to find shelter in a small cave and discovered a timber company emergency cache that contained water, according to articles in the Rocky Mountain News and AP.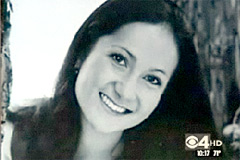 She also noticed a nearby cable used to transport timber from a logging operation. Keeping her shirt and jacket for warmth, she removed her bra and attached it to the cable. When logging operations resumed, the bra was carried down the mountain on the cable, where a lumberjack who had heard of the missing woman, found it and called police. A helicopter searched along the cable's path, found Bruinsma, and winched her to safety.
The Rocky Mountain News reported that the life-saving bra has become a bit of a sensation.
The white sports bra has become the talk of the Berchtesgaden area of Germany near the Austria border.

"It certainly beats sending up a flare," one rescue worker told ananova.com, a British Web site.

The incident inspired bloggers and wags, one of whom wrote to Backpacker, "Maybe we should consider adding Victoria's Secret to the Ten Essentials" - the list of 10 things all hikers should carry.
Related
Popular in the Community