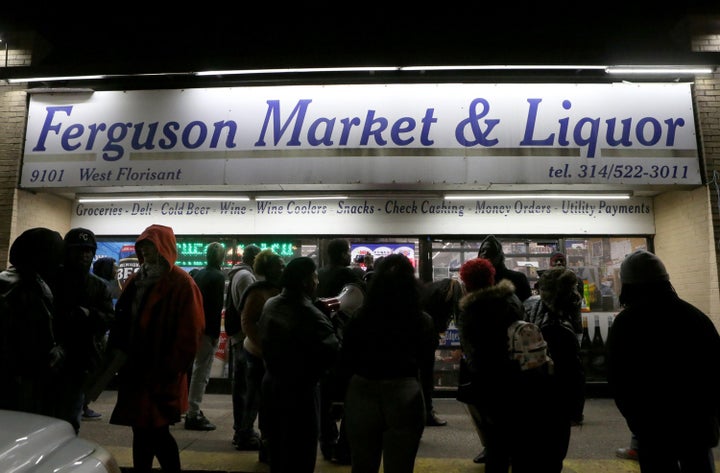 A new documentary came out over the weekend at the South by Southwest festival that contains previously unreported video from a convenience store which if authentic and unedited has raised a lot of attention on new aspects of Michael Brown's death at the hands of police that the public, and possibly the grand jurors, weren't aware of. It is clear that previous video of Brown in that convenience store where he was accused of selling cigarillos and allegedly stealing cigarillos was widely distributed as we began moving for justice following his death. This new video shows some kind of engagement the day before and therefore people in that store had some knowledge of him and some sort of history with him. The image of Brown being an out-of-control thug that went and robbed the convenience store, and hours later grabbed a police gun now becomes suspect and at least reviewable. We must ask ourselves – and the Ferguson police department – why are we only learning of this new video now?
Almost immediately following Brown's death, many argued that there was an effort to smear his character and shape the narrative in favor of the officer's defense. This new video adds credence to that argument. Even in a worst case scenario, this footage shows he was exchanging marijuana for cigarillos and left the stuff there to come back the next day and got into an argument with the store clerks. It certainly moves into question why police were called in for a robbery, and why they were called in that day and not the day before when Brown was also in the store according to this new video? How do you paint the profile of a hostile kid reaching for a gun when none of that was demonstrated in the video the day before?
"Why was Mike Brown vilified and smeared in the public eye?"
Whatever happened on that second day, this video shows that it was not Brown's pattern of behavior to be capable of reaching for a gun. If Brown didn't reach for the officer's gun and if the store encounter wasn't a robbery, then the basis of self-defense goes out the window. If both convenience store videos weren't presented to the grand jury, then the lack of indictment against the officer is questionable. If both were, then why wasn't the public made aware of the second video? Why was Brown vilified and smeared in the public eye?
The day young Michael Brown was killed, his grandfather called me and within 48 hours I was leading a rally in Ferguson. I later preached at his funeral and held additional unity rallies. I clearly recall how we were castigated. I remember how activist Anthony Shahid and others who started the "hands up, don't shoot" chant were called frauds and dismissed by so many. And I vividly recount how the residents of Ferguson were ignored and demonized by those in power when they were simply raising concerns that had been festering for a long period of time.
"When evidence can be manipulated, and narratives shaped, we need a neutral entity to investigate these killings and bring us the truth."
If this new video is accurate, it raises a familiar pattern: we were never given the entire truth and never told that there were holes in the police story. It is what I, National Action Network and many others have pushed back against for decades. It is why we march and continue to march and say that we cannot trust local law enforcement to police itself. With the number of police-involved killings of civilians on the rise in 2017, we must demand transparency, accountability and justice. There must be outside prosecutors and independent investigations of officer-involved deaths, and this level of change must be enforced from the top. When evidence can be manipulated, and narratives shaped to create a desired outcome, we need a neutral entity to investigate these killings and bring us the truth.
I spoke at the second anniversary of Brown's tragic death and have continued to work with the family and stay in touch with his parents on a regular basis even though many have since moved on from the issue. I fully understand that only sustained indignation and mobilization will turn this thing around. As a student of the civil rights movement, I know that the Montgomery bus boycotts began in '55, but it wasn't until '64 that people finally achieved the historic legislation of the Civil Rights Act. It took nine years to change things by law; today, we cannot go two or three or even four years and just drop a struggle.
After all, you never know when stranger fruit brings out a new issue and has a way of correcting a familiar story.
Popular in the Community