Bride Millie Maltby loves to bake, so she decided to make and decorate her own three-tier wedding cake for her nuptials to fiancé Matt in Brixham, England on Sept. 2.
Unfortunately, the exquisite cake collapsed during the couple's long, hot car ride to the Berry Head Hotel the day before the wedding, and it seemed all of her hard work had been in vain.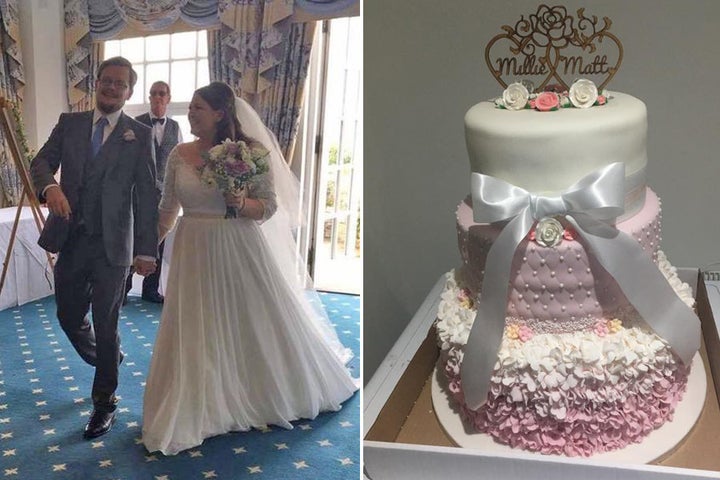 By a stroke of luck, Clare ― the owner of Pattys Piece Of Cake ― happened to be delivering cupcakes to the hotel for another event around the same time that the Maltbys arrived.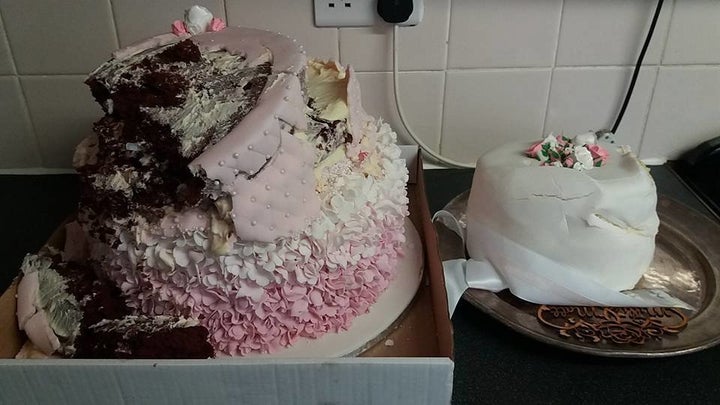 "We were quite cautious to drive carefully," the bride wrote on Facebook. "However, when we arrived and opened the cake box, it appeared that the hot weather caused the buttercream to melt and the cake just gave up."
She continued: "I was a very calm bride and it didn't seem to matter as I was marrying the man of my dreams and everything else seemed so insignificant. Matt, on the other hand, was heartbroken. He felt awful, as I had taken so long to bake and decorate the cake and I had been taunting him about how yummy the cake was going to be."
The hotel staff told the bride not to worry and that they would handle the cake mishap. They approached Clare, whose husband works at the hotel, and asked her if she could fix the cake. She agreed and quickly got to work.
"With time against me, I just didn't have time to bake, cool and decorate a new middle tier, so thankfully I had a dummy cake which I used to create the new middle tier. I managed to near enough color-match the pink to the original cake too which was a bonus," she explained in a now-viral Facebook post, which was later shared on Love What Matters.
Clare told HuffPost she was able to salvage the top tier, which was made of lemon cake.
"For the top tier, I removed all the flowers and stripped off the damaged fondant. I then re-crumb-coated the cake, chilled it and recovered it in white fondant," she said. "I washed the ribbons, as they had been damaged with the cake and cleaned off the flowers."

The finished product looks nearly identical to the original (pictured above):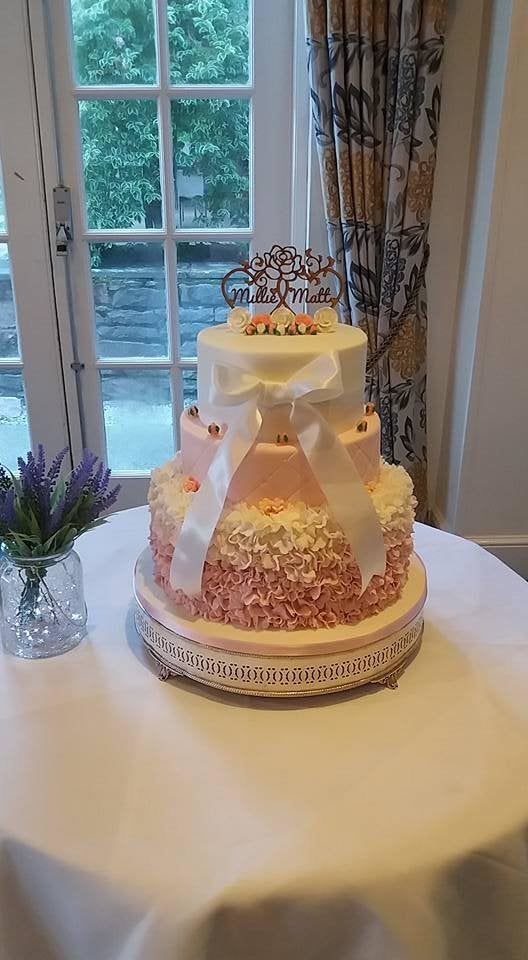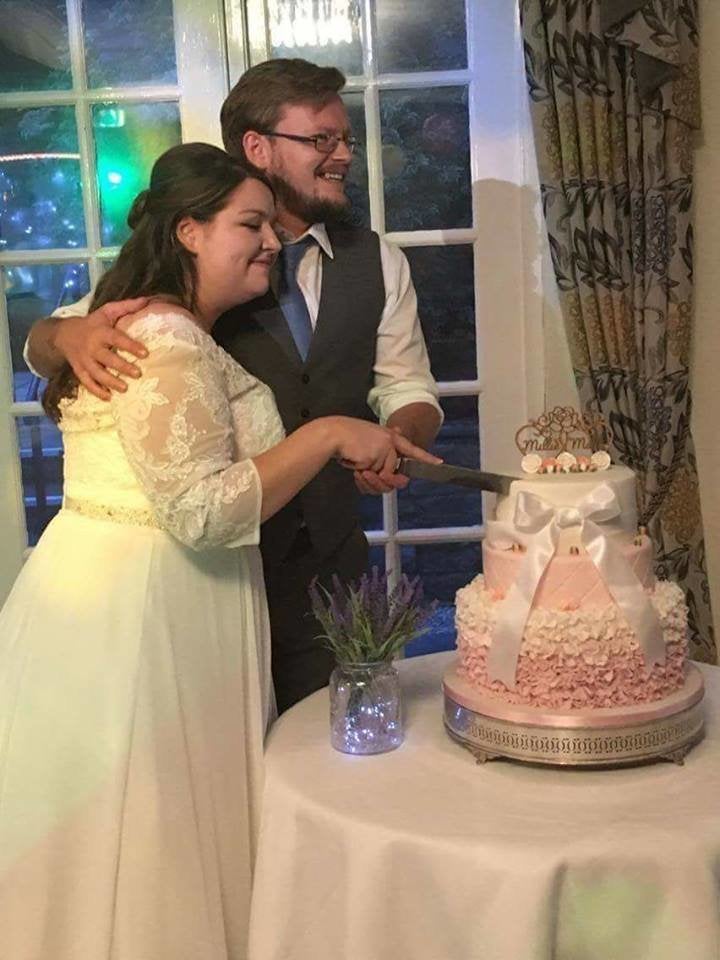 "To take the time to do that for a stranger is just astounding, and something you just don't see anymore," the bride wrote. "I don't think I'll ever be able to thank Clare enough. I'm just glad that the hotel gave their fee for having it fixed to Clare as she deserved every penny!"
Clare told HuffPost she has since corresponded with the bride via Facebook messenger.
″[Millie] is truly the most sweetest lady I have ever virtually met," she said. "They both loved the finished cake but quite honestly, I didn't really do much at all. Millie did all the hard work ― my part was just minimal in the whole event."

You can read Clare's full post below: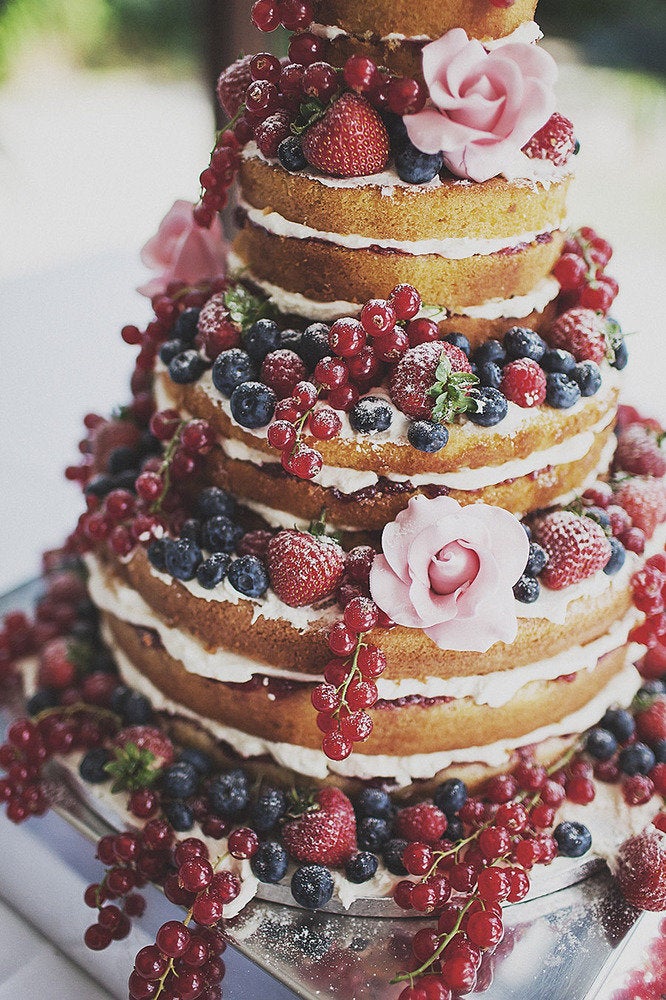 Wedding Cakes With 'Wow' Factor