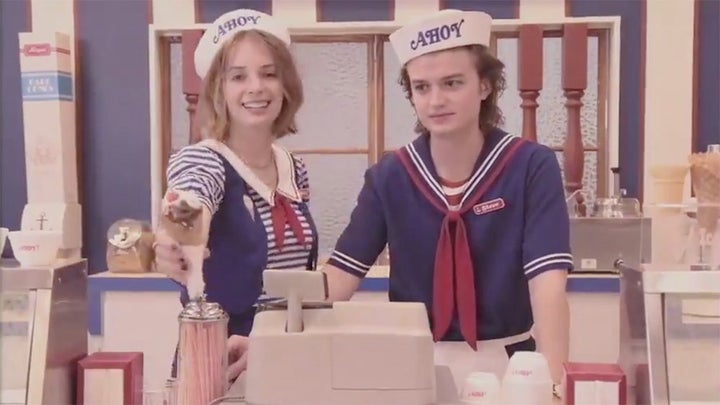 Hawkins, Indiana, is about to get a rad new addition.
On Monday Netflix released a teaser for the third season of "Stranger Things" in the form of a totally '80s commercial for the new Starcourt Mall — "one of the finest shopping facilities in America and beyond."
According to the nearly 90-second video, the new mall "opens next summer" —a possible hint that the show's third season will be released in summer 2019.
Among the attractions at the town's tubular new spot to "shop, hang out, dine and enjoy" is a Gap, Sam Goody, Waldenbooks and a "state-of-the-art" food court where one can grab a cone at the nautical-themed Scoops Ahoy, a new ice cream shop where Steve Harrington (Joe Keery) appears to be working alongside Robin, a new character played by Maya Hawke.
"Ahoy!" they both awkwardly say into the camera near the end of the video.
It's unclear if Steve has decided to stay close to Hawkins and is working as a confection-slinger full time or if it's just a summer gig before he leaves for college. As far as Maya goes, Netflix has described her character as "bored with her mundane day job." In her search for excitement, Robin "uncovers a dark secret in Hawkins."
Gee, whatever could that be?
Popular in the Community