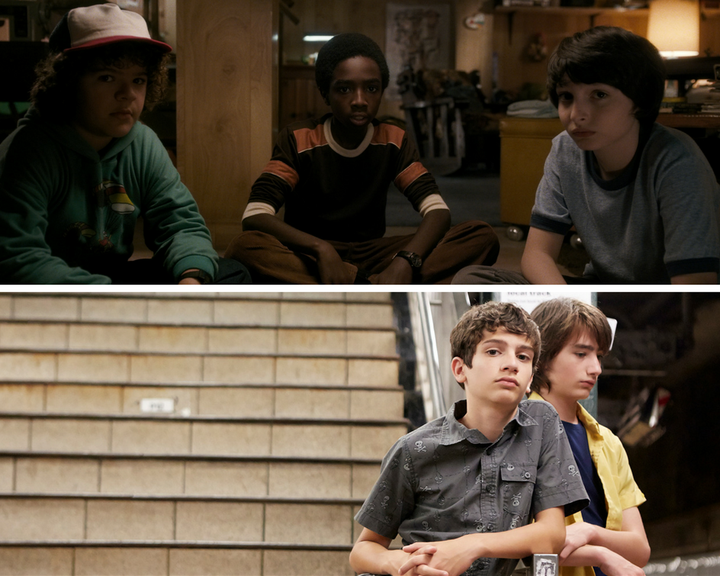 This summer, the best entertainment comes from an unlikely source: teen boys.
Two remarkable new releases ― the debut season of Netflix's "Stranger Things" and the movie "Little Men" ― make heroes of adolescent males who are wiser and more daring than their age implies. Amid a dearth of quality blockbusters and the doldrums of summer television, "Stranger Things" and "Little Men" are out of place. They are subtle and affectionate, with charming young characters whose optimism defies the stubborn adults around them. The respective creatives responsible for "Stranger Things" and "Little Men" channel the agony and ecstasy of youth, deftly showcasing the limitlessness of childhood. If only these fussy parents would stop getting in the way ― if only they dared to dream. And if only more of our summer fare had been this lovely. (Minor spoilers ahead.)
By now, you've probably heard a thing or two about "Stranger Things." The Spielbergian genre hybrid, created by twins Ross and Matt Duffer, premiered to glowing reviews last month and lit up the online water cooler. The imaginative 12-year-old Dungeons & Dragons obsessives at the show's center will stop at nothing to retrieve their friend, Will, from the mysterious Upside Down underworld. Horrid monster, alternate dimensions and skeptical townsfolk be damned.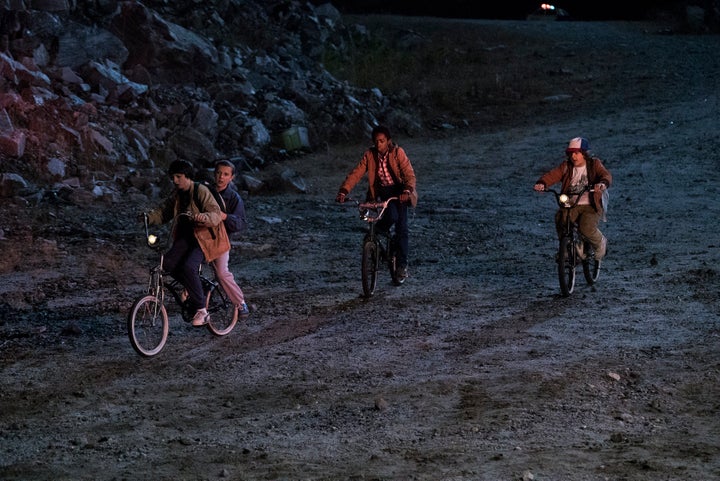 "Little Men," the latest from "Love Is Strange" director Ira Sachs, is a different beast. Its monster is not a brisk humanoid with a tulip-shaped head ― it is merely the changing tides of life, the unavoidable forces that shift the course of our relationships and our surroundings. When artistic 13-year-old Jake (Theo Taplitz) moves to Brooklyn with his parents (Greg Kinnear and Jennifer Ehle), he bonds with Tony (Michael Barbieri), an aspiring actor hoping to get into the same performing arts high school that Al Pacino and Nicki Minaj attended. Jake's late grandfather was a dear friend of Tony's mother, Leonor (Paulina Garcia). He was also the landlord who oversaw the unprofitable dress boutique she maintains. Jake's grandfather avoided raising the rent on Leonor's store, even as real-estate costs in gentrified Brooklyn soared. When Jake's parents demand Leonor pay five times her current rate, the notion of compromise ― evident to their offspring ― barely registers among the adults.
Despite disparate settings and genres, "Little Men" and "Stranger Things" grapple with the same idea: Where adults' imaginations are limiting, children's are endless. If only parents, the supposed guideposts for all that is proper, could channel their kids' wherewithal, things might not be so contentious. In the worlds of "Stranger Things" and "Little Men," maturity replaces ingenuity, and problems become harder to solve because adults can't blaze through their own rigidity and/or cluelessness.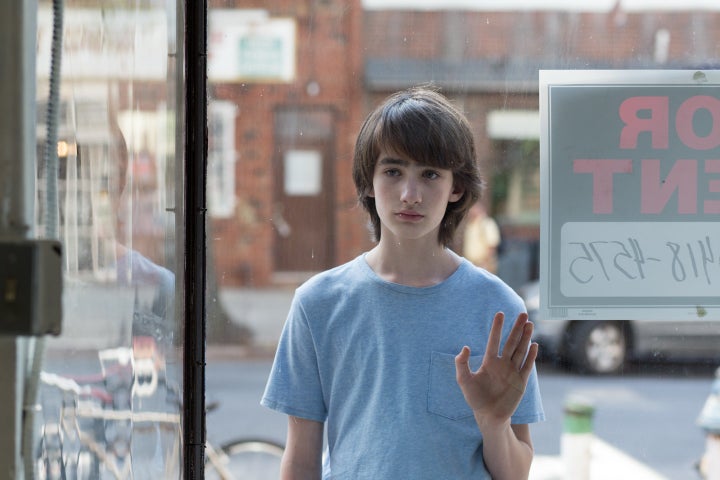 Of course, Jake's parents in "Little Men" are fair to ask Leonor to pay more in rent, even if the rift upsets the kids. Had she haggled for a smaller increase, maybe a resolution would be possible. Instead, Leonor doles out insults and disregard, using her relationship with Jake's grandfather as ammo for why she should be exempt from economic change. Her unwillingness to brainstorm an alternative ultimately gets her evicted. And Jake's dad won't entertain any appeals about what his own father would have wanted him to do. Only Jake proposes a solution. Whether or not it's realistic, at least it's a starting point. The children are the future.
"Stranger Things" divides most of its adults into two camps. There's Will's instinctual mother, Joyce Byers (Winona Ryder), and there's everyone else. Desperate to find her son, Joyce will talk to blinking Christmas lights and take an ax to her walls if it means saving Will from the Upside Down. Will's trio of friends, aided by the E.T.-like Eleven (Millie Bobby Brown), has no doubt their pal is alive, and each of the show's eight episodes finds them concocting ever more creative ways to reach him. As for Karen (Cara Buono), Mike's poised mother? She thinks Joyce is losing it, yet she has no idea a girl is living in her basement and a boy is sneaking into her daughter's window. Police Chief Hopper (David Harbour) comes around, but he, too, first treats Joyce like a distressed lunatic. And yes, of course it's hard to believe that a monster is roaming through town, sucking preteens into some abyss. But the kids in this Indiana suburb use their fascination with fiction as a way to believe that anything can become a reality. Adulthood has stripped the grown-ups of their ability to imagine the fantastical ― or at least, like the "Little Men" parents, the faculties to find creative solutions to the ideas with which they are presented.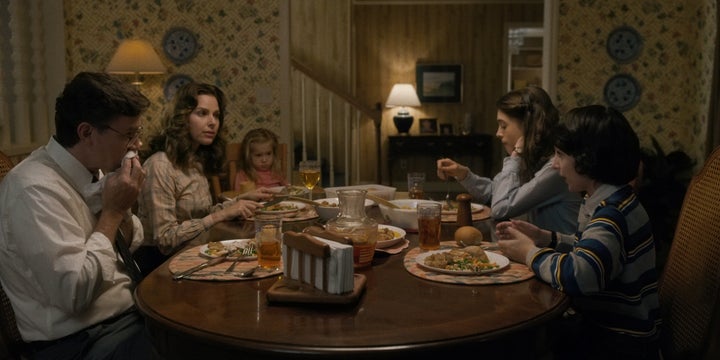 As summer crawls to a close, I am happy to let these wily kids reign supreme. Since most are underdogs who've banded together against their peers, seeing them come into their own in the face of conflict is a victory unto itself. By the time they leave high school, their intellect and dexterity will give them an edge. But while they endure the social pecking order of adolescence, their unbreakable loyalty saves the day, or at least has the potential to. The odds they're up against become more astonishing and contentious, but they never stop supporting one another's ideas.
The themes of both "Stranger Things" and "Little Men" revolve around solidarity. Jake and Tony display it by not speaking to their parents until the rent dispute is resolved, and it shines through in Will's friends' willingness to chance whatever peril might bring him home. Where most adults are stubborn spoilsports, these kids are low-key heroes, and 2016's popular culture is more inspiring with them in it.
"Stranger Things" is now streaming on Netflix. "Little Men" is now in select theaters.
Before You Go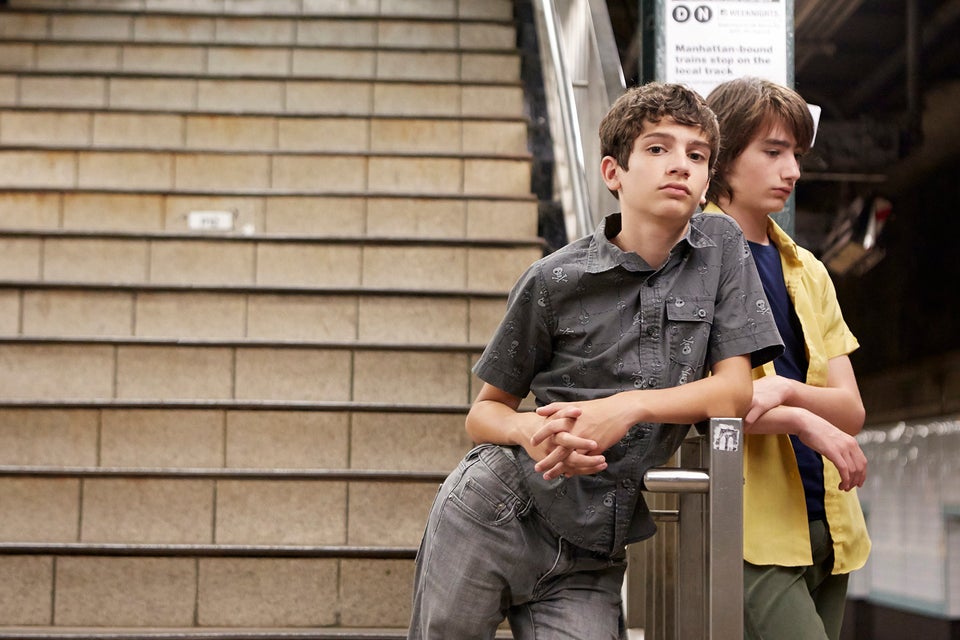 Hottest Sundance 2016 Movies
Popular in the Community