In an interview with HuffPost, producer Shawn Levy said he and the show creators, the Duffer brothers (Ross and Matt), worked on the trailer for more than two months, securing the use of Michael Jackson's "Thriller" only days before the clip's release. Levy says "every shot" of it was debated over.
"We wanted to show a real taste of what's coming, but to not give any of you guys the feeling that you've seen everything that's gonna happen. So it was a matter of balancing how much we reveal, how much we withhold," said Levy.
But was more revealed than planned? Perhaps. 
First, we need to go back to a Season 2 poster that was released in the weeks leading up to the trailer. One Reddit user pointed out how the monster in the poster may not be an "actual physical creature."
"It looks like it's made of cloud," said the Redditor, adding, "I'm guessing that the monster is actually in the Upside Down, but somehow the barriers between the different dimensions are breaking down, and, just like the trailer said, 'the world is turning upside down.'"
The Reddit comment got us thinking: What if the monster isn't an actual creature?
The theory: The monster is the Upside Down trying to take over the real world.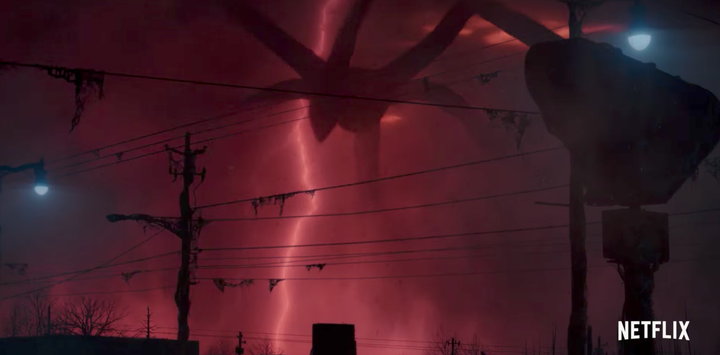 Up until now, we've just assumed the Upside Down is a place. But could it be an actual living thing?
To be honest, we were probably going to dismiss the idea if not for one peculiar scene from the Season 2 trailer.
Following a part where Chief Hopper (David Harbour) says, "Whatever is happening is spreading from this place," there's a voiceover from Joyce Byers (Winona Ryder). She appears to ask her son Will (Noah Schnapp), "What does it want?" 
He replies, "Not me. Everyone else." 
Will has already been in the Upside Down, possibly spreading an infection from it into the human world (like when he spat up slugs at the end of Season 1). Others haven't. If the Upside Down is the monster itself, it'd make sense that it would want to spread to others that haven't been infected.
Other scenes in the trailer add support, appearing to show roots from the Upside Down spreading into the real world.
It just so happened that HuffPost was interviewing the Duffer brothers right after the trailer debuted at San Diego Comic-Con, so we asked Ross and Matt Duffer their thoughts about whether the monster in Season 2 could actually be the Upside Down.
"Sounds interesting," said Ross.
With Matt adding, "I will say, for sure, the Upside Down plays a much bigger role. There are still going to be questions at the end of this season."
"We're giving some answers and also holding some back," said Ross.
The Duffer brothers added that there are some theories out there that are "dangerously close" to the truth.
"There are some amazing ones. There are some that are way off," said Matt.
"Some are pretty close," added Ross.
Levy told us the theories can be "a little nerve-wracking."
"They're uncomfortably close to the truth of what's to be revealed, but mostly our reaction is that people give this much of a shit, that people are generating fan art, generating theories, doing analyses that may or may not be accurate, but are all kind of based in a passion for the show," he said. "That's thrilling."
Is the monster a manifestation of the other dimension? Remember that Shawn Levy said every moment of this new trailer was debated over for months. Will's reply that the "monster" wants "everyone else" definitely means something.
As my copy editor and fellow "Stranger Things" enthusiast, Jill Capewell, brought up, "What about the fact that the upside down had like trees and shit? Trees in a monster? Reese's for breakfast?"
To answer those questions: Sure. Why not? And Reese's Puffs Cereal has the peanut butter-chocolatey taste that's part of a complete breakfast!
All we know for now is that when "Stranger Things" Season 2 premieres on Oct. 27, "the world is turning Upside Down."
REAL LIFE. REAL NEWS. REAL VOICES.
Help us tell more of the stories that matter from voices that too often remain unheard.
BEFORE YOU GO
PHOTO GALLERY
The "Stranger Things" Kids At The Emmys