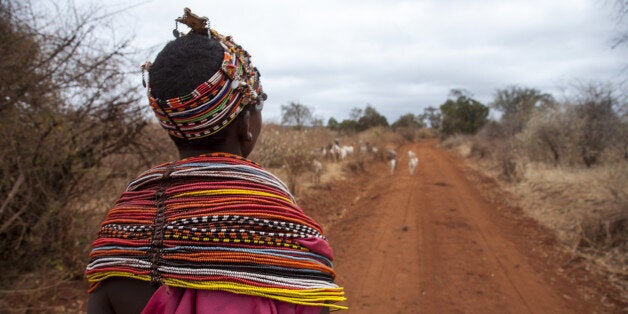 Think of Africa. What comes to mind? Ebola? Boko Haram? ISIS and violent conflict? Famine, poverty and disease? Wild animals and threatened species?
What if I told you that the cradle of civilization is conducting cutting edge research on HIV/AIDS in Botswana? That Africa attracted more than $8 billion in renewable energy investments last year, including a billion dollars for the world's second largest solar project? That Ethiopia is developing the $3.8 billion Grand Ethiopian Renaissance Dam - without any foreign aid - which will almost triple the country's electric generating capacity?
So what does President Obama want to accomplish on his fourth trip to sub-Sahara Africa? The evening before he departed, President Obama remarked, "Africa is a place of incredible dynamism, some of the fastest-growing markets in the world, extraordinary people, extraordinary resilience. And it has the potential to be the next center of global economic growth... the opportunities are extraordinary and we just have to break down the stereotypes and the barriers."
The President will first travel to Kenya to meet with President Uhuru Kenyatta, provide remarks at the Global Entrepreneurship Summit, and address the Kenyan people. Next, the President travels to Ethiopia, making history as the first American President to visit the only African country that was never colonized. His meeting with Ethiopian Prime Minister Hailemariam Desalegn will focus on regional security issues and the threat of terrorism in Ethiopia, Kenya and Somalia. President Obama will make history a second time as the first United States President to address the African Union at its Headquarters in Addis Ababa. Under President George W. Bush in 2001, the United States was the first country to formally recognize the AU; in 2006 President Bush appointed the first U.S. Ambassador to the African Union.
The creation of the African Union, whose primary objectives are to promote continental unity, socio-economic development, and regional and continental security, marked the end of the historical era defined by the Organization of African Unity (OAU) whose primary objectives included decolonization and liberation of the African continent and ending apartheid. President Obama will meet with the Honorable Dr. Nkosazana Dlamini-Zuma, Chairperson of the Africa Union Commission, and the first woman to head the fifty-four member state multi-lateral organization. The meeting will be held at the brand new $200 million AU Headquarters -- "China's Gift to Africa". In a recent Forbes article Chinese Premier Li Keqiang announced, "China expects to achieve $400 billion in trade volumes with Africa and raise its direct investment in the continent to $100 billion by 2020."
President Obama's agenda for the meeting with Chairperson Zuma is likely to span the gamut: peacekeeping efforts in Darfur, South Sudan and Somalia; constitutional referendums to approve presidential third terms; agribusiness and food security; the threat of both global and regional terrorism; and the impacts of climate change.
Obama's visit to Kenya and Ethiopia occurs at a time when the question of "regime security" is center-stage across the African continent with concerns of its impact on investment and entrepreneurship in the region. Whether democratic or authoritarian, each of the fifty-four African regimes are concerned with mitigating or eliminating threats to their authority. In the 2012 "U.S. Strategy Toward Sub-Saharan Africa", President Obama stated that "As we look toward the future, it is clear that Africa is more important than ever to the security and prosperity of the international community, and to the United States in particular." The administration pursued four strategic objectives: (1) to strengthen democratic institutions; (2) to spur economic growth, trade and investment; (3) to advance peace and security; and (4) to promote opportunity and development. Obama developed Presidential Initiatives, i.e. different programs, to achieve these strategic objectives, but these were undercut by recession, fiscal budget challenges, partisan politics, the ongoing military campaign in Afghanistan, the Arab Spring and regime change in Iraq, Libya, Syria, Ukraine, and Yemen, and local terrorism and security threats posed by ISIS, Boko Haram, and Al Qaeda.
The Clinton, Bush, and Obama administrations have each prioritized African policies with a series of Presidential Initiatives supporting African political and economic development. Presidential Initiatives alone will not guarantee transformation of the entire African continent, but will impact individual countries in different ways.
Superpowers, politicians, multi-national corporations, non-governmental organizations, advocacy groups, and individuals have all called for the "Marshall Plan for Africa." Fifty-four African regimes, both democratic and authoritarian, African political nationalist leaders, and African citizens individually and collectively must demonstrate the "political will" to embrace change.
Again I ask you to think about Africa, but this time think about the opportunities:
• To what extent can U.S. efforts to strengthen African democratic institutions be supported without U.S. and African public and private massive financial commitments on the scale of Chinese investments in restructuring political and economic institutions?
• To what extent can U.S. economic growth, trade and investment be supported without both U.S. and African public and private massive investment in road and electrical infrastructure in strategic African countries?
• To what extent can the U.S. advance peace and security in Africa without clearly understanding the causes of conflict, the impact of regime change and the cost of regime security?
• In the post-colonial era and post-9/11 era, will "the scramble for African resources" continue?
Calling all HuffPost superfans!
Sign up for membership to become a founding member and help shape HuffPost's next chapter