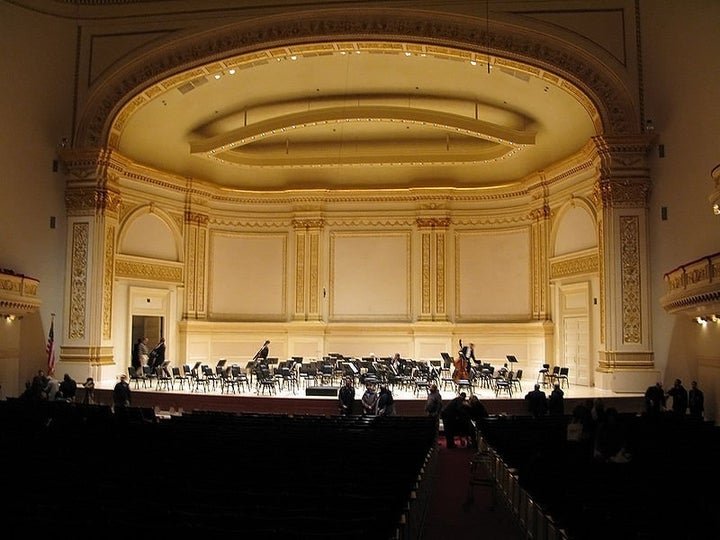 Who's your favorite living composer?
That seemed to be a fairly innocuous question, posed two weeks ago to a group of high school music students at the University of North Carolina School of the Arts over lunch in the cafeteria. The question was prompted by a high school senior's description of the repertory she is preparing for her senior recital. That program includes music by Chopin, Liszt, Beethoven and Debussy and nothing from the past hundred years. That's when I popped the question:
"Who's your favorite living composer?"
This question gets to the heart of the matter. (It is a question I asked my staff at Turin's Teatro Regio, where I served as direttore stabile in the 1990s. It is the same question I asked the 28 Yale undergraduates in 2003 who were taking my course exploring the effects of World War II on current aesthetic policies. In all three cases I got the same answer -- silence.)
After some prying, we got to an answer -- John Williams. And there you have it.
One Yalie had come up with the same answer in 2003, but only after a similarly uncomfortable general pause. The Italian musicians had no answer at all. In all three cases, I then asked why this was such a tough question, and why, say, if I had asked this same question 100 years before, there would have been an avalanche of answers. Indeed, 50 years ago there would have been fewer answers, but there still would have been answers. Answers like Igor Stravinsky, Leonard Bernstein, Dmitri Shostakovich, Benjamin Britten, Aaron Copland. Perhaps Olivier Messiaen. No Italians. No Germans living in Germany or Austria.
Think about that for a minute. Germany, the home of the symphony, the string quartet, and, along with Italy, the concerto, and the greatest works of the lyric stage. Italy, after all, had invented opera. But, there would have been no living composer suggested in 1963 from Italy, Germany or Austria, even though there was plenty of music being created for the radio orchestras and opera houses in those countries. (Can you name a single work from that period?)
Last week, I was in the dining hall once again. It was the day after 15 music students had journeyed from Winston-Salem to Chapel Hill for a concert conducted by Valery Gergiev with the Mariinsky Orchestra that ended with The Rite of Spring. Shostakovich's Symphony No. 6 and a new work by Rodion Shchedrin for soprano and orchestra, based on a monologue from Shakespeare's Antony and Cleopatra, preceded it. It was their first live hearing of The Rite of Spring, and we met to discuss what they heard and what they thought.
Some great classical composers are famous for numerous works, but Stravinsky is Stravinsky because of his "Rite of Spring". "The Firebird," which had premiered a few years before the "Rite," was his calling card. "Petrushka" came next, and remains only relatively popular, but, because it does not really succeed in concert, is heard much less often.
But like Einstein's E=MC2, it is The Rite of Spring that sealed a fame that went beyond any comprehension of the work, either in Nijinsky's or Massine's choreography or in any concert hall. It is generally taught in universities as the beginning of the 20th century's musical vocabulary. Since it is now about to be 100 years old, there will be even more written about it and it will be played all over the world during the next year.
The students mostly loved the Shchedrin -- a brand-new, atonal composition requiring some great singing à la Berg's Lulu. That was a surprise to me, and once again showed that there is no fear in atonality and it is part of the language these teenagers have heard all their lives. And the composer is alive!
The Rite, however, was more of a discussion point. One student texted me after the performance: "The Wrong of Spring?" A graduate student, who had studied the score with me and listened to a number of recordings made by Stravinsky, Bernstein and Salonen, responded to a text I sent. Since Salonen's "Sacral Dance" it is without doubt the fastest one on record. I texted, "That was different from Esa Pekka's tempos" to which he wrote, "It sure was! I am not sure which was my favorite -- the Gallop of the Ancestors or the Dirge Sacrale."
Gergiev had delivered an extraordinary and personal account of the score. The first half was generally quite fast, and the second half was really slow. Someone in the row near me clocked it at 40 minutes -- a good five minutes longer than Stravinsky's 1960 recording. But masterpieces can take this sort of interpretive license, since different speeds can illuminate (and obfuscate) and therefore always create fascination and sometimes astounding surprises.
What grabbed this writer, who made his professional debut conducting the "Rite" in 1974 with the Los Angeles Philharmonic, was how members of the Mariinsky Orchestra made false entrances that expose the work's difficulties and the players' inexperience -- a single horn making a punctuation in the wrong place, in the "Dance of the Adolescent Girls," a violist giving us a false entrance during the irregular rhythms in the "easy" sections of the "Sacral Dance," a screw-up in the transition into "The Augurs of Spring," which caused the first desk of second violins to have a brief, animated and audible discussion.
The Mariinsky Orchestra was formed in 1783. It comes from St. Petersburg, where Stravinsky was brought up. However, The Rite of Spring is not their heritage, nor is it their legacy. It was composed in Paris by a man who left Russia in 1910, lived in Switzerland, France and, ultimately, settled in West Hollywood, where he became an American citizen. He is buried in Venice. No Russian or Soviet orchestra played his music in most of the century that followed the work's Paris premiere in 1913.
Stravinsky lived, composed, lectured, wrote books, was recorded and lionized in the United States of America. All those incredibly important recordings on Columbia Records were made in Los Angeles with American musicians, not Russians.
And so, it makes sense that this very young Russian orchestra of terrific musicians with a name that goes back to Catherine the Great would be finding its way with The Rite of Spring. That the orchestra might wish to present itself as representing an authentic tradition with Stravinsky is understandable, but bogus.
Like Kurt Weill, Erich Korngold, Paul Hindemith, and so many other composers who left Europe, along with the great interpreters of the 19th and early 20th century masters, Arturo Toscanini, Bruno Walter, Otto Klemperer, Fritz Reiner, George Szell, and soloists like Rachmaninoff, Heifetz, Piatigorsky, Rubinstein, Lenya, Lehmann, Jeritza and countless others, their great performance legacy is to be found in the United States of America. Their students and their student's students studied with those great artists in America, not Europe and not Russia.
For those of us who experienced classical music for the first time on television in the 1950s, Arturo Toscanini was our first conductor. No one in Italy can say that. Hindemith's living legacy resided at Yale when I arrived there as a freshman in 1963, the year he died. How extraordinary to think that I sang in his requiem mass that year when I, a kid from Long Island, learned who Hindemith was, and studied music with his colleagues in the Yale music department and not Berlin's Hochschule für Musik, where his music had been banned during World War II and dismissed after.
There is an important link between the story of Stravinsky and the Mariinsky, and the question, "Who is your favorite living composer?" -- the question that had the alarming answer: silence. The silence came from looking to Europe for the answer. The silence came from looking to the concert hall for the answer. It was to be found in neither place.
That silence was followed by an honest answer from teenagers: John Williams, who, at 80 years old, is a student of the refugee composers of Hollywood's Golden Age, and the émigrés who populated Los Angeles during World War II. When I last saw him he said, "John! Do you believe I am writing three scores right now?" Those score are to War Horse, The Adventures of Tintin and Lincoln.

What a precious thing is John Williams. Most of us can measure out our lives by what Williams was writing at various times during our lives. My son was born into the first Star Wars world of 1977. When we attended John's sixth Star Wars score together, he was 28 years old. It was a magnificent father-son moment for us.
This week we shall hear Lincoln, the third of the three scores written this year by a living and beloved composer. And it was this fact that made the eyes of those kids in the dining hall at UNCSA sparkle.
Indeed, they knew who was their favorite living composer.
Popular in the Community