If you are looking for some more snacks for your next March Madness party, give this strawberry mango salsa a try. It's best served with crunchy tortilla chips, but my kids actually like to just shovel it straight into their mouths.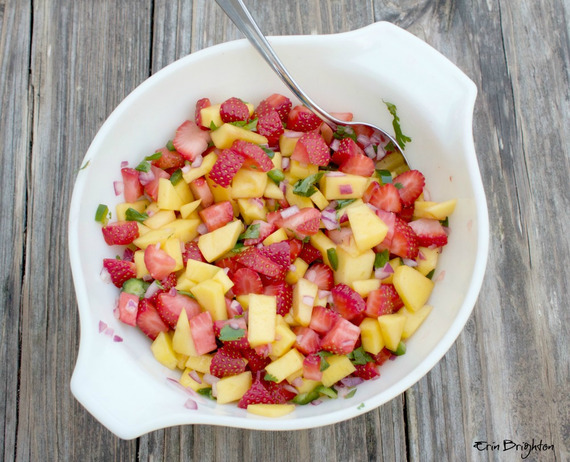 I first made this strawberry mango salsa for my friends and our kids over spring break while we were hanging at the beach during some cold and windy April days. This salsa certainly brightened our moods.
I should really call this Spring Break Strawberry Mango Salsa - the ingredients were determined by whatever ingredients we had left hanging out in our beach house kitchen at the end of our spring break week -- kid-picked strawberries, a mango, some red onion, a jalapeno, and some freshly squeezed lime.
Basically, a whole bunch of ingredients that go great in cocktails. I might have been short on protein and milk and cereal by the end of the week, but the cocktail area was fully stocked.
This recipe is super easy to put together -- it only requires a few minutes of chopping, squeezing and mixing. I took most of the seeds out of my jalapenos so that the salsa was family-friendly but if you want a little more kick, remove fewer seeds.
½ pint strawberries, chopped
1 large mango, chopped
1 jalapeno, seeded and finely chopped
2 to 3 tablespoons, red onion, finely chopped
½ bunch cilantro, no stems, chopped
1 lime, juiced
salt, optional
1. Cut strawberries and mango into similarly sized pieces.
2. Finely chop jalapeno and red onion.
3. Roughly chop a handful of cilantro leaves.
4. Combine all the ingredients in a small bowl.
5. Add the juice of one lime.
6. Add salt to taste. Optional!