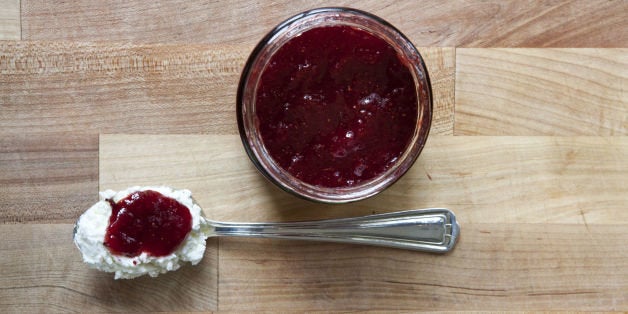 We have just discovered our dream job (aside from being food editors, of course) and it bears the title of "Preservationist" at the renowned Blackberry Farm. The title preservationist sounds a bit stuffy and boring, as though it were wrapped up deep in history or science (which is why our executive editor has always wanted to be called a "Jamstress"), but it's not that all -- at least not in the conventional sense.
No, the preservationist at Blackberry Farm -- who, by the way, is Shannon Walker --spends his day making preserves, jams, jellies, pickles and whatever else he can dream up with the bounty of fresh produce that's available to him from the fertile region of Southern Appalachia Tennessee. And, he makes the best strawberry preserves we have had the good fortune to taste. Maybe even the best strawberry preserves ever made. Maybe. (We haven't tasted them all, so it's hard to say.)
One bite of his preserves transports you straight to the strawberry fields. You taste strawberry -- not just sweetness -- and you can almost taste the sunshine that helped give those strawberries their bright red hue and its wine-deep red color. And the texture of the berries is kept intact, with whole berry-sized chunks studded throughout. After you've tasted these preserves, all others are ruined for you. They just can't compare. (Consider yourself warned.)
We knew we had to get our hands on the recipe, and that we did. But first, we had the chance to talk to Walker, a.k.a. the luckiest man in the country, to ask him about his canning philosophy, his work life and how on earth he landed such a great gig. Here's what he had to say, in his charming Southern accent: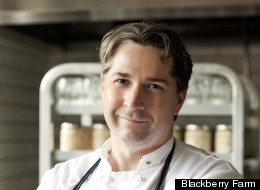 How did you get interested in food?
I give my granny a lot of credit because she made fantastic food growing up that I really enjoyed. She lived just up the road from me, right here in Walland, TN. Both sides of my family go back here several generations in what is now the national park, and I have a lot of pride in the region. I want to preserve not just fruits and vegetables, but also that culture that I got a glimpse into with my grandparents and other folks from that generation.
How did you get hooked up with Blackberry Farm?
I always knew about the farm because we have family property that adjoins it. I went to college at Savannah School Of Art And Design and studied photography. I was a commercial photographer in Knoxville and in the late '90s everything started going digital. I knew it was time to reevaluate my career. Getting into food just made sense for me. I decided to come up to Blackberry Farm and see if they'd hire me as a prep cook or something. They passed on me a couple of times so I joined a local culinary arts program that was just getting started. Once I was in the program, [Blackberry Farm] decided to go ahead and hire me. And the rest was history.
What's your philosophy when it comes to canning and preserving?
What I try to keep in mind is to adhere to something that is regionally inspired through ingredients and to have as few ingredients in the product as I can. Like in the strawberry preserves for example, it's just strawberries, cane sugar and lemon juice. I don't use pectin. Our first ingredient is always the fruit and then sugar is second. It helps us contain consistency from batch to batch, but it also means that when you open the jar you smell the fruit, and you taste the fruit once you eat it, and that's very important to us -- to maintain the vitality of the fruit.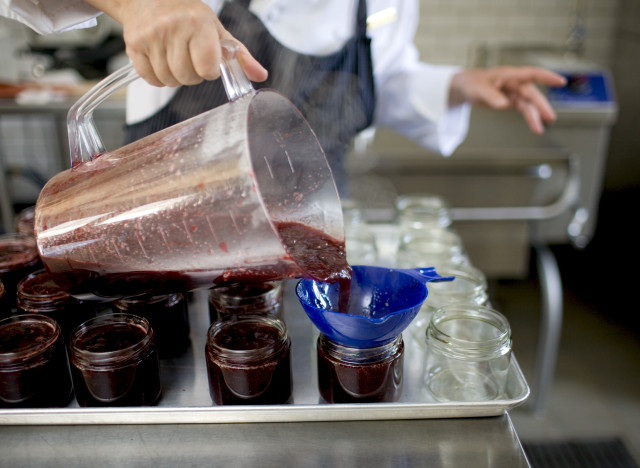 Something I think about in the winter time when I open a jar of strawberry preserves, or peach preserves, is how wonderful they are because of the aroma. I imagine back to a time, maybe 150 years ago, when someone was living a pretty rough existence up in these mountains. [I imagine] it's winter time and maybe they open a jar of blackberry jam and it transports them back to summertime when things were a little better than a bleak winter here in the Smokies. I think about those things.
What's the best part of your job? (We had to ask.)
The creativity side of things. I've always loved where science and art come together, with photography, and with food, I guess those kinds of things just keep me going -- where those two worlds meet.
Without further ado, here is the recipe for the best strawberry preserves we've ever tasted. If you're not up to the task of making your own batch, or can't get your hands on great strawberries, you can order the preserves on their website to be delivered right to your door.
Homemade Strawberry Preserves
Courtesy of Shannon Walker, Preservationist at Blackberry Farm
NOTE: The strawberries that Blackberry Farm uses (from the local farmers) are something really special. These are not the same type of strawberries you find at the grocery store. To really make great preserves, and to make one as good as theirs, check out your local you-pick strawberry farms or the farmers market when possible. Look for small to medium sized strawberries -- the recipe uses them full-sized and it is so good this way -- that are bright red and have a strong aroma.
Ingredients:
Strawberries, cleaned & hulled
Cane sugar
Lemon juice
Directions:
Weigh your strawberries, take half the weight of the strawberries and use as your sugar measurement. Use as many ounces of lemon juice as you used pounds of sugar. For example, for 10 lbs strawberries, use 5 lbs sugar, and 5 oz. lemon juice.
Add all the ingredients to a pot and allow to boil until product has risen and fallen. Use a metal spoon to test for doneness; if preserve mixture drips off in a sheet, then it's ready to jar.
Ladle preserves to a sterilized jars, and seal with sterilized lids. Add jarred preserves to warm water and cover two inches over lid. Bring product to boil and process for 10 minutes. Turn off heat and let them sit for 5 additional minutes, remove and allow to cool for 24 hours. Store in a cool dark and dry place.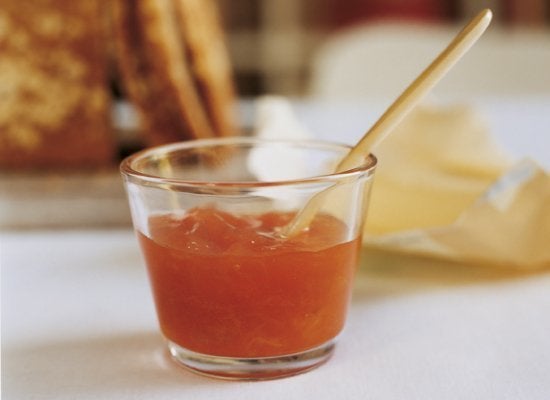 Jams, Jellies And Preserves