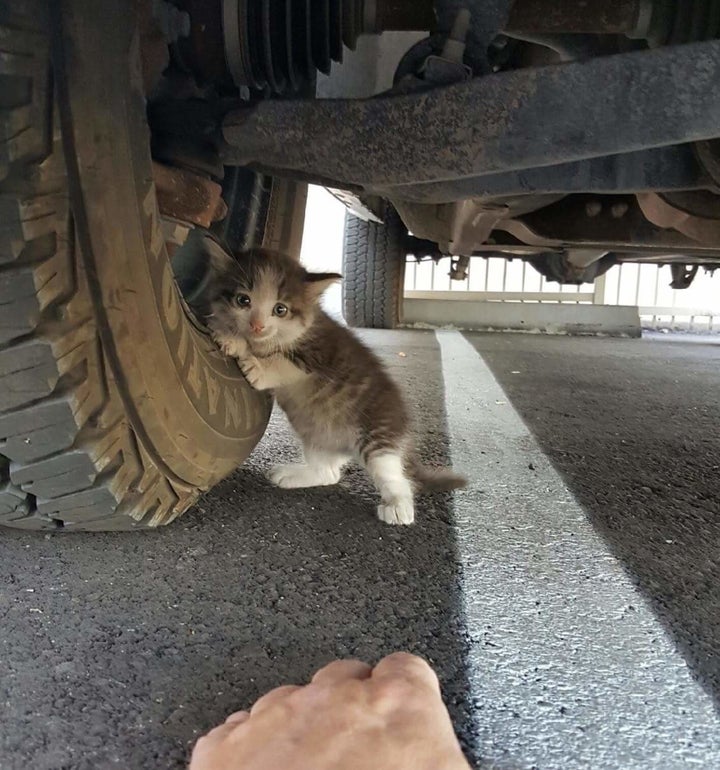 An adorable stray kitten has landed on her feet in a loving home after a heartwarming chance encounter in a Tempe, Arizona, parking lot.
The fluffy feline was stretching her tiny paws out on a truck's tire when the vehicle's owner, Marc Farrington, says he caught sight of her white feet and poked his head down to get a better look. What he saw looking back at him melted his heart, as well as his fiancee's when he sent her a picture asking if they could keep her.
"Of course I said yes," his fiancee, Ann Lundeen, told The Huffington Post by email on Wednesday.
That was good news not only for the family ― which includes a 2-year-old rescue dog and a 19-year-old cat ― but for the entire Reddit community which went gaga after the kitten's adorable face was uploaded to the social media page Friday.
There, the world was introduced to little Axel Roads.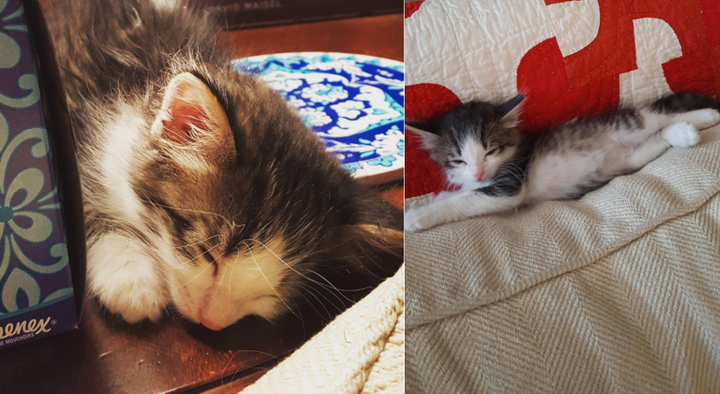 "A friend suggested her name be Axel, given the circumstances in which she was found," Lundeen wrote. "The spelling is as a name, not a car part. Another Redditor suggested her full name be Axel Roads, and so now it is."
Little Axel was taken to see a vet the same day she was found. It was there that they estimated that she's only 4-5 weeks old, Lundeen wrote.
She obviously still has a lot of growing and learning to do, but fortunately, she has a great, four-legged team around her.
"Our 2-year-old dog (another rescue) loves having a playmate who interacts with him. She purrs when she's near him, and chews on him and plays chase with him," Lundeen said. "Our 19-year-old cat is not impressed, but since he has raised two puppies, he is very patient with her as she chews his leg and tries to eat his food. She is learning to respect his authority."
They expect Axel — who will be spayed in the coming weeks — will be an indoor cat, unlike her adopted big brother.
"She hasn't shown all that much interest in being outdoors as yet. I think she knows she's found a good thing with us: a warm bed, plentiful food, playmates and love," Lundeen said.
CORRECTION: A previous version of this article referred to Ann Lundeen as Marc Farrington's wife. In fact, she is his fiancee. The article also initially misstated where the family lives. While the kitten was found in Tempe, Arizona, the family lives in Scottsdale. We regret the errors.
REAL LIFE. REAL NEWS. REAL VOICES.
Help us tell more of the stories that matter from voices that too often remain unheard.
BEFORE YOU GO