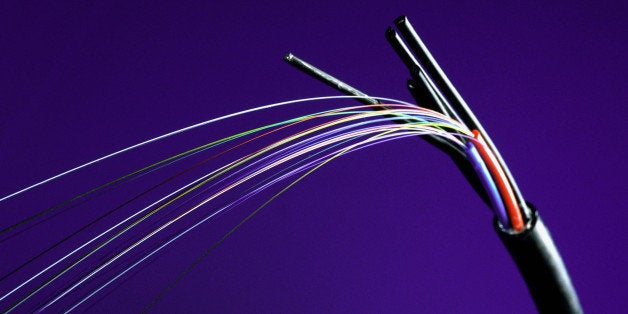 A colleague of mine was considering ditching his Time Warner Cable subscription in favor of PlayStation's new Vue TV service, which streams live TV over the Internet.
It has a user-friendly menu and the option to record programs, plus it allows him to watch shows easily through his PlayStation 4 -- and a basic package, with more than 50 channels, costs $49.99.
But he was disappointed when he tried out Vue, which for now is only available in New York City, Chicago and Philadelphia. While he was watching one night, the video stuttered and paused, interrupting his viewing. While it only happened once, it was enough to turn him off to the service.
He never had to worry about this happening when he watched cable, so he's sticking with his cable box, even though it's more expensive and the experience is clunky.
In a statement to The Huffington Post, Sling TV said that its systems were "stressed" due to "an unprecedented combination of new customer signups and high levels of viewership." The company also said that the "vast majority" of Sling customers had a "spot on" viewing experience, and the company is working on "stability during peak loads."
Sony did not immediately respond to a request for comment.
There are more ways to watch TV online than ever before, and the options are only increasing: HBO plans to launch HBO Now, a standalone streaming service, later this month, and Showtime plans to launch one later this year. Apple is also reportedly working on a live TV streaming service that will launch in the fall.
Unlike well-known streaming platforms such as Netflix, Hulu and Amazon -- which for many people complement a cable or satellite subscription -- new services from Sling and PlayStation, and perhaps even Apple, are meant to replace pay TV.
While online streaming has improved since the early days of YouTube, anyone who's watched video online knows it's not uncommon to encounter issues of quality. The "True Detective" finale last year overwhelmed HBO Go, the network's streaming service, and ESPN had a difficult time keeping up with demand during the U.S. vs. Germany World Cup game over the summer. Apple's live stream of the unveiling of the new iPhones and Apple Watch failed last September.
That's one thing you don't have to worry about with pay TV: It doesn't matter if one person is watching, or if a million people are watching -- the quality will be the same.
"Streaming video over the web is not a replacement for the quality and reliability of broadcast TV," said Dan Rayburn, a principal analyst at Frost & Sullivan and the executive vice president of industry news site StreamingMedia.com.
Rayburn said that streaming services aren't as reliable because they are dependent on the public Internet and must encode their video for a number of devices, while pay TV providers deliver video over a private, closed system.
"There's a lot of single points of failure that exist when you deliver video over the Internet that aren't there when you deliver pay TV," he said.
"It's much harder to guarantee service over a network you don't control," he added.
Viewers have little patience for buffering. A recent report from Conviva, a company that optimizes online video, found that only one-quarter of people will watch a video online for more than four minutes if there are issues like interruptions or lower picture quality.
An increasing number of people, especially young people, are choosing to get their video online rather than through expensive TV bundles with hundreds of channels they don't watch. But if live TV streaming services don't become more reliable, people may think twice before cutting the cord.
Related
Popular in the Community