Street art is not what you expect to encounter in the elegant lobby of Santa Monica's luxurious Hotel Casa del Mar, which makes the hotel's newly installed temporary street art installation a most welcome surprise. This new piece of art, created by local street artist Jules Muck, serves as camouflage for the lobby's central bar area, which is currently undergoing reconstruction.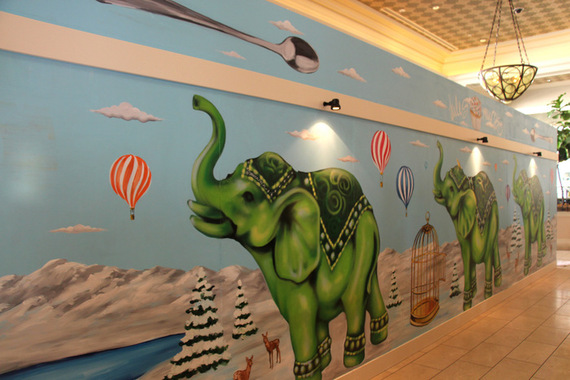 Rather than let the hotel's clientele gaze upon bare plywood during the weeks before the new bar's unveiling, the decision was made to recruit a street artist to bring diversion to the room, along with a contextually unexpected kind of aesthetic stimulation. The artwork, a group of large panels measuring 7 feet high and 30 feet long, was painted by Muck in the hotel lobby over the course of a week (other than the spray painting, which had to be done in the hotel's garage due to the messiness factor).
Muck, whose home and studio are both located in nearby Venice, developed her skills in New York City, where she served as an apprentice to renowned street artist Lady Pink. Known locally for numerous murals she's created throughout LA, particularly near the Venice Boardwalk, Muck's also painted sets for Californication, while her artwork's been exhibited at the Tokyo International Exhibition Center, the Bronx Museum of Art, and locally at the Pacific Design Center, Lab Art Gallery, and Rivera Gallery.
The whimsical panels depict a group of acid-green elephants strolling on the beach, set against a Tiffany-blue sky and punctuated by hot-air balloons. I asked Muck, "Why elephants?" She explained that as the hotel is concealing their bar renovation, the area is "The elephant in the room, so let's celebrate it and make it fun. This is a freakin' fancy place, but it's also really fun and it's been very welcoming to me." The piece, titled Absinthe and The Elephants by the artist, enlivens the hotel's lobby through the first week of January.
Related
Popular in the Community