If you call Los Angeles home, you understand the plight of wanting to ogle delectable artworks while remaining in the sunshine at all times. Good thing there is street art, yielding all the visual thrills of a creative masterpiece and all that good vitamin D too.
L.A. and street art have long maintained a happy courtship. It was in Los Angeles' MOCA that Jeffrey Deitch curated "Art in the Streets," the first major museum exhibition dedicated to the art form. And, like most things in the Southern California city, the range of possible urban art options varies from one extreme to the other. Whether you're in the mood for a Civil Rights-centric mural or a chic ode to Audrey Hepburn, the murals of the city of angels are nearly endless. And free. And outside.
We've compiled some of our favorites below. Take a look and let us know what we missed in the comments.
A. Shepard Fairey on Baller Hardware: You can see this L.A. street art deity's "Make Art, Not War" mural while getting your gardening supplies at Baller Hardware in Silver Lake.
B. Urban Radish Parking Lot: Aside from carrying deliciously bougie groceries like jalapeño peanut butter, Urban Radish also has a parking lot riddled with tripped out street art.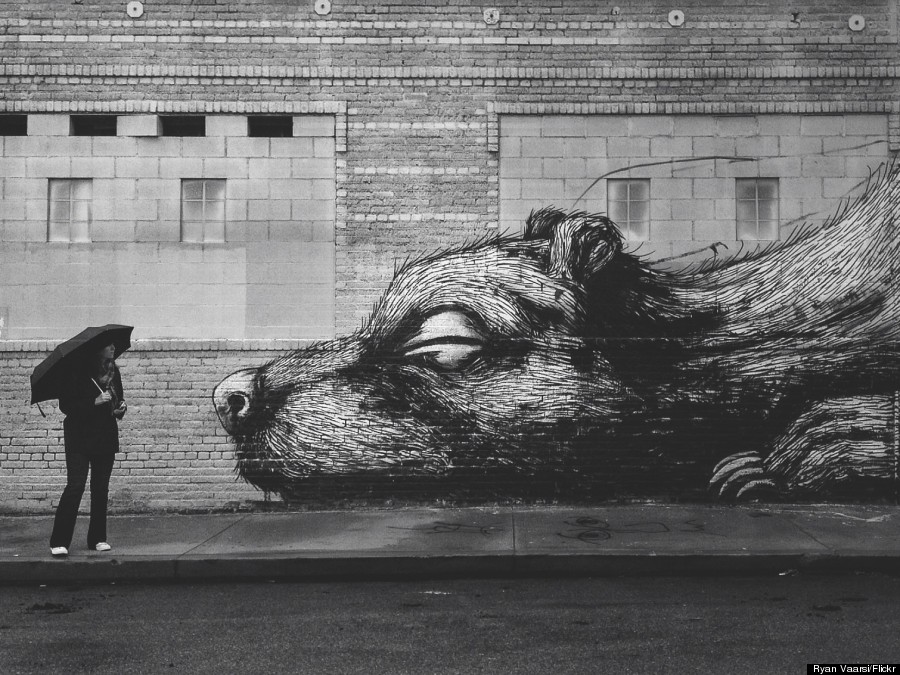 C. Herakut at 927 Chung King Rd: This Chinatown mural from German duo Herakut features a nude form donning an animal mask.
D. Abel Alejandre at 974 Chung King Rd: In realistic black-and-white, Abel Alejandre's hanging Chinatown mural features a man's eyes peeking out from behind a mask.
E. Farmer John Slaughterhouse: The anonymous spread captures an idyllic farm scene speckled with pigs. An interesting choice for a slaughterhouse.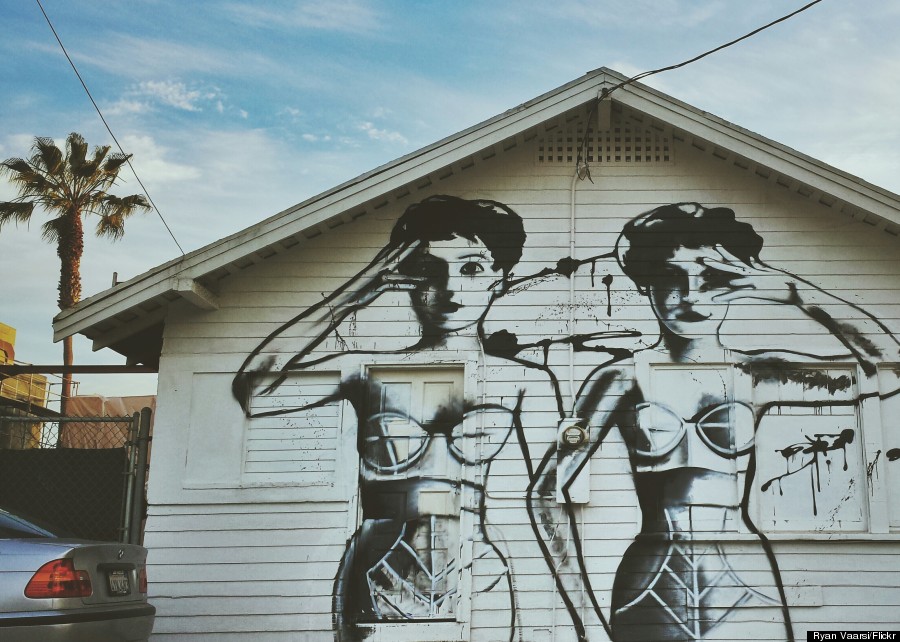 F. Faith47 at 1130 S Flower St: Dubbed "The Preciousness of the Hunt," Faith47's elegant swans uplift the city neighborhood with a super-sized touch of mother nature.
G. KC Salon: Located in downtown's arts district, KC Salon's exterior features a chic geisha surrounded by a tiger and fox.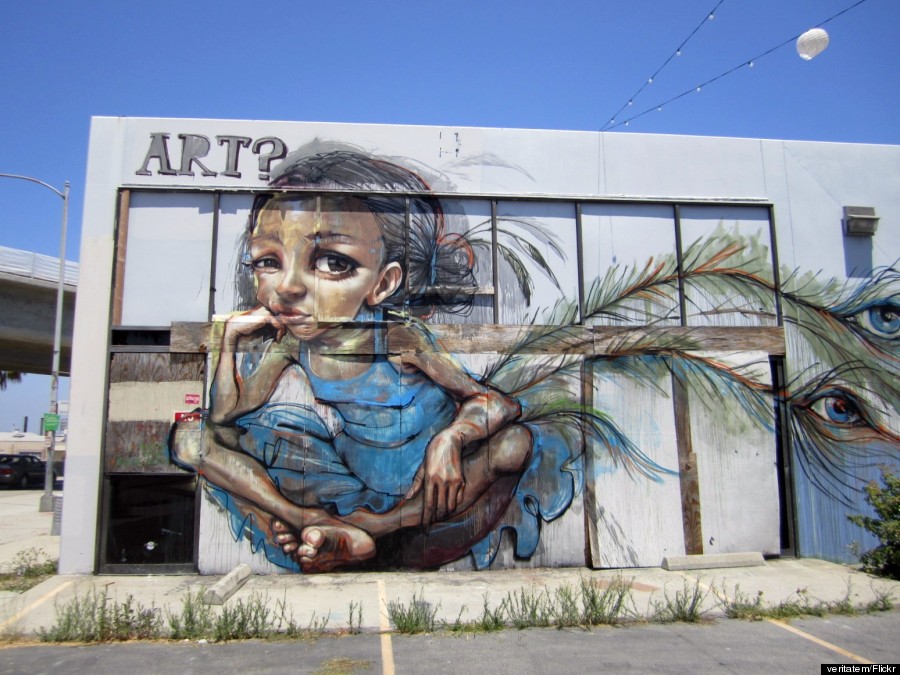 H. Santino's: The Venice Beach restaurant is adorned with a psychedelic vision of heaven and hell, complete with slightly terrifying angels.
I. Venus of 1536 Speedway: This Venice Beach mural is basically what Botticelli would have created if he lived by muscle beach and had a passion for rollerblading.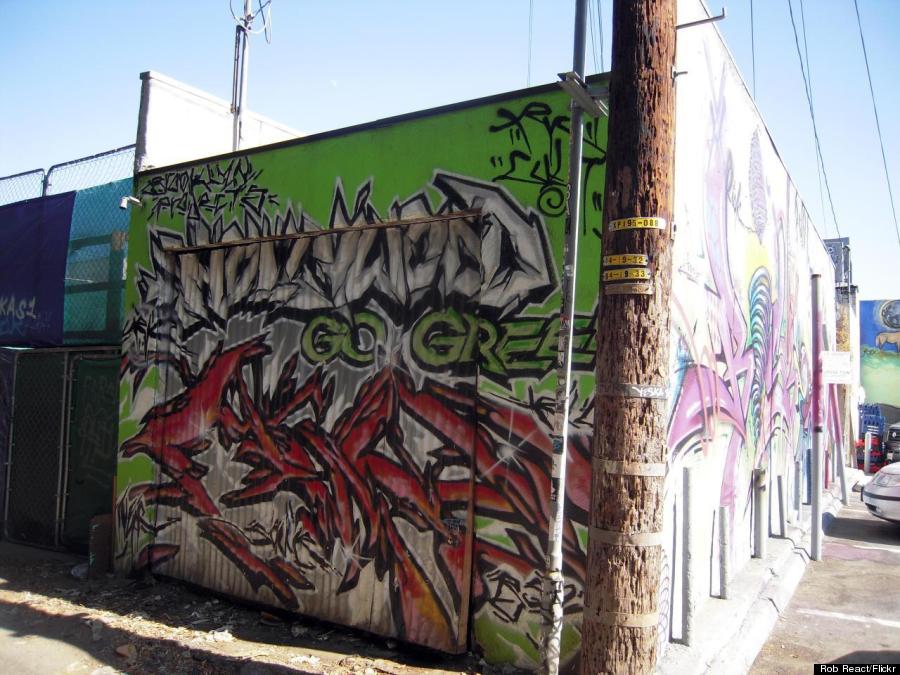 J. Audrey Hepburn at Argentum Photo Lab: What's more L.A. than a flood of rainbow hearts surrounding the lovely face of Audrey Hepburn? Few things, friends. This Free Humanity piece is a bit cheesy but oh so sweet.
K. Where The Wild Things Are (Sunset): See Maurice Sendak's beloved characters engage in a wild rumpus of sorts at the intersection of Sunset and Melrose. (Similarly, at Sunset Junction in Silverlake (Sunset Blvd & Lucile), you can spot a Calvin and Hobbes' inspired work by David Flores.)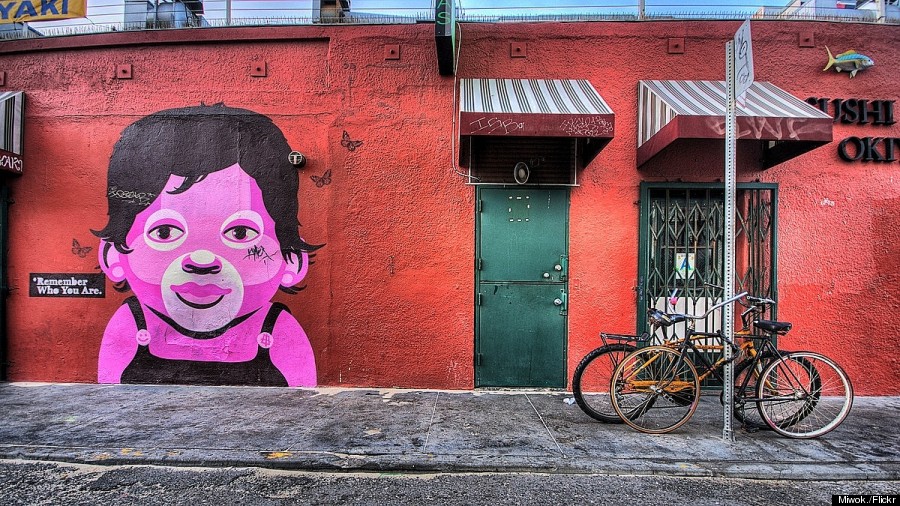 L. A Roosterfish at The Roosterfish: The exterior of the Venice spot The Roosterfish contains an artistic depiction of just that, a roosterfish.
M. Kobra on Highland: Eduardo Kobra's technicolor ode to people watching features the eyes of Nobel Laureates, watching us as we watch them.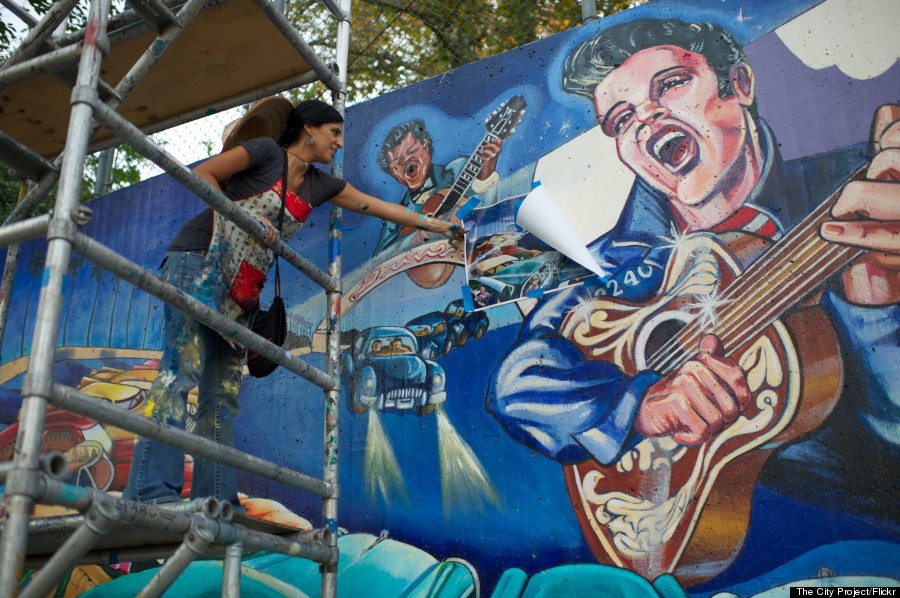 N. The Great Wall of Topanga: This beauty nestled in the Topanga Canyon, sometimes referred to as a "drive-through gallery," is the brainchild of professional biker Rick Denman. The wall features a mask-like face made from a jacuzzi cover and kitchen sink, along with the LA-friendly limerick: "Your best work on wood six by eight / Cause July 16 is the date / The 405 closure / means lots of exposure / Get painting, don't procrastinate!"
O. The Great Wall of LA: This mural, designed by Judith Baca and executed by community artists and youth, is one of the largest in the world, measuring in at 2,754 feet. It depicts the history of California, with heavy emphasis on the Chicano movement and other minority histories.
BONUS: The Elliott Smith Mural. This image appeared on the cover of Smith's 2000 album, "Figure 8," the last album he would release before his apparent suicide. After his death in 2003, the piece became a sort of memorial to the artist. It's located at 4334 W. Sunset Blvd.
Check out our guide to New York's best street art here.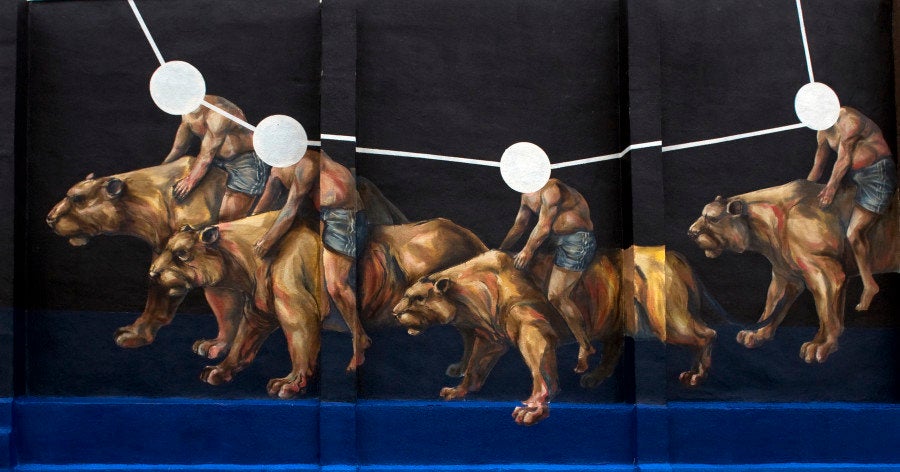 25 Street Artists' Works From Around The World