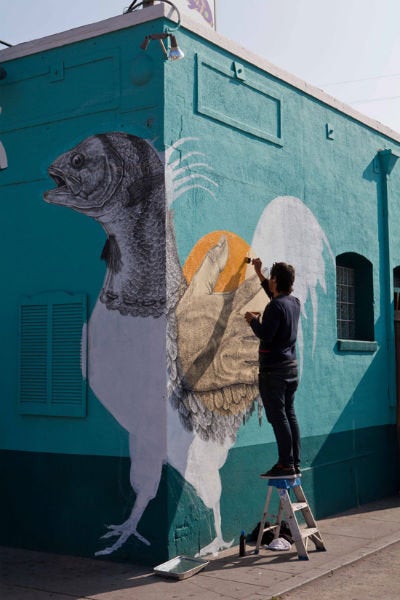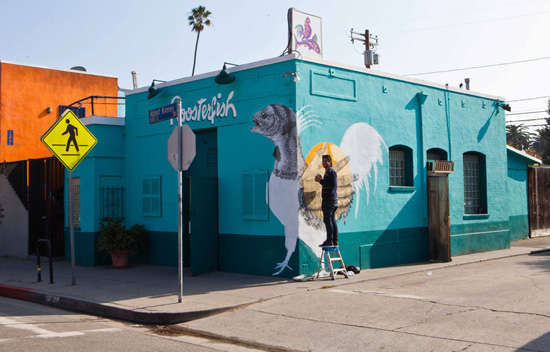 Photo by Nicolas Luciani
Indeed. Your favorite local neighborhood is receiving a new mural on one of the most recognized establishments along Abbot Kinney. Puerto Rican public muralist and artist Alexis Diaz (aka La Pandilla) has painted a mural on the 35-year-old institution, the Roosterfish bar. An extension of the exhibition held downtown at the GR Works gallery entitled "Back Alley," this mural was facilitated by the Do Art Foundation and Pilar Castillo of SPARC. A young artist, Diaz is making big waves in the urban art community through curating the internationally acclaimed mural festival in San Juan titled Los Muros Hablan in the month of December. His Abbot Kinney mural shows his focus on the fictitious evolution and cross-section of species, in this case a rooster, a fish and a bit of human. His attention to detail is aptly placed along the street, allowing the passersby the experience and access to appreciate the etched fine lines up-close. See the finalized mural in person while visiting the area.
Muchos artistas diariamente influellen en el Trabajo de uno , no solo artistas plastico, tambien musicos, actores,escritores,etc uno absorve imagenes e ideas de todos lados.
Al igual que muchos te sirven de motivacion mas que influencias!
En mi caso la tecnica fue influenciada por Alberto Durero, y el quien me motivo e influencio a salir a la calle a Pintar fue Keith Haring.
Several artists influence my work on a daily basis, not only plastic artists, but musicians, actors, writers, etc. I absorb images and ideas from everywhere. Different artists will have an effect on me some of them will influence my work, and others will just be pure motivation. In my case, the technique was specifically influenced by Alberto Durero who encouraged me, and the inspiration that influenced me to go out paint on the street was Keith Haring.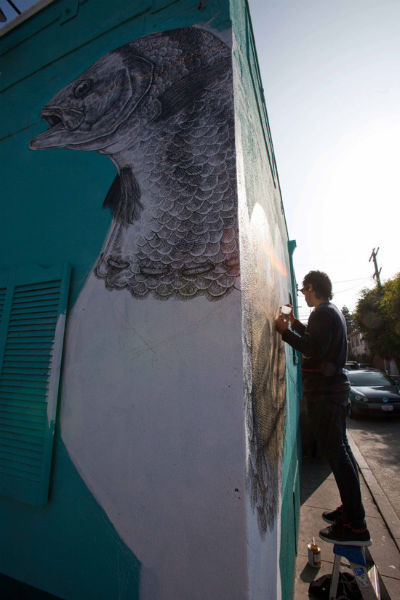 Photo by Nicolas Luciani
Mi experiencia pintando en Venice a sido expectacular una de las mas agradable que e tenido, la gente es muy amigable, el lugar tiene una vibra unica , rodeada de tantos artistas de diferentes generos, con diferentes maneras de pensar , de diferentes lugares del mundo , Cada uno con su historia particular , definitivamente inspira!
My experience painting in Venice beach has been among the most spectacular and joyful that I ever had. People are very friendly and the area has a unique vibe. I was surrounded by so many artists of different genres that have a diverse ways of thinking, and that come from all over the world, each one of them with his own history. To be in such a fertile environment is definitely inspiring!
Mi Trabajo , la idea no es que lo perciban como yo quiera , es para que el espectador y la comidad lo perciban a su manera, cuando escucho a Cada uno creando una historia , o buscandole un significado al mural q todavia esta en proceso , ya tengo una satisfaccion inmediata y se que dio resultado.
My intention is that my work won't be perceived by me, but it is for the viewer and community to perceive it in their own way. When I listen to people reenact stories about my work, or when I see them looking at an ongoing work for meaning, I have an immediate satisfaction that my work have touch them.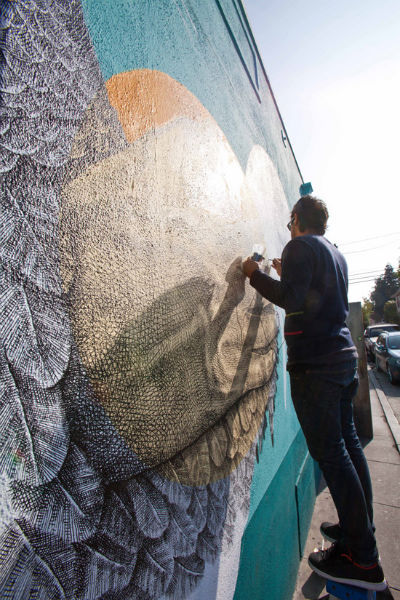 Photo by Nicolas Luciani
Mi obra se trata de la vida , yo simplemente le doy mi significado particular a Los elementos , y creo mi propia historia basada en las caracteristicas de Los animales o lo q conosco o percibo de Ellos aveses hasta le invento, son un Tipo de naraciones subreales, para que Cada ser humano se refleje a su propia vida, le encuentre su significado particular de acuerdo a lo que le a tocado vivir en su historia. Cada ser humano es un mundo aparte , Cada uno tiene distintos tipos de sentimientos unos mas desarollados q otros con diferentes maneras de interpretar la vida.
My work is about life, I just give my particular meaning to the elements and create my own story based on the characteristics of the animal or of what I perceive or know of them. Sometimes I give them a story, a sort of surreal narration, so that every human can personify themselves into the characters, and find a particular meaning according to roles and what it could have represented in their own life. Every human being is a world apart, everyone has developed a different set of feelings and with different ways of interpreting this existence.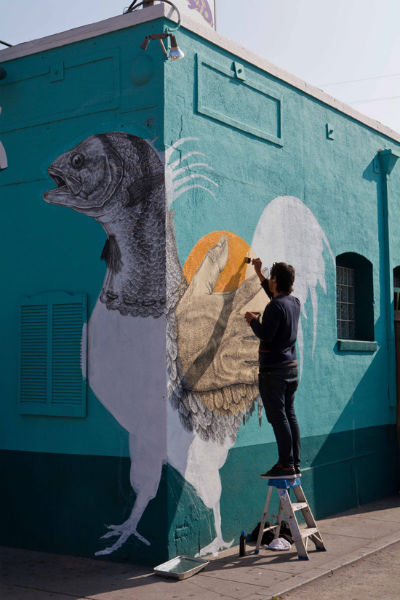 Photo by Nicolas Luciani
Pues me motiva mucho mas Pintar en una pared , por que pienso que el Arte debe ser para todos, como para el que vive en la calle como al Abogado mas exitoso, nunca me a encantado la idea de tener una pieza dentro de un lugar enserado donde solo lo puedan apreciar la gente que solamente visite ese lugar especifico. Creo que el Arte debe ser libre , que te encuentre el a ti , q lo pueda apreciar el mundo, que le llegue a todos , me emociona y me llena saber que quisas de alguna manera u otra pueda influenciar o cambiar aunque sea un segundo la persepcion del espectador , solo saber que detuve su rutina diaria por un momento , es super gratificante , salir de la rutina y ponerlo a pensar , ya se que funciono , quisas le alegre su dia o lo moleste, pero lo importante al final es que logro su objetivo , lo puse a pensar , ya hay logro un cambio, y para mi no hay nada mas gratificante q poder regalar un pedaso de mi mente y alma y la gente se sientan conectados o le encuentren relacion con su vida diaria.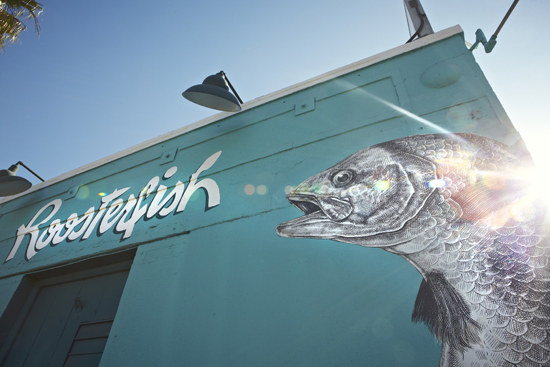 Photo by Koury Angelo
I feel more motivated when I paint on a wall. I think that art should be accessible to everyone, from those who live on the streets to the most successful lawyer. I have never been thrilled to the idea of ​​having my work enclosed in a place where only I can appreciate and people who only visit that specific location. I believe that art should be free, that it should have the ability to find you. Art should be appreciated by the whole world. It excites and is fulfilling to know that art can influence or change the perception of the viewer even if it is for one second. Just knowing that it stopped them in the monotony of their daily routine, is very rewarding. If I manage to step that person out of the routine and make them think, it makes me know that my piece has been successful. I also hope that I can have a positive influence, although that is not the objective, in the end the goal is to make them question. There is nothing more rewarding then to share a piece of my life and soul with them in this way.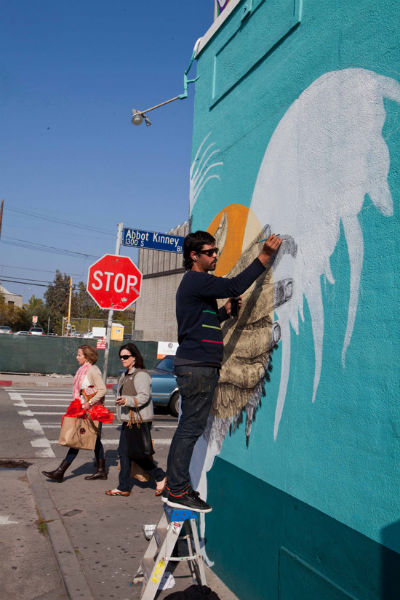 Photo by Nicolas Luciani
Finished Mural: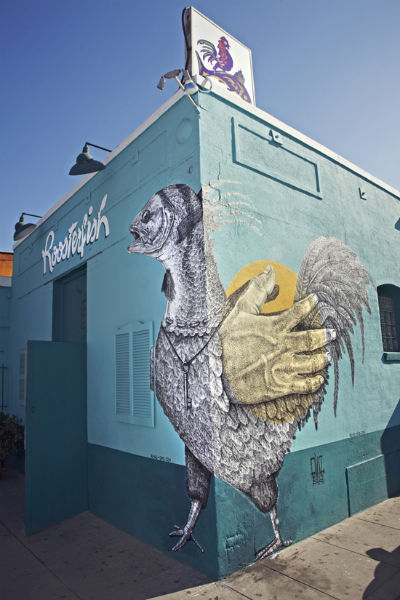 Photo by Koury Angleo
Calling all HuffPost superfans!
Sign up for membership to become a founding member and help shape HuffPost's next chapter