A striking street art mural in England documents a family's escape from war-torn Syria.
The poignant portrait of Ayman Hirh, who fled Damascus with his wife and two young sons in late 2011, was painted by London-based graffiti artist PANG on a wall in Camden in northern London.
Hirh decided to leave his country after a crackdown on demonstrators in which nine of his friends were killed, reports the British Red Cross.
"I was a successful businessman, selling marble and granite across Syria and living with my wife and two sons in the Jobar district of Syria's capital Damascus," he inked on the wall.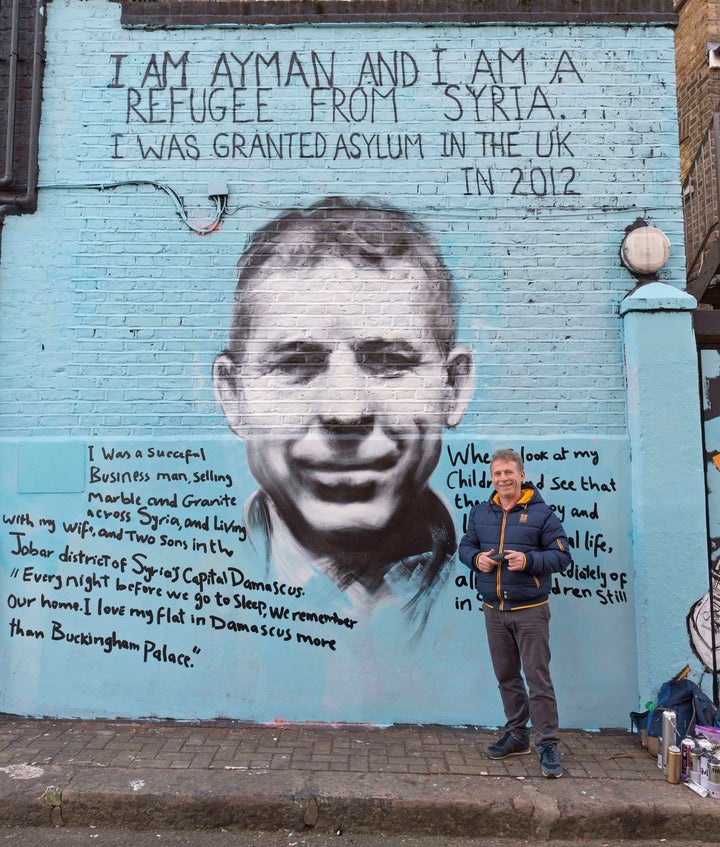 "Every night before we go to sleep, we remember our home. I love my flat in Damascus more than Buckingham Palace," he added.
The British Red Cross commissioned the artwork in a bid to raise the public's awareness about the plight of refugees. The U.K. is planning to take in 20,000 more Syrian refugees by the end of 2020. Eleven million people have been displaced by war in Syria and 4 million have left the country since 2011.
Hirh arrived in England with his family on Jan. 1, 2012, and now lives in Edinburgh, Scotland, where he's studying English and business part-time at Edinburgh College.
It was "great to meet PANG and share my story," Hirh said in a statement. "I hope that my experience will encourage people to think about the reasons people like me are forced to leave home before they judge us," he added.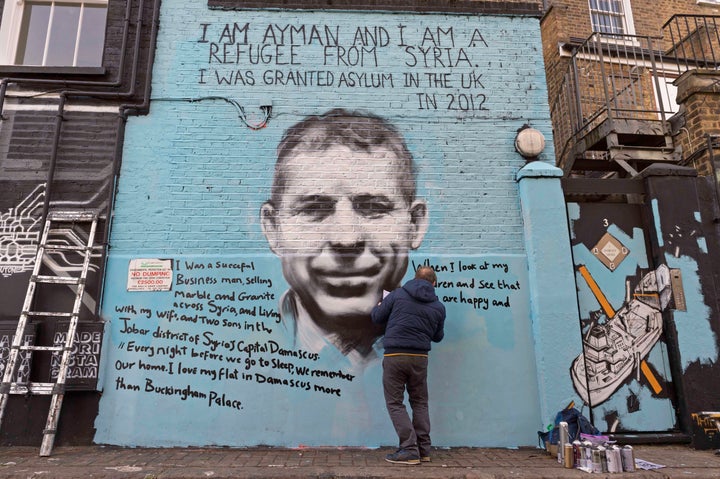 PANG said it was "an honor" to be asked to create the artwork. "I hope that it spreads the message that refugees are all individuals, like you and me, who have no choice other than to seek sanctuary in the country that they arrive."
Hirh's story has also inspired a song called "The Retelling" by the British musician Adam Bainbridge, known by his stage name, Kindness. It appears on an album coordinated by the British Red Cross called "The Long Road."
Released on Friday, the album highlights migrants and refugees' experiences in the U.K. -- and also features music by rock star Robert Plant, hip-hop artist Scroobius Pip, and bands like Sierra Leone's Refugee All Stars and Tinariwen.
The British Red Cross is also asking famous artists, celebrities and members of the public to design postcards portraying the themes of home, hope or humanity.
They will then be auctioned online, with all proceeds going to the organization's Syria Crisis Appeal. The deadline for submissions is March 7.
Related
Popular in the Community