Street food, my dictionary says, is prepared or cooked food sold by vendors in a street or other public location for immediate consumption. Based on that, we all have experienced one way or another this kind of food, independently of our country of origin. Most of the time associated with affordable, easy to get local food sold from a street cart, food truck or market stall, street food is found all over the world pairing the country's culinary traditions. From Rio's pão de queijo to currywurst in Berlin and bowls of pho in Saigon to Thessaloniki's koulouri, street food is ubiquitous, offering a plate of comfort for the curious traveler, the busy professional or the city dweller.
While doing research on street food, I found numerous websites, food blogs, online articles, government regulations and personal narratives on the topic. I even found reports from FAO, the UN agency of Food and Agriculture and academic articles. The topic is vast and appealing to researchers, decision makers, food entrepreneurs, international organizations and above all, the consumers. However, doing research on street food on a global level can be a daunting task and almost impossible due to the lack of both legal and financial sources. Will it ever be possible to collect data from all countries around the world on street food revenues and regulations in order to measure their financial contribution? I doubt it. How we can assess and evaluate street food's cultural and anthropological repercussions?
Today, I will report on the street food of Singapore based on my trips in the country. I attended the World Street Food Congress last April and talked to influential individuals of the sector as well as to some hawkers.
"Street food is heritage comfort food for Singapore. It's because we grew up with over a century of this food heritage gone into your heart, into your bloodstream, into your selves. Today has nothing to do with the physicality, is more of a cuisine" says KF Seetoh, Singapore's Food Ambassador, organizer of the World Street Food Congress, owner of Makansutra and a champion of street food.
Street vendors were relocated in hawker centers in the 60s
"Street food carts that we had back in the day, the '50s, '60s, and they were just contractors in the street. They were dirty. There were no rules on hygiene" continues Seetoh. "We didn't know where the water came from and how they washed the dishes. The way they emptied their trash, they clogged the drains. They also blocked the traffic so the change happened for mostly environmental reasons. So we had to free up the roads and create a better hygienic. But you just couldn't kill off street vendors' livelihood so the government built hawker centers. Today we have 107 of them."
Strict regulations decided by NEA
Hawker centers are managed by the National Environmental Agency, a government agency. There are strict and often complicated rules when it comes to ownership, lease and fees of a stall within a hawker center. There are subsidized stalls for those original stallholders who were relocated from the streets in the early 1970s. For the non-subsidized stalls, the government tenders out vacant stalls on a monthly basis. These are on 3-year fixed term tenancy. The successful tenderer is not allowed to sublet or assign and is required to personally operate the stall although the subsidized stallholder is allowed to assign his stall to another person. Finally, the sold stalls are stalls sold to the incumbent stallholders on 20-year leases under the Stall Ownership Scheme.
The new hawker lease holder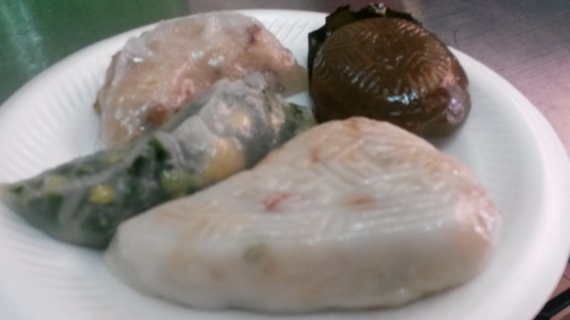 But how do these trends translate into the current hawker's reality? What does this mean to those who are willing to run a stall? "Be the higher bidder at the tender", says Nick Soon, 48, a former insurance professional and owner of One Kueh at a Time stall. Soon wanted to change careers and do something new; as he wanted to honor his parents' wish to run a hawker stall offering their very own, recipe of kueh, Nick decided to bid for a stall within the Berseh Food Centre (02-61). He was the higher bidder so he won. He now has his own stall that it is open from 8 AM to 2 PM, six days a week. Nick may be one of the few new hawker stall owners who offers a unique, traditional food, the kueh, otherwise known as dumplings. When I visited him last April, he offered four different types: the soon kueh made with turnip filling; the ku chai kueh (also written as gu cai) made with chives and eggs; the orh ku kueh, which is made with sweet black sesame and salty green mung; and the png kueh made with glutinous rice in the shape of a peach for luck.
Nick tells me that he sells on average 200 pieces a day with an average price of $1 to $1.50 SGD. His rent is approximately $2,000 SGD and he has to pay the additional amount of $500 SGD for the cleaning service of the center. So he has to sell a lot of kueh to make a good living.
He admits that being a hawker is a vanishing skill. "Now young people go to University, get an education and don't want to run hawker stalls. Most of the time, you don't make a lot of money. You just go by. So they say "why still do that?" Nick trained himself on how to make kueh before he got his lease. Now, he wakes up as early as 5 AM to prepare the dough and the filling for his popular kueh. Despite the challenges, he hopes to see traditional Singaporean foods staying alive in hawker centers.
On the other side of the city, at Maxwell Food Center (stall 64), I visited China Street Fritters owned by Ng Kok Hua and run by the four siblings. The stall sells handmake Hokkien ngor hiang, one of the most celebrated, handmade foods in Singaporean hawker centers. When I ask Ng if he developed the recipe himself and he says that he inherited the recipe from his father and is in business for over 60 years. Ng explains me that the ngor hiang rolls are made from minced pork, good quality five spice powder and spring onions all wrapped in bean curd skin, steamed, then deep fried. The stall also offers guang chiang - the traditional pink Hokkien sausage made from a lean pork and flour paste mixture, enhanced by the typically Hokkien deep fried flat fish; this mixture is stuffed into pig's intestine.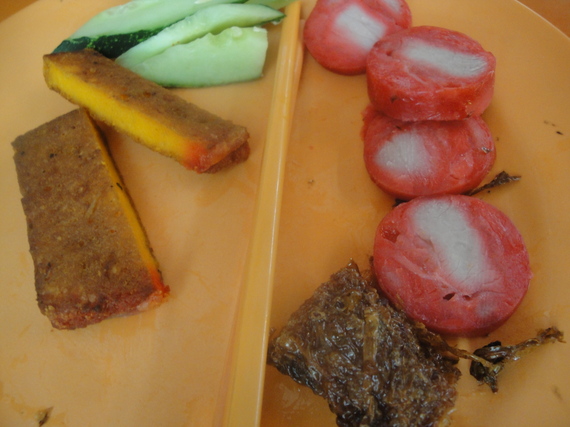 Last November, China Street Fritters won the Heritage Hawker Stall award (this heritage award aims to recognize stalls that have been serving good hawker fare for more than 50 years).
The Ng siblings keep the stand open six days a week from noon to 8 PM but the day off is still a day dedicated to marketing and some preparation work. I ask Ng about the financial situation of his stall. "I am not complaining" he says. "I have made enough money to retire." But what are his plans for the stall? His children do not want to continue in this business so Ng says: "I will assign the stall, not the business. For the business, we will sell the recipe. To you maybe", says laughing. I am curious about the price. "Consider over 60 years of work." I laugh myself.
Hard work at the hawker stall, the evolving palate of the younger generation, higher education and international travel as well as stricter regulations have transformed the culinary scene of Singapore, hawker centers including. The children of hawker stall owners do not want to continue this hard trade; and when they do so, they may well go for European cuisines and dishes like pizza or French crepes. Traditional recipes may be lost ("go down the drain" according to Ng) and with them some aspects of Singaporean food culture.
But KF Seetoh is optimistic. He believes that there is a future in street food "but I am not sure how fast this will be."
Sources
http://www.makansutra.com/about.aspx
http://www.nea.gov.sg/public-health/hawker-centres/managing-hawker-centres-and-markets-in-singapore
http://wsfcongress.com/
https://www.facebook.com/One-kueh-at-a-time-604199416352177/
https://www.facebook.com/chinastreetfritters?_rdr=p