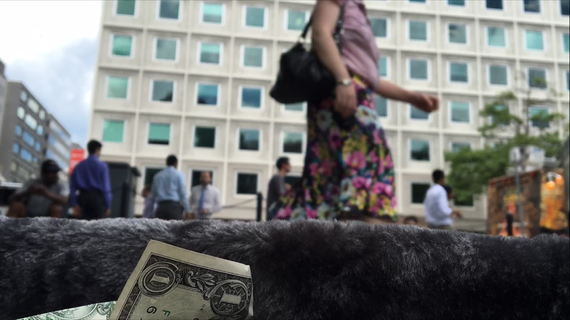 This past Tuesday, I found myself in the grass at Farragut Square in Washington, D.C., closing my eyes and listening -- without the usual addition of headphones.
At first I heard snippets of laughter, the occasional stand-out exclamation and soles hitting the pavement. But after a while of listening, I found that the noises began to merge together into a collective sound. Just as flour, sugar and eggs eventually turn into dough when combined, the melded sound was sweet to the ears and meditational.
After resting for a measure longer, pun intended, I stood up and grabbed my guitar and amp, ready to attempt some sounds of my own.
Washington, D.C., was my first stop on a musical project I'm taking on this summer, where I will be busking -- or street performing -- in about 15 cities across the United States. While D.C. is not known for its busking culture, I found myself yearning for a low-key street performing city as I familiarized myself with the experience of performing for hours at a time before hitting the prominent busking cities (like my next stop, Nashville).
But while I braced myself for the physical side effects that come with playing for hours, I found myself unprepared for the mental effects.
With busking, at least for me, it usually takes five to 10 minutes of performing to get into the swing of things, including the performance prep. But setting up my equipment at Farragut Park carried extra weight, as does any moment that has been planned out months in advance.
Ten minutes into busking, I wasn't feeling great about the music I was producing. My hands hurt and body was unable to relax, which made my strumming stiff and robotic.
And then I opened my eyes.
I don't know when I got into the habit of performing with my eyes closed, but I do know that my excuse had always been that people distracted me from the music. More accurately, it was probably the fear of how others would react -- of their judging gazes -- that kept me closed off, even while in the middle of a crowded street or park.
But after opening my eyes, there was a whole mess of activity going on right in front of me that I was ignoring from being so in my own head.
My guitar case was still empty, but as I started up the next song, I pushed myself to keep my eyes open this time and connect with the passersby. That was, after all, a major reason why I decided to busk in the first place: connection.
It might seem like a no-brainer move to keep one's eyes open -- because in a literal sense, it is. But I would argue that we can still look around without actually connecting with our surroundings. It's so easy to fall into an autopilot state. This can happen as we're driving home from work or have dinner with a friend without really appreciating their company.
By opening up, I was able to then make eye contact with the listeners, return smiles and watch the woman on the bench tap her toe to my music as she ate her lunch. My case was no longer empty of tips, and I found that listeners started coming up to me, asking questions about guitars, music recommendations or even just to say that they liked the song. By opening myself up, others began to open up to me as well.
But opening up didn't expose me to only good interactions.
As 5 p.m. approached, I set up my guitar at Foggy Bottom, just as commuters were swarming into the Metro. This was my third stop of the day and I was feeling confident. I kept my eyes open and began singing.
Tired and in a rush to get home, the people leaving Foggy Bottom were not in much of a listening mood. I made $4 max that hour and felt pretty defeated. But it wasn't the money -- it was also the challenging looks they threw my way and how I wasn't able to resonate with the passersby.
I packed up my belongings and sat on a bench to rest. After about five minutes of questioning why I would ever set off on this trip, a man came up to me and asked if I was the one playing the guitar earlier.
"I was walking down the street and heard the music and came looking for you," the man said. "Why did you stop?"
Good question. I had let what I was seeing -- negative feedback from commuters -- dictate my actions. While playing, I may not be able to see the connections I make, but it's best to trust that somewhere within hearing distance, someone is smiling or tapping their toes to my music -- even if all I see are eye rolls.
Day two of Music on the Road began with sore shoulders and splitting calluses. But at least mentally I knew what to expect. And before setting up my first performance at Metro Center, I took some time to listen to the sounds around me, again hoping to hear the collective sound of that scene.
But this time I kept my eyes open.
Calling all HuffPost superfans!
Sign up for membership to become a founding member and help shape HuffPost's next chapter