Painted on the wall of an East London building is the striking portrait of a man and his dog, splashed with color and abstracted to reveal the skeletons of creatures not well. "I grew up all twisted," the text reads beside the breathtaking imagery. "Dad got all frustrated I ended up running away/Last winter I was so cold my hands and feet went white."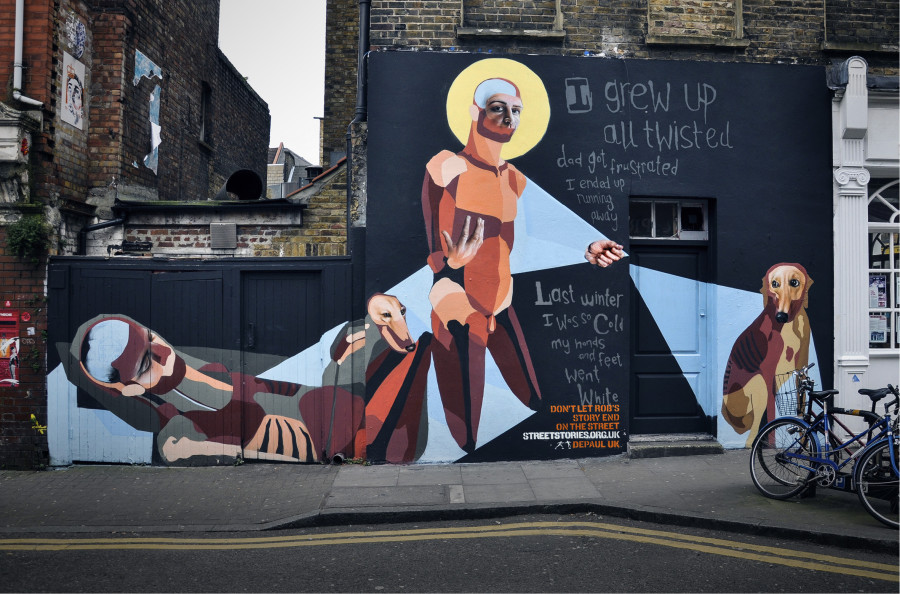 Mural by Best Ever
The mural is but one of several artworks created for "Street Stories," the brainchild of Depaul charity in the United Kingdom and the creative agency Publicis London. Aimed at sharing the stories of real, young homeless individuals living on the streets of East London, the murals reflect the actual circumstances of men and women left without a place to live. Artists Ben Slow, David Shillnglaw, Best Ever, Josh Jeavons and Jim McElvany volunteered their talents to the campaign, crafting beautiful homages poised to raise awareness to the plight of youth homelessness in the country.
"My dad kicked me out/the thought of my son keeps me from self-harming," reads another mural, words taken from interviews conducted by the Depaul team. "Dad died/they tried to put me in a home but that was never going to happen/I've slept everywhere/at night it's a jungle." The poetic narrations shed light on the factors that lead to homelessness, and are ultimately meant to encourage onlookers to visit the website, where digital versions of the stories are located.
"People are encouraged to get involved by visiting the website and buying a section of the digital wall, which will result in that part of the digital wall getting 'cleaned,'" representatives from "Street Stories" told The Huffington Post. "This symbolizes the fact that by donating, people are helping to remove a part of a homeless person's story from the street." Visitors who buy a section of the digital wall will also receive a limited edition screen-print of the artwork signed by the artist who created it.
"At Depaul UK we work every day with young people whose stories could otherwise so easily have ended on the streets," Joseph Howes, Executive Director of Fundraising & Development at Depaul UK, explained in a statement. "So it is fitting that we are working with artists who can bring a street-eye view to bear directly on our work and the lives of the young people we serve."
Scroll through a preview of "Street Stories" below and let us know your thoughts on the project in the comments.