"It's been fun to watch the fashion," said a woman named Sandy, one of the many guests of last Saturday evening's opening of the California Design Biennial at the Pasadena Museum of California Art. As Sandy sat on the museum terrace, whiskey in hand, watching the parade of good dress go by, others viewed the exhibit, a massive melding of Cali design talent from various mediums including architecture, graphic design, transportation and -- yes-- fashion, too.
"Isn't it fabulous?" asked Rose Apodaca, the noted L.A. style scribe who curated the fashion portion of the exhibit. Apodaca rounded up eleven of California's most shining sartorial stars -- from shoe designers to perfumers -- and placed their wares next to meticulously designed bottles of Method dish soap and Metro signs that make one want to sell their car. Gregory Parkinson, who was named a 2010 CFDA/Vogue Fashion Fund finalist just last week, is displaying a bevy of his dip-dyed dresses. While Raven Kauffman, who attended the opening festivities with her entire family in tow, has a sampling of her hand-made feather clutches hanging from the ceiling. Downtown designer Michel Berandi, in typical fashion, is displaying a massive creation worthy of an otherworldly warlord, along with a series of sketches depicting the work he will show in Baccarat's Venice Biennial in 2011. Behind-glass offerings from cobbler George Esquivel and jeweler Annie Costello Brown lend an accessible, boutique-like feeling to the exhibit overall.
But the star of opening night was Michael Schmidt's ornate display of musically-charged, on-stage costumes created for the likes of Cher, Madonna, Fergie and Debbie Harry. And those who look beyond Schmidt's crystal and mesh creations can find a special surprise -- the first released image of Dita Von Teese from her upcoming beauty book, which is being penned by Apodaca. The photo, shot by local photog Scott Nathan, features the burlesque star in a pair of Schmidt's drool-worthy crystalized shades, natch.
"I'm really proud of all of this," Apodoca said, beaming, as she looked around a gallery that stayed packed long after the party was supposed to officially end.
We stayed late, too, with our camera. This is what we found.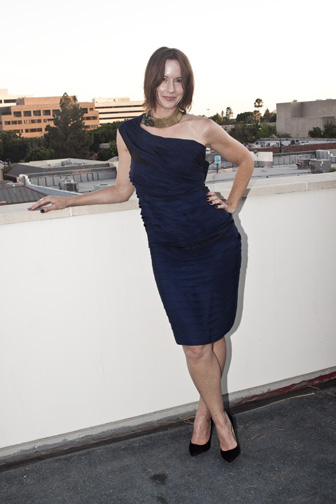 Lee Ann Jarvis
Work: Stylst
Wearing: Lanvin dress, Stella McCartney heels, Marni necklace
Raven Kauffman and George Esquivel
Work: Designers of their own eponymous lines
Wearing: On her -- Alaia heels, vintage earrings, her own dress. On him -- Levi's jeans, his own shirt, his own shoes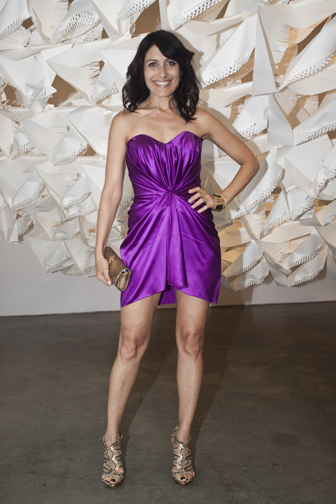 Lisa Edelstein
Work: Actress, Host Committee member
Wearing: Dolce & Gabbana dress, Michael Kors clutch, Penny Preville and Lia Sophia jewelry, Jimmy Choo shoes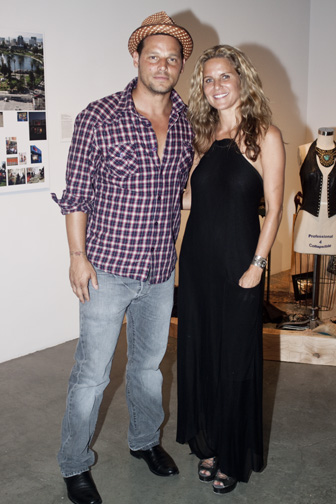 Justin Chambers and Calleen Cordero
Work: Him -- actor. Her -- Designer, Calleen Cordero
Wearing: On her -- Hazel Brown dress, her own shoes
The California Design Biennial runs through October 31 at the Pasadena Museum of California Art, 490 East Union St., Pasadena. (626) 568-3665. pmcaonline.com
REAL LIFE. REAL NEWS. REAL VOICES.
Help us tell more of the stories that matter from voices that too often remain unheard.