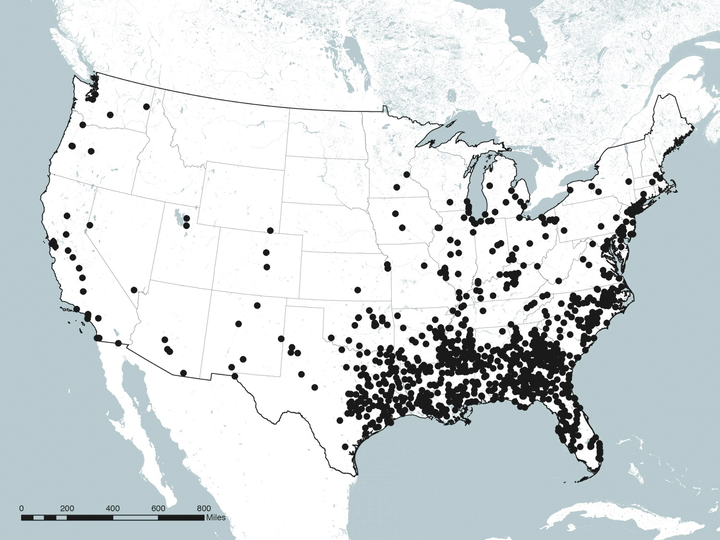 Martin Luther King, Jr. was one of our country's great social justice heroes, but it's a known irony that many of the roughly 900 U.S. streets named after him are in states of disrepair. 
Many MLK streets and boulevards are, or once were, important centers of African-American communities. Daniel D'Oca, a Harvard Graduate School of Design professor, addressed the contrast in a course last fall called "The MLK Way: Building on Black America's Main Street." He led 13 students to St. Louis and Washington, D.C., so they could create a design intervention for one of the cities. Their proposals, which range from adding new storefronts, job training and repurposing vacant lots, point to how America might turn MLK streets into what D'Oca calls "monuments worthy of Dr. King." 
D'Oca told The Huffington Post that St. Louis and D.C. make a good pair of case studies thanks to their contrasts: St. Louis's MLK Drive, like the city at large, is a major site of professional exodus and urban decay, while D.C.'s MLK Boulevard is a model street full of social services, though the threat of gentrification looms large.
Both cities, however, have experienced segregation. D'Oca told HuffPost that, starting in the 1930s, black neighborhoods throughout America were red-lined when residents of certain areas are denied services through selectively raising prices using an "arsenal of exclusionary measures" like planning freeways through black neighborhoods. James Baldwin famously dubbed the period's "urban renewal" movement as "negro removal." 
During the week-long trip to St. Louis and D.C., D'Oca and his students walked extensively through each city's MLK-named street, talking to business owners and residents. He said they were most surprised by "how intractable the problems seemed, and how great the people are."
In St. Louis, the class worked with a nonprofit called Beloved Streets of America, whose mission to restore streets named for MLK inspired the course. The students saw firsthand the difficulties business face there due to high vacancy and low demand. 
Liza Langer, a 2016 M.A. candidate at the GSD, wrote in an email to HuffPost that the three things that struck her about St. Louis were "the extent of vacant land (and that it was owned mostly by the Land Reutilization Authority), the brick buildings with giant holes from 'scrappers' or 'brick thieves,' and the unoccupied John Marshall School." For her final project, she proposed renovating the Marshall School into a "Construction Co-op and Vocational School." The campus would be transformed into the "productive landscape" and would include space for reselling bricks (see mockup below).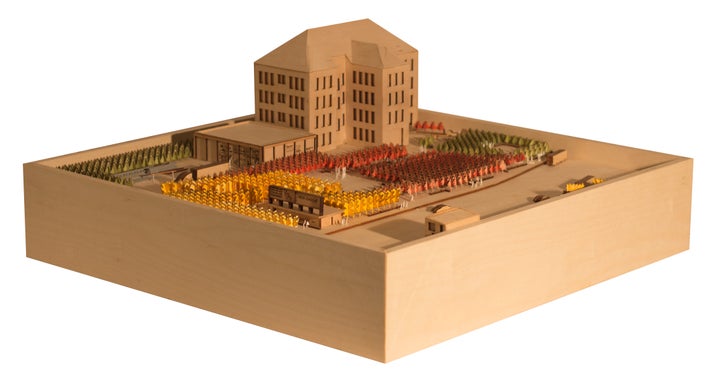 In Washington, D.C., the students' efforts were framed by the "residents' fear of gentrification and development," said D'Oca. D.C.'s MLK Boulevard runs through the historic Anacostia neighborhood, which is mostly black and has a burgeoning arts scene. But its residents and businesses are facing possible displacement by a proposed light rail expansion and rising property values. Some student proposals were presented to the city's Deputy Mayor for Greater Economic Opportunity, Courtney Snowden, and the Director of the Office of Planning, Eric Shaw, who both visited the class. Snowdon told HuffPost that their ideas "got us thinking about our own communities in a new light."
D'Oca said he would like to teach the course again next year using different cities as case studies, such as Atlanta, where Dr. King once lived. 
The class's main takeaway from all of this? City centers of all stripes can and should be revitalized. But, D'Oca said, it's important to keep the specter of gentrification in mind and ask ourselves, "How do we not be victims of our own success?"
PHOTO GALLERY
Martin Luther King Jr. Quotes On Faith
REAL LIFE. REAL NEWS. REAL VOICES.
Help us tell more of the stories that matter from voices that too often remain unheard.