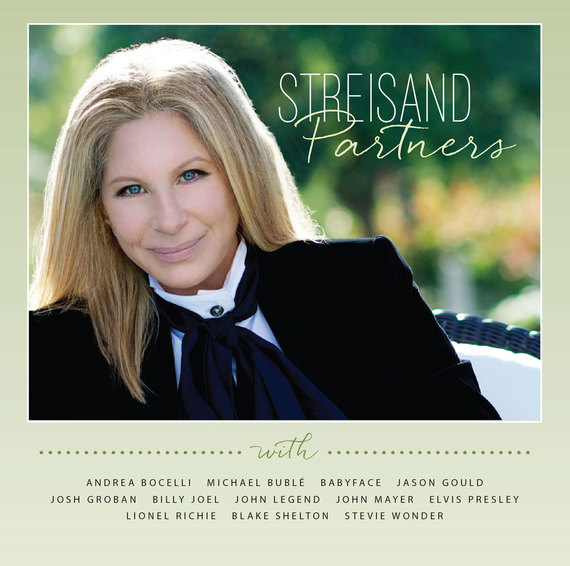 Full Disclosure: I am a card-carrying 100% I-got-a-perm-like-her-at-16 Barbra Streisand fan; posters on the walls, every movie consumed hundreds of times, every album, CD or digital file played until worn. I remember her birthday (April 24, 1942, yes, 72) sometimes while forgetting close friend's. As a 14 year-old-about-to-be-gay-boy when I first saw her in A Star Is Born I knew. I was a fan.
She was 34 when I first really started loving her. Now I'm 51 and she's 72. I listen to as much Avicii or Calvin Harris, Emeli Sandé and Sam Smith as I do my divas these days, years of getting records first keeps my music tastes fresh.
And I root for the Divas in today's music world, the older ones. I rejoice as the 69 year old Cher releases a contemporary album and launches a multi-national stadium tour, tweeting all the way.
And every time Streisand releases an album, I wait. What will it be? What's she in to now?
This time around she's in to herself, so to speak. The album, Partners is a reinterpretation of many songs she has recorded in the past. Even some of her standards. And the problem with covering a Barbra Streisand classic--even for Barbra Streisand--is that, well, it's a BARBRA STREISAND CLASSIC. It basically can't be done better. Period.
Think about it. Of all the legendary artists, of all their music catalogues, Streisand's gets covered least. Because, well, who can sing People without being compared?
So, what's the still Diva of Pop doing, as even Jimmy Fallon devotes an entire hour to her?
Track 1: It Had To Be You
With Michael Buble
A great opening these two work really well together. Their voices blend beautifully, his style is a great compliment to hers. He is a throwback to, well, HER time, when she was coming up. It's a great retelling of this particular track with the final note reminding us right away that this is still the pitch-perfect Streisand: the voice is older, smokier, but the power, the tone is there. Still effortlessly, incredibly there. 4 out of 5
Track 2: People
With Stevie Wonder
OK, now wait a minute. This is a hit that helped put Barbra in the record books. This track from her Oscar-winning role as Fannie Brice in Funny Girl is one of those that just doesn't need anything done to it. The track is much more a Stevie Wonder track than a Streisand; a hybrid that just doesn't work as it should. Here we have two legends, and two of the most fiercely talented musicians and singers and we get a song that sounds just a bit lounge cover. To Streisand I'm sure it's a fun and new way to sing an old song; one she's sung a million times the other way. Why not try it. And it's not "bad." These two couldn't be bad. It's just not what I expected from a legendary pairing. 2.5 out of 5
Track 3
Come Rain or Come Shine
With John Mayer
From the opening guitar riff Mayer's presence is felt. This track, from her Wet album is given a soulful, powerful delivery that Mayer fits perfectly. These two again sound great together. Maybe it's Mayer bending Streisand to his smooth level of funk/jazz/pop fusion or Streisand schooling Mayer on how vamp out a song, but it works. And works well. If even a few of Mayer's fans buy it, they won't be disappointed. And Streisand's fans will love it. Hearing Mayer soar with his guitar over a full orchestra, a merging of these two styles, and then the obligator belting the song was leading to all along doesn't disappoint. 5 out 5
Track 4
Evergreen
With Babyface
This song keeps very much of it's original arrangement and is treated more of just a duet. Babyface's smooth-as-silk voice (absent too long from Pop) works well with Streisand's. He adds soul to the arrangement and Streisand shines like the proud mamma she is of this, one of her first endeavors at songwriting for the film A Star Is Born and while the film was panned, she won an Oscar for the song. This version is as good as any. 4.5 out of 5
Track 5
New York State of Mind
With Billy Joel
The story has it, that when Streisand chose this song for her Superman album (the cover of which will go down as her sexiest) it launched Billy Joel's career in to high gear. Here we have the two of them, two NYC natives, singing their guts out about their home. Now, I am partial to the original, because, well, because. But, if there were no original, this would be a great duet. They fit together perfectly. Joel sounds great. And it's nice to give NYC a shout out every now and again musically. 3.5 out of 5
Track 6
I'd Want it To Be You
With Blake Shelton
This song so desperately wants to be I Finally Found Someone, her previous duet with Bryan Adams for The Mirror Has Two Faces. I like Blake. I love her. I love songs about friendship. And I wanted to love this. But, I know it's petty, their diction does not work together. Her's is very staccato, his not so much. She seems to have to hold back, it just doesn't work. 2.5 out of 5
Track 7
The Way We Were
With Lionel Richie
Again, a timeless classic. Her humming at the begin is so iconic I think even preschoolers would still know it. This version doesn't bring anything new to the song other than making it a duet. Now, that's not a bad thing, since this Marvin Hamlish, Marilyn and Alan Bergman track still evokes emotion of time passed, loves lost, lives we missed along the way. And hearing an older Streisand sing this, since the movie was made when she was much younger, has its merits. She's lived every line now, ever single line. And when she opens up at the end as only she can on HER song, it becomes painfully obvious that no one should sing this song with her except her. Richie's additions aren't bad, they're not horrid, they're just not needed. It still gets a 3.5 out of 5 for being this song and being her.
Track 8
I Can See Your Face
With Andrea Bocelli
OK, here we go. Play this one loudly. These two, together, on a well crafted song, written perfectly for each of their voices, well, if you like this type of music, lush orchestrations, singers pulling out all the stops and then exercising the utmost of control then this is the track. For once Streisand does not overpower her partner. Not only can Bocelli hold his own but match her belt for belt, and does. And wow. 4.5 out of 5
Track 9
How Deep Is The Ocean
With Jason Gould
The star of this track is Streisand and Elliot Gould's son, Jason. In a behind the scenes video he said he was almost afraid to sing because of course, people would compare him to his mother. How could they not? But he wanted, and wants to express himself as a vocalist. He should have started sooner. Something to be said for genetics. His performance is every bit as nuanced, as, well, performed as his mother's. And the song is perfect, because these two love each other. It's obvious. And as a mother, Streisand allows her son to shine, and shine he does. This duet means so much to her, and to those that love her, but more importantly it's a good piece of work. This is a great duet. 5 out of 5
Track 10
What Kind of Fool
With John Legend
Ah, the Guiltyalbum with Barry Gibb and the BeeGees. All that white. Barry's chest hair. This is an entirely new version. Not reworked, new. Even the parts are switched. It's sweet. Melodic. It's John Legend. Piano driven, almost quiet at times. It's more delicate than the first. This could play on radio, if only Pop radio would give Streisand plays again. Alas, it will be on AC and such. Again, Streisand doesn't cheat on her own notes of past, in fact, she improves on some. 4 out of 5
Track 11
Somewhere
with Josh Groban
The Broadway Album brought Streisand back in a big way, including back to the Grammy stage to win. This song has been used to close her show, and is timeless. The track originally from West Side Story is given the respect it deserves. It's the kind of song that if you're a great performer and you do it right, it soars. Well, it soars. Again. Power, performance and passion all poured in to song familiar and hopeful. It speaks of two people from two different worlds finally being able to be together, not torn apart by society. How we still need this message in 2014. 3.5 out of 5
Track 12
Love Me Tender
With Elvis Presley
Now Streisand knows how ti feels to be a guest on her own album. Because here, The King, is or was at HIS best. Soulful, sensual, the best of Elvis. This song was one of his best, and now this duet will live on as a merging of two legends that could have been. Streisand told Fallon this song was brought to her by the A&R people and the estate said yes. It belongs on the album. These two should have worked together in life. Now, at least, we know what it would have sounded like. Like Gold. Like Butta. 4 out of 5, because hey, it's Elvis.
Albums are tricky things in today's world. Now, every track must be a hit, a single, a smash. These 12 songs are a lovely compilation of classics and standards, many covered by the woman who made them such, with new approaches and voices. The fact that Streisand even cares to record at 72 is amazing, and her voice remains equally as such.
Fans will love it. It will recruit some new ones and Streisand is making a few media stops. She looks good (yes, she's had something done, but no word on what) and sounds incredible and continues to work with the best Pop music has to offer. Partners may not outsell Katy Perry or Beyoncé (who was working on a duet with Streisand for the album) but it's a welcome gift to people who like something other than and for people who still enjoy 12 solid works on an album.
REAL LIFE. REAL NEWS. REAL VOICES.
Help us tell more of the stories that matter from voices that too often remain unheard.