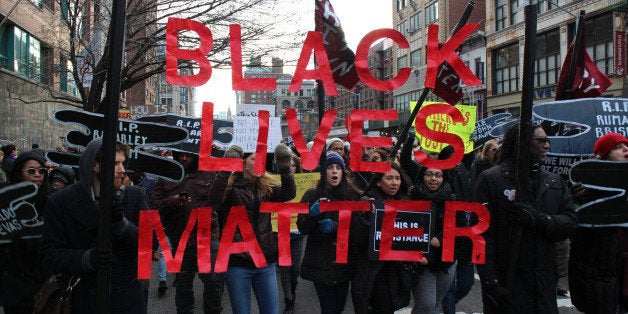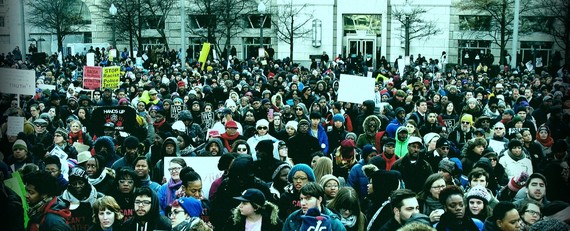 By sharing articles about the protests in Baltimore or the disaster relief needs in Nepal, some people may get caught up in the ease of quickly posting information without taking further action. Many have accused Millennials of this kind of "slacktivism."
No matter if one agrees that the term is merited or not, undoubtedly social media has accelerated and expanded our ability to raise awareness about issues and impacted the influence of our grassroots organizing. We can stage meetups, protests, and galvanize thousands simply by typing 140 characters or fewer and hitting send. Our voices reverberate from LED screens to the minds of others, faster and further than a mic or bullhorn. Our words can reach millions across the globe within minutes.
From tweeting about social justice causes to creating and signing online petitions, if done well, online activism can be an effective form of organizing. But what makes online activism the most powerful is when it is collaborative and supplemented by or leads to offline activism. Clicking a button is not enough, but its power lies in creating heighten awareness, policy changes, and galvanizing people to organize specific and concrete change in their community.
Take #BlackLivesMatter. Since last year, it has become the social-political outcry that has led to cities in Missouri, California and New York instituting police body cameras, prompted investigations into police practices, and increased efforts to improve community relations with law enforcement. The increased public discourse around police violence led to President Barack Obama signing an Executive Order establishing the President's Task Force on 21st Century Policing. #BlackLivesMatter has proven to be much more than a social media hashtag.
While the technology is new, the method is not. Throughout history, a cross-collaborative, multi-level approach to activism has often proven to be successful. Our strengths come from working across fields and demographics, including generations. In recent decades, from civil rights to women's rights, there have been poignant speakers, visible demonstrators, and influential advocates at all levels and ages pushing the movements and agendas forward.
During the Civil Rights movement of the 1960s, for instance, established civil rights organizations like the NAACP and the National Urban League leveraged their political capital to broker legislative reform. Faith-based organizations like Southern Christian Leadership Conference encouraged community involvement and supported their congregations by providing gathering spaces for people to convene. Student-led organizations like the Student Nonviolent Coordinating Committee harnessed their outrage and passionate voices to stage sit-ins, protests, and marches. Each part of the movement captured the personal feelings and experiences at an individual level, and together, their actions were a catalyst for social change. Ultimately, leveraging collective power, they influenced government and legislative reform like the end of segregation and the passage of the Voting Rights Act.
Like then, we need more coalition and strategic partnership. I have seen firsthand how effective these strategies can be when I had the opportunity to support Dallas Faces Race (DFR) and the November 2014 "Facing Race: A National Conference" presented by Race Forward in Dallas. Working with committed people of all ages and races, DFR represents over 280 community partner organizations focused on education, arts & culture, faith, philanthropy, health, and social services, we facilitated online communications, partner events, and training sessions to build awareness and educate each other on racial equity.
As a Millennial and strategist, I understood the power and reach of social media and collaborated to write a monthly newsletter highlighting social justice news, sharing resources, and the great work being done by DFR Partners. Together the DFR team leveraged our strengths into our strategy -- we were connectors, communicators and innovators intent on laying the groundwork for this important endeavor.
The end result was a conference with 70 workshops and more than 1,600 people. It was an opportunity to connect with legendary activists, experts, and funders. #FacingRace14 trending nationwide and #DFacesRace trending locally during the conference. Our DFR team was also acknowledged by the Clinton Global Initiative. And our impact did not stop there. In the six months since it occurred, DFR has hired staff, held a conference debrief, partner convening and offered additional racial justice leadership training. Without committed cooperation, it would not have happened.
We -- Millennials, Gen X, Gen Y, and Baby Boomers alike -- must use our strengths and be open to the methods of others. For Millennials like me who are largely digital natives, our strengths may be using technology to raise awareness and mobilize, but we must also recognize that our activism can't end when we click "post" on Facebook, Tumblr, Instagram or Twitter. We need to do so much more, and one way to achieve more is through connection, communication, and committed collaboration, with established groups and experienced advocates.
For those who have decided to lift your voices, use your words, take actions, and use your influence, be encouraged that there is power and opportunity to create swift and impactful change during your lifetime. Now is the time.
Popular in the Community