Sport and physical activity can provide important benefits for our health, but for those with a progressive condition, it may be more crucial than we realized.
Last week the American College of Sports Medicine held their first "Developing the Healthy Youth Athlete Conference" in Buena Vista, Florida. Attendees and speakers -- from Nike, Project Play, Women's Sports Foundation to NCAA- - engaged in dialogue about redefining the healthy youth athlete, best practices for children in sports, and the benefits of physical activity.
But is physical activity and training possible for someone diagnosed with a progressive condition? Ten-time Olympic medalist, Gary Hall, Jr. and I were approached by the American College of Sports Medicine to discuss this issue and the benefits of sport. Both swimmers at a young age were diagnosed with a progressive condition. Hall was diagnosed with Type 1 Diabetes (T1D) in 1999 during the peak of his swimming career while I was diagnosed with FSHD Muscular Dystrophy at age nine. Not only is there no cure for both conditions, but at the time there was minimal information or medical studies available to reference for training and physical activity.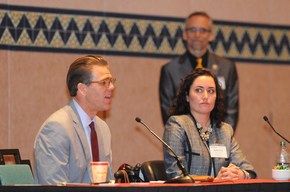 Gerardo Mora for the American College of Sports Medicine
Much of our training came with lots of trial and error: Mentally focusing and refocusing on what is possible. With Type 1 Diabetes, practices for Hall consisted of glucose monitoring and insulin treatments during his workout sets and competitions. During this process, Hall learned how to maintain a steady insulin level by matching carbohydrates consumed with the amount and level of physical activity. Training with Muscular Dystrophy brought its own challenges. With a body having the potential to constantly change, much of my training was finding what strokes should be modified for best water dynamics in addition to avoiding fatigue. Another challenge included how to isolate and engage a muscle without compensating from other parts of my body. And with an unconventional body, training and physical activity requires innovative thinking from the athlete, parents, coaches, trainers and doctors.
Having a progressive condition is not only manageable, but one can benefit from physically activity. I realized this epiphany a few months after I did not make the 2012 U.S. London Paralympic Team. Different doctors told me that training helped maintain my strength and mobility. Swimming was, and will always be one of the best things I can do for my condition.
Even before I was diagnosed at age nine, swimming as a child established the neural pathways and mental memory in my brain which became evident when I retaught a different body how to swim after a six-year break. Moving to national and international competitions not only solidified my commitment to physical activity, but helped me realize the potential that lies within all of us. No matter the playing field -- Olympics, Paralympics, competitions, recreation to play -- physical activity provides a unique opportunity to improve our physical, mental and emotional well-being.
After my diagnosis, I truly believed I could not be active again. At age 13, I would watch from my couch professional athletes compete -- wishing I had the ability to swim and race. And it took innovation, a support system and a certain level of stubbornness, to ignore society's limitations and live an active life. I believe this strength to break barriers exists within all of us, a strength that I found through physical activity.
REAL LIFE. REAL NEWS. REAL VOICES.
Help us tell more of the stories that matter from voices that too often remain unheard.