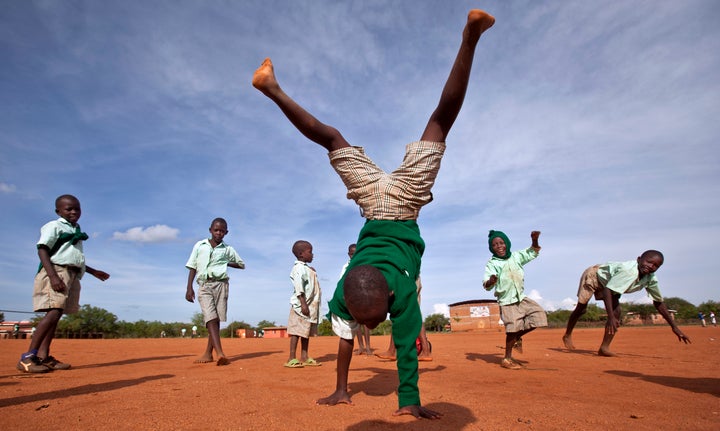 On World Health Day (April 7), we recommit ourselves to making the world a healthier and more secure place.
Fifteen years ago, an HIV diagnosis was often a death sentence, and controlling the AIDS pandemic was unimaginable. In the hardest-hit regions of sub-Saharan Africa, babies and children were facing doubling and tripling mortality rates, and life expectancy was cut by 20 years.
In 2003, fewer than 50,000 people living with HIV/AIDS in sub-Saharan Africa had access to life-saving antiretroviral treatment, and nearly half a million children were being newly infected with HIV annually. The virus was devastating families, communities, and countries as moms, dads, teachers, nurses, and doctors all succumbed to the disease. Hard-won gains in global health and development were being lost.
Today, we can tell a far different story. A story of millions of men, women, and children who are alive and healthy thanks to the tremendous progress achieved through the U.S. President's Emergency Plan for AIDS Relief (PEPFAR), the Global Fund to Fight AIDS, Tuberculosis and Malaria, host countries, and many other partners. A story of countries better equipped to prevent, detect, and respond to their HIV/AIDS epidemics as well as new and existing health threats. Where once there was despair and death, we now see hope and life.
As of Sept. 30, 2016, PEPFAR supports nearly 11.5 million people with antiretroviral treatment—up 50 percent since 2014. With PEPFAR support, nearly 2 million babies have been born HIV-free to pregnant women living with HIV—almost twice as many as in 2013—and their mothers have been kept healthy and alive to protect and nurture them. PEPFAR also provides assistance to nearly 6.2 million orphans, vulnerable children, and their caregivers.
PEPFAR has expanded its impact dramatically in a budget-neutral environment by using data to drive accountability, find efficiencies, and leverage partnerships, including with the private sector. These investments are paying impressive dividends: recent Population-based HIV Impact Assessments in three African countries show that the HIV/AIDS epidemic is becoming controlled there; evidence suggests that we are poised to control the epidemic in 10 African countries over the next four years.
PEPFAR is accelerating progress toward controlling the AIDS epidemic. The program has strengthened the ability of countries with sizable HIV/AIDS burdens to swiftly address other outbreaks, such as Ebola, avian flu, and cholera, ultimately enhancing global health security and protecting America's borders.
PEPFAR has built health infrastructure and strengthened capacity through an emphasis on sustainability. This has not only supported patients living with HIV/AIDS, but also has been leveraged for maternal and child health, tuberculosis, malaria, immunizations, and emergency disease outbreak responses. We have invested in robust surveillance and health information systems as well as laboratories and well-trained laboratory specialists critical to well-functioning health systems, enabling clinicians and health workers to better diagnose and treat a range of diseases and conditions. PEPFAR has trained nearly 220,000 health care workers to deliver HIV care and other health services, improving both HIV care and creating a lasting infrastructure that enables partner countries to address all health challenges of today and tomorrow.
The value of the American people's investments in PEPFAR also goes beyond health. A 2015 study by the Bipartisan Policy Center showed that, from 2004 to 2013, political instability and violence fell by 40 percent in countries that received PEPFAR assistance versus only 3 percent in similar countries that did not. The strength of the rule of law increased 31 percent vs. only 7 percent.
Healthy populations are a prerequisite for prosperous and stable societies. Investing in the well-being of our partner countries not only saves lives, but also enhances global public health and security. In our interconnected world, there is no better investment.
Popular in the Community