As the deadline for completing the MDGs and the rollout for the next set of goals rapidly approaches, 2015 will certainly be remembered as a watershed moment in the history of international development cooperation. It will be remembered as a year for reflection on how far we have come, as well as how far away we still remain.
For example, just over one year ago, President Obama welcomed over 50 leaders from across the African continent for the U.S.-Africa Leaders Summit, the largest any U.S. president has ever held with African heads of state. The first event of its kind, the Summit aimed to strengthen ties between the U.S. and Africa; however, unfortunately, President Ellen Johnson Sirleaf of Liberia and President Ernest Bai Koroma of Sierra Leone had to cancel their plans to attend the Summit. Why was this the case? As the U.S. was preparing to meet with African leaders to discuss its commitment to the African continent, Africa was reeling from the devastation of the largest recorded Ebola outbreak in human history.
Fast forward to last week. On August 5, the World Health Organization (WHO) confirmed two cases of Ebola -- one in Guinea and one in Sierra Leone. According to WHO, this is the lowest weekly total since March, 2014 and marks the third consecutive decline in weekly case incidence. And yet, despite the fact that there has definitely been progress, much still needs to be done in order to ensure not only that Ebola (and other outbreaks) is completely eradicated, but also that there are strong and effective health systems in place in order to prevent future disasters.
As the Sustainable Development Goals prepare to pick up where the Millennium Development Goals left off, what sort of changes can we anticipate in how the goals will be implemented by member states, civil society leaders, NGOs, and other organizations around the world? In other words, how can we make sure that we are able to effectively transition from one set of goals to another, so that we can make more comprehensive gains in securing our well-being as a global community?
A New Global Public Health Agenda
For the past fifteen years, the international community has strived to improve public health through an MDG lens, with Goals 4 (reduce child mortality), 5 (improve maternal health), and 6 (combat HIV/Aids, Malaria, and other diseases) in mind. Now, with the rollout of the SDGs underway, SDG 3 (good health) is meant to incorporate those previous goals into a new overarching benchmark. Thus, organizations that have already been working to achieve these MDGs have to shift their original mission to coincide within the new development framework.
According to Cindil Redick, Manager of Advocacy and Special Projects for the One Million Community Health Workers (1mCHW) Campaign, the Campaign's original mission was to work on achieving those three MDGs by strengthening health systems through the scale-up of community health workers in Africa. Established in 2013 and seated within Columbia University's Earth Institute (Earth Institute Director Professor Jeffrey Sachs was one of the chief architects of the MDGs), the 1mCHW Campaign's mission to achieve these goals by their 2015 expiration date was definitely ambitious.
Nevertheless, the Campaign has made significant progress and has worked with a number of African countries including Ghana, Kenya, Tanzania, Liberia, Malawi, and Nigeria to help their governments develop operational plans (referred to as "Roadmaps") towards increasing the number of community health workers deployed throughout the region.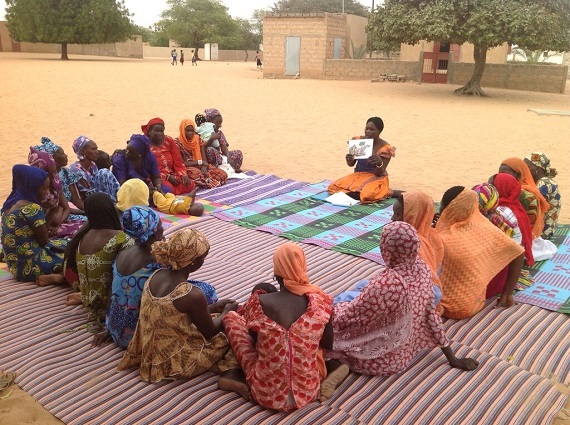 A community health worker teaches local women about sanitation in Kenya. Photo Credit: 1mCHW Campaign.
"A million community health workers isn't going to happen by the end of the year," says Redick. "But, the SDGs are being finalized in September, and Professor Sachs and the Sustainable Development Solutions Network (SDSN) have been working with the international community on developing the SDG indicators. One of the indicators for SDG 3 (good health) is universal health coverage (UHC), so the Campaign's focus has changed to achieving SDG 3, with a focus on UHC, through formalizing community health workers as a cadre."
"This shift should prolong the life of the Campaign until 2030," says Redick.
These contextual shifts that organizations like the 1mCHW Campaign have to make in order to fit within the new SDG framework also include numerous other factors that must be taken into account in order for the new agenda to succeed.
Implementation Must Be Country-Specific
"One of the biggest [problems] was that the MDGs were very broad, and the indicators weren't contextualized for countries; there wasn't an established mechanism for data collection and evaluation at the country level," says Redick, "and this ultimately affected how -- or if -- they were achieved."
This is something the SDGs are surely trying to overcome -- the new development framework boasts over 140 indicators, with sub-indicators to help monitor the achievement of each goal. Furthermore, the UN has already started to take steps to adequately monitor and evaluate SDG implementation and completion through it's newly minted statistical commission.
"There is the opportunity for success," says Redick, "but there needs to be adequate financial support for countries."
Financing for Development Must be Harmonized
The UN has estimated that the new goals could cost as much as $172.5 trillion over the next fifteen years. As a result, new means of mobilizing resources must be considered, something that has already been discussed during last month's Financing for Development Conference in Addis Ababa, Ethiopia.
"With financing, especially for countries, there is a lot of fragmentation between governments, program providers, and donors," says Redick. "They're not in sync with each other, and it's caused a lot of issues."
"One thing that could happen, possibly through the Global Financing Facility, is to make sure that organizations donating money to countries are really focused on being harmonized with country priorities, so they're not financing programs that duplicate efforts, and so there isn't intra-country competition for health service delivery funding."
Leveraging Data is Crucial
According to Redick, leveraging data is also a crucial building block in guaranteeing the success of the SDGs.
"I think data, especially in global health, is underutilized, and there's a lot of potential, especially for improving health service delivery and program management," says Redick. "With the emergence of mHealth tools, we have a lot of opportunities to collect data."
But, issues of standardization and data sharing are still rampant.
"WHO has all these minimum data sets for health workers, but there's very little enforcement or use of those minimum data sets; a lot of organizations have their own indicators they want -- or need -- to collect," says Redick.
"Furthermore, there's a lot of protectiveness globally around data sharing. A lot of countries may not want to share their data, so before we can concurrently move towards changing our decision-making model, we need to encourage a community and society open to sharing data. The SDGs provide an opportunity for that, but it's going to be a very slow shift -- it's not going to happen quickly by any means."
Ultimately, all of these factors are different working components that go into strengthening health systems. Thus, as we embark on our new global development framework, it is necessary that these components are effectively addressed and resolved, so that SDG 3, along with the other SDGs, can truly be achieved.
As Redick believes, "I think we're set up for success."