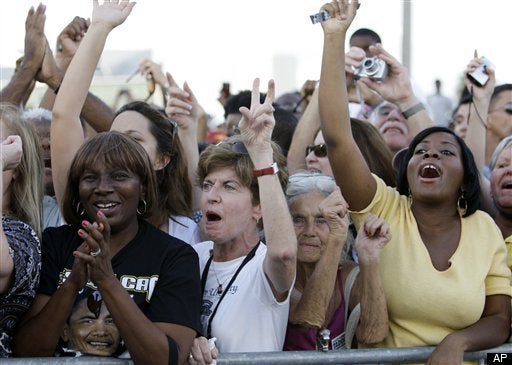 This week, heads of state, business leaders and non-governmental organizations are gathered in Davos, Switzerland for the annual meeting of the World Economic Forum. This is a group that doesn't like to tackle the small issues. The topic for this year's meeting is "Improve the State of the World."
As part of this discussion, attendees have been asked to offer ideas about how to strengthen economic and social welfare. From my position as CEO of a business that is dedicated to empowering women, especially in emerging markets, it is self-evident that the fastest and most effective way to improve the state of the world, from both a social and economic perspective, is to aggressively bring down the barriers that keep women from fulfilling their potential.
Studies have shown time and again that opening opportunities for women in the workforce can have a massive impact on a nation's economy. A report by the United Nations Economic and Social Commission for Asia and the Pacific Countries found that restricting job opportunities for women is costing the region between US $42 and US $46 billion a year. Even in our country, women still only make 77 cents for every dollar a man makes.
The World Economic Forum's 2009 Global Gender Gap report suggests that closing this gap could boost U.S. GDP by as much as 9 percent, European GDP by as much as 13 percent and Japanese GDP by as much as 16 percent.
Several panels are scheduled in which attendees will talk about achieving gender parity and how economies can harness what's known as "The Woman Effect." Unfortunately, Davos is, at times, known more for talk than action. That must change, as the economic growth needed to pull us out of the current crisis won't happen unless business leaders commit themselves to providing opportunities for women. I hope those of us participating in Davos will take the lead in pledging to make these opportunities available, and will report back next year on the progress they make. Companies can start by doing the following:
Change the Mindset - For a long time, women were told that the secret to success in business was to act like a man. In reality, that's the surest path to failure. Men and women are different, and those differences are a good thing. Research shows women are natural nurturers who think "we" not "me." To get the most out of the women who work for them, CEOs must leverage their innate skills rather than try to transform them into something they're not. That means creating a workplace that is team-focused rather than individualistic. Executives should encourage employees to form bonds, support one another and work together to move the business forward, rather than pitting them in a Darwinian struggle to the top of the corporate ladder.
Open Up Opportunities - This is the most important step any business can take. As Tupperware has moved into markets like Indonesia, Russia and Latin America, I've seen women discover something within themselves they never knew they had - from the woman in Brazil whose husband left her with nothing and now runs a $15 million distributorship, to the woman in Indonesia who gradually rose through the ranks to become president of Tupperware in that country, an almost unheard of role in a land that is still largely governed by highly traditional gender roles.
Focus on retention - Many companies have diversity programs focused on bringing more women into the workforce. What they don't do is focus on retaining the women they have by nurturing their careers and creating a relationship-driven culture that allows them to thrive. Every business leader knows it's more cost-effective and more powerful to promote from within, yet many diversity programs focus largely on recruiting.
As my fellow CEOs prepare for the Forum, I encourage them to take a few minutes to think about these women and ask themselves whether they're providing their own employees these same opportunities. The world's economy depends on it.
Rick Goings is Chairman and CEO of Tupperware Brands